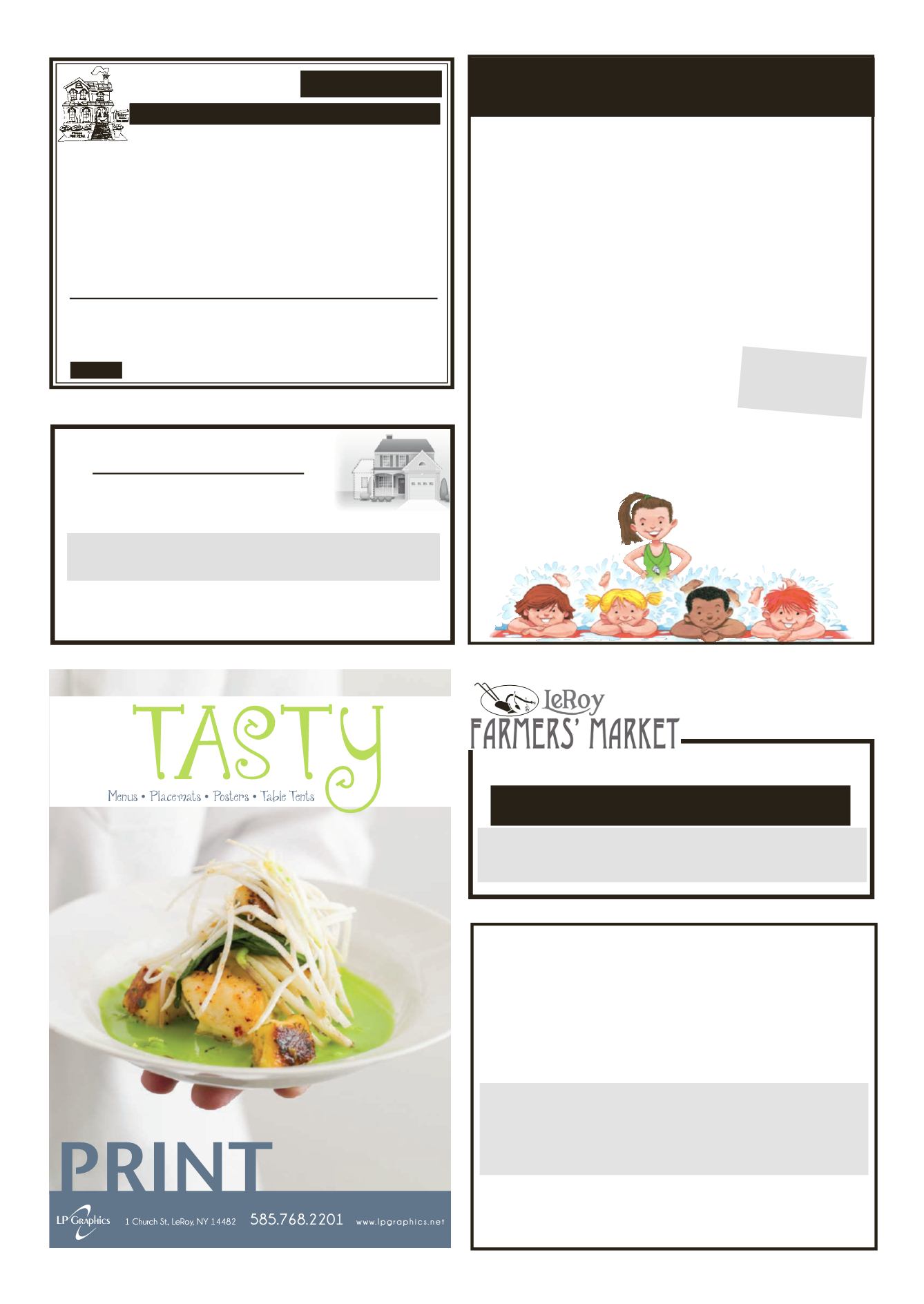 LEROYPENNYSAVER&NEWS - JUNE 21, 2015
"CompleteCarpentry Service"
M
ILLER
B
ROTHERS
B
UILDERS
CustomHomes •Remodeling•Additions
Roofing• Siding
DANIEL
MICHAEL
Held at
TownHall
48MainStreet
OpeningDay: Thursday, June 25th
Swim Lessons: Mondays,Wednesdays, Fridays 9:30-10:15AM
OpenSwim: Monday-Sunday 1-7:30PM
Adult Swim: Monday-Friday 12-1PM andMonday-Thursday
$75.00 per family (3ormore-proof of relationshipmay be required)
$3.00 per daywithout membership
PoolMembershipTags for Sale
and Swim LessonRegistration:
Saturday, June 20 10AM-1PM
LeRoyResidents given first priority for lessons
Classes filled on a first come/ first serve basis
Swim LessonFee: $40 per person (not includedwithmembership)
THE CLASSOF 1975 is looking for some classmates
to inform them of the 40th class reunion
RONBELL, JOHN CARSON,MELODYNEWCOMB, LYNNBOLYE,
BRIANBERMEL, COLLETTE CUNNINGHAM, JONATHONHOLMES,
MARYO'SULLIVAN, CHARLES PALADINO, DAN KELTY, ROXYBOTHMAN,
LARRYHALL, CRAIG TRASTER andNOELLA YUTZY.
Anyonewho knows thewhere abouts please contact
Laura Stefani Platt at 585-548-2245.
1975Members
we have been challenged as a class to raise funds toward
STATUEOF LIBERTYonOATKA CREEK.
Please send check payable to
"Strengthen the Arm of Liberty Fund"
LeRoyHistorical Society,
POBox 176 LeRoy NY 14482.
Our informal reunionwill be at the K of CHall,
Friday, July 17, 7pm, we arewelcoming visitors to stop in.
Laura Platt 585-548-2245/ Cell 585-813-2342
eRoyFarmer'sMarket onFacebook
TRIGON PARK
Saturday, June 27th
9:00 am-12:30 pm
LOCAL • FRESH•DELICIOUS •NUTRITIOUS
Seasonal Fruits andVegetablesWill BeArrivingWeekly!
June 27th -
Rotary R.E.A.L. book giveaway, the WoodwardMemorial Library and
Fiddler, LynnArnoldwill be joining themarket our first week.
July 4th -
stop by for all your fresh fruits, vegetables, and baked goods for your
IndependenceDay party!
Jams, jellies, eggs, gluten free baked goods,Yancey'sFancyCheeses, NundaMustards,
OnceAgainNut Butters, First Light CreameryCheeses andYogurts, baked goods,
organic produce, honey,maple syrupand fresh, locally grown produce.
LEROYLISTINGS ...
98EastMainSt.
- Price reducedon this lovely4bedroom, 2
bath Colonial home. Bright living room& dining roomwith
fireplace&sparkling redoakfloors.Realdollhouse.$139,900.
28 South St.
- A real bargain at $76,900. All vinyl exterior,
4 bedrooms, beautiful oak flooring&woodwork throughout.
25Wolcott St.
- Overlooking theOatka Creek& beautifully
maintained. New roof, windows & electric. Priced to sell at
RiderReal EstateNot TheBiggest - Just TheBest!