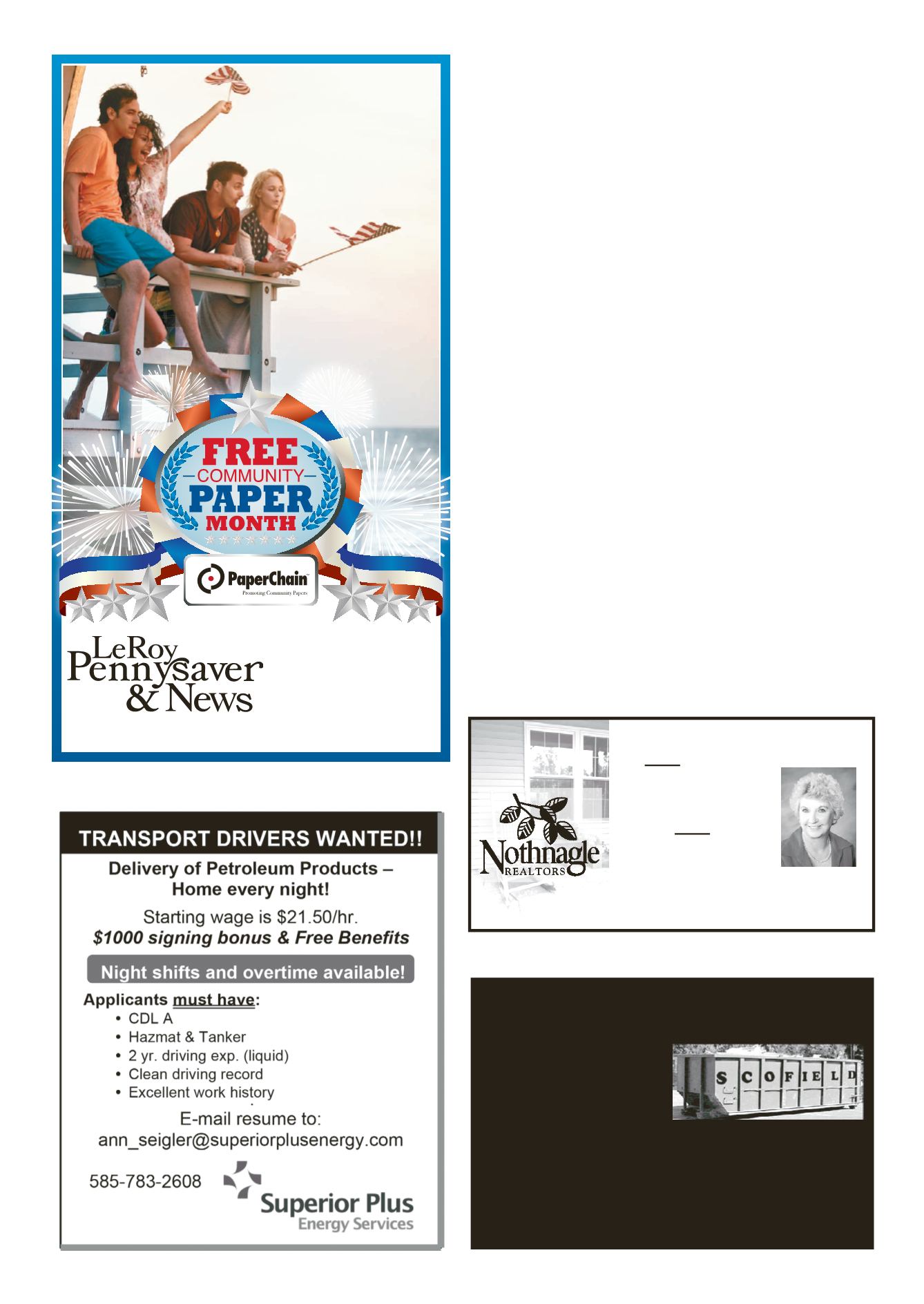 LEROYPENNYSAVER&NEWS - JUNE 21, 2015
A total of 141 SUNY Oneo-
nta students earned Provost's
List honors for the spring 2015
semester. To qualify for the Pro-
vost'sList, a studentmust earna
perfect 4.0 grade-point average
while carrying a course load of
The following area students
were named to the spring 2015
SUNYOneontaProvost'sList:
JacquelynCarson
NicholasMuehlbauer
HaileyWhite
was among 1,553 SUNYOneo-
nta students who earned Dean's
List honors for the spring 2015
semester. To qualify for the
Dean's List, a student must earn
a grade-point average of 3.5 or
higher while carrying a course
RebeccaA.Wetzel
NY, earned theDoctor ofOsteo-
pathic Medicine (D.O.) degree
from the Lake Erie College of
Osteopathic Medicine at the
Erie Insurance Arena in Erie,
PA. Rebecca is the daughter of
PegWetzel of LeRoy andKeith
Genesee Community College,
including all seven campus loca-
tions inBatavia,Albion,Arcade,
Dansville, Lima, Medina and
Warsaw, proudly announces 221
students were named to the Pro-
vost's List for the Spring 2015
semester. Students honored on
the Provost's List are enrolled
part timeandhaveearnedagrade
point average of 3.75 (roughly
equivalent to anA) or better.
Thisyear'sGeneseeCommuni-
tyCollegeSpring2015Provost's
List honorees, with their home-
towns, included the following:
Kristen Guarino & David
Mackey
ElizabethBolton, BetsyGrif-
fith, Jeanice Howard, Kara
Miller &William Simmons
JasonEverett,WilliamKegler
&BenjaminWerner
15, 17, 20, 25, 30,
and 40 cu. yd.
CONTAINERS
ScofieldRolloff •343-8383
NobodyBeatsOur Prices!
Batavia
585-343-6750
NOW is theBEST time
toBUYwith the interest rates
at their lowest!
Don't wait
toBUY -
call
LindaBeaumont
for all your real
estateneeds.
LindaBeaumont
Home (585) 768-6315
LicensedReal Estate
Salesperson
Multi-MillionDollar Producer
The best
things in life
are free
like the one you're reading
today are thriving. In fact,
free community publications
have been able tomaintain
nearly 99% of their readership
since the turn of themillenium.
We love the neighborhoodswe
serve andwe couldn't do it
Thank you!
CIRCULATION VERIFICATIONCOUNCIL DATAMEASURINGPAPERSAUDITED INBOTH 1999 AND 2013.
[MEMBER PUBLICATION LOGO&CONTACT INFO]
Visit paperchain.com to learnmore