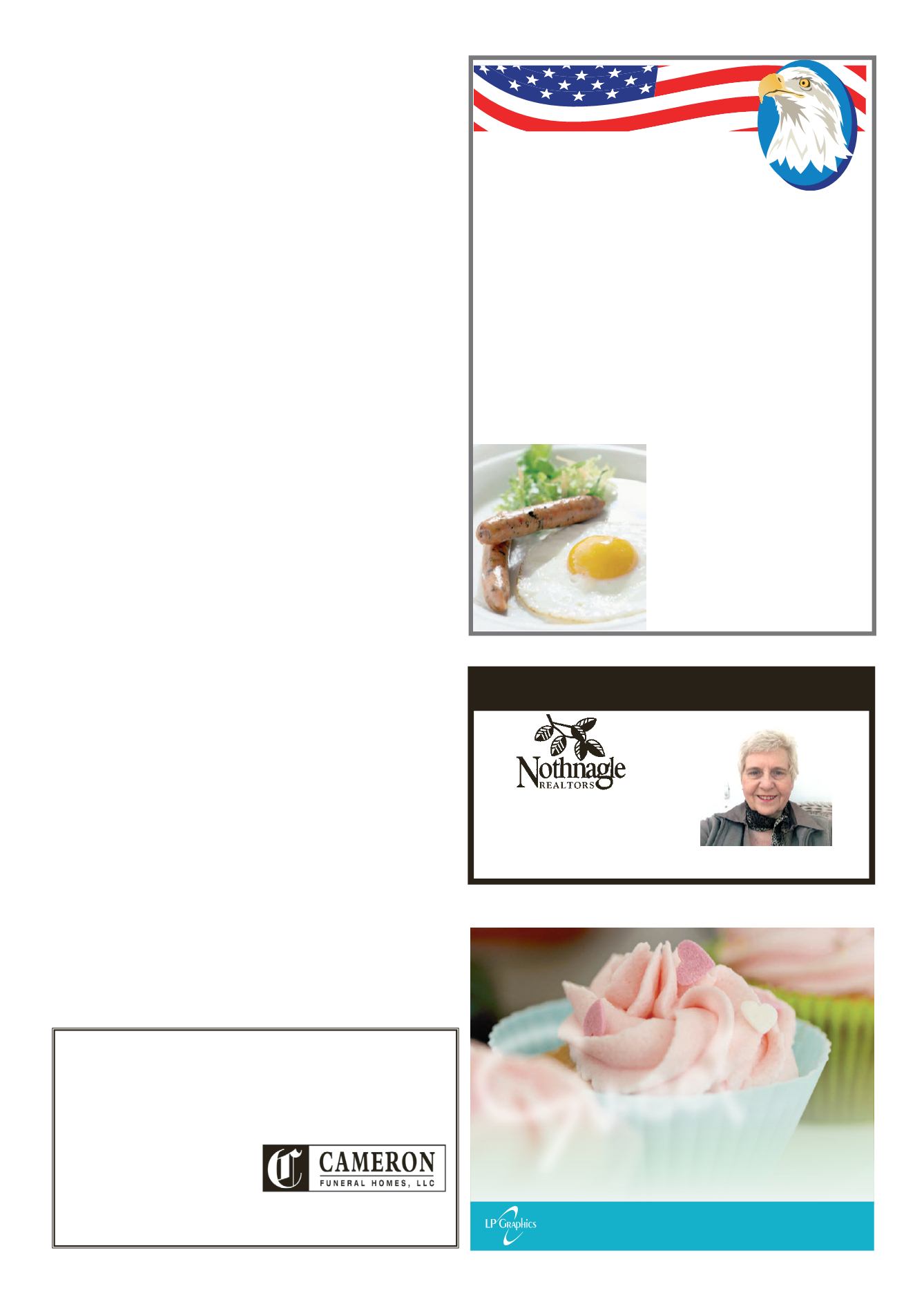 LEROYPENNYSAVER&NEWS - JUNE 21, 2015
HelpingFamiliesCelebrateaLifeLived
"Our FamilyServingYours Since 1907"
Trusted•Honest •Proven
Cameron, Brady&Steuber
FuneralHome
111Wolcott Street
LeRoy,NY 14482
(585) 768-6800 •
Likeus onFacebook
LicensedReal EstateSalesperson, REALTOR
Office: 585-409-2140
Cell: 585-768-6368 • Fax: 585-343-8502
Relocating?Whether it be locallyor out of state, giveme a call and let's
LeRoy
Servicemen'sClub
Sunday, June 28th, 2015
8:00 am –Noon
ALLYOUCANEAT
53WestMainSt., LeRoy, NY
Also serving a good time
with your localVeterans.
bySenatorRanzenhofer
June, 2015
As your State Senator, your
views are important tome; your
input helps me to best represent
you,your familyandourcommu-
nity. Earlier this year, I offered
residents an opportunity to share
their opinionswithme in a 2015
ConstituentQuestionnaire.
The 2015 Constituent Ques-
tionnaire collected input on a
number of important legislative
issues, including New York's
economy, Common Core, mini-
mumwage, andmore.Thousands
of residents, all across the 61st
Senate District, filled out the
14-questionsurveyeitherbymail,
viaFacebook or atmywebsite.
The resultsof thequestionnaire
havebeencompiled, and Iwould
like to share some of the figures
• Eighty-four percent of re-
spondentsopposed theNewYork
DreamAct, a bill introduced by
several downstate legislators
to allow undocumented, illegal
immigrants to receive state fi-
•Onlyeight percent character-
izedNewYork State's economy
• Over fifty percent are satis-
fiedwith the quality of our local
• Forty-seven percent oppose
increasing theminimumwage for
Acompletesummaryof results
has been posted on my website,
ranzenhofer.nysenate.gov. I
encourage residents to visit my
website to check out the results
for each of the 14 questions.
The responses for twoparticu-
larquestionswereoverwhelming.
Threeout of every four residents
expressed their support formak-
ing the property tax cap perma-
nent, and seventy-eight percent
of residents strongly support
the STAR and Enhanced STAR
It is important tonote thatprop-
erty tax relief continues tobe, as
it always has been, one of my
highestpriorities. Iwill continue
to lead the fight to providemore
relief for property taxpayers,
since there is more work to be
Recently, I voted to approve a
bill that will make the property
tax cap permanent. The State
Senate has taken action to keep
the cap to ensure that we never
return to thedaysofskyrocketing
budgetsandspiraling tax increas-
es. If theStateAssemblydoesn't
take action, the property tax cap
While the property tax cap
hasn't solvedallofourproblems,
it has helped to encourage fiscal
discipline and keeping a lid on
tax increases. In fact, according
to a recent study, taxpayers have
saved more than $7.6 billion
since the cap was first enacted
fouryearsago. In2015-16alone,
homeownersareexpected tosave
a total of $3.3 billion in school
Making the property tax cap
permanent remainsoneofmy top
priorities. Simplyput,we cannot
afford to let the tax cap expire.
Byworking together,we canget
the State Assembly to join with
us inprotectingandextending the
property tax capwithout delay!
2015Constituent
QuestionnaireResults
1ChurchSt., LeRoy, NY14482
585.768.2201
Baby Shower, Party&Wedding