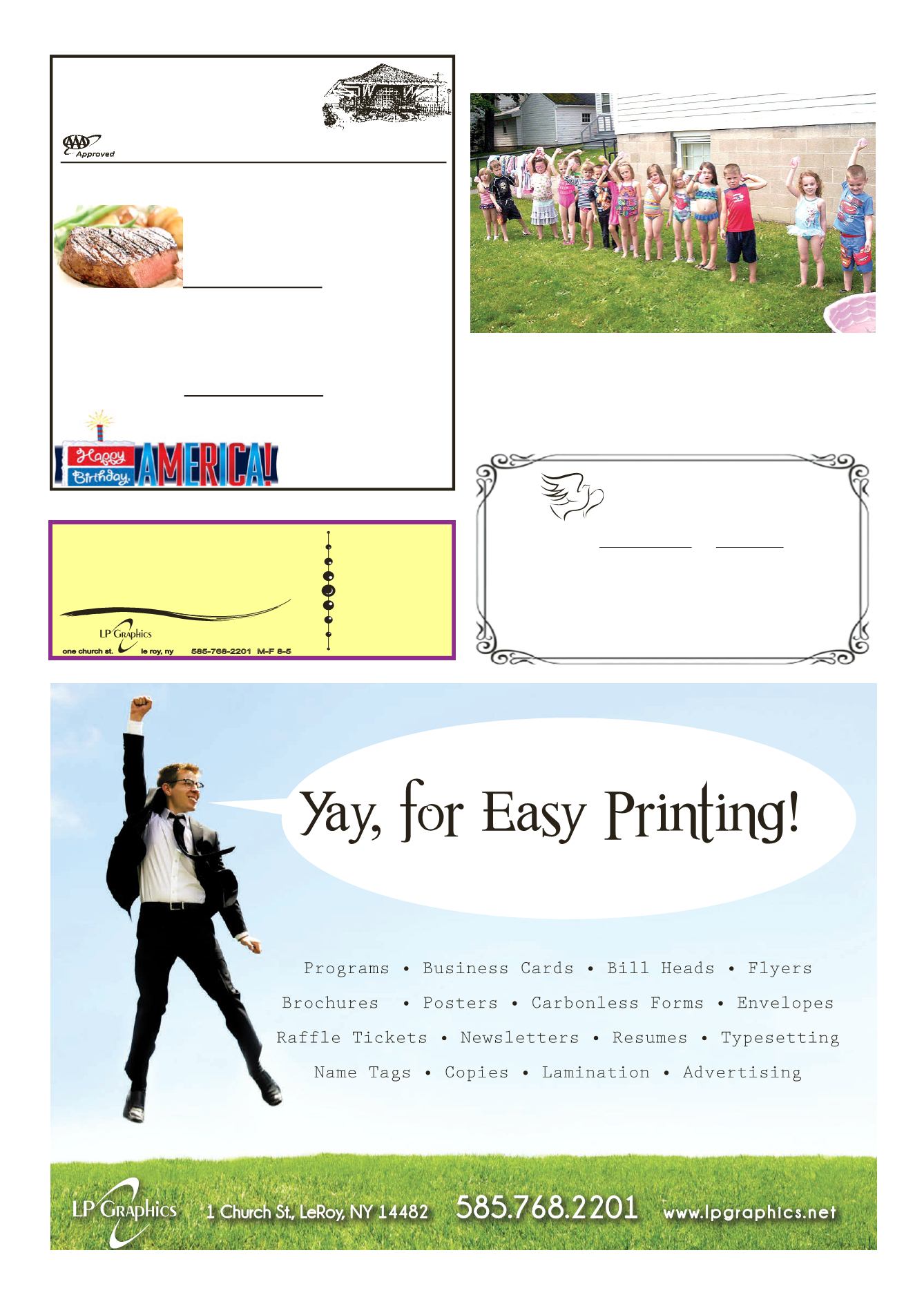 LEROYPENNYSAVER&NEWS - JUNE 21, 2015
Director /Owner
FuneralDirector
F
ALCONE
F
AMILY
Funeral&Cremation Service, Inc.
Director/Owner
"ALOCALFAMILY
CARINGFORLOCALFAMILIES"
D&RDepot
63LakeSt. (Rt. 19), LeRoy• 768-6270
Let'sMeetAt The ...
OpenForBreakfast, Lunch&Dinner - 7DaysAWeek7am-9pm
LeRoyNursery School had a beach day for last days of school.
Thechildrenwore theirbathingsuits,beach towelsandsunglass-
es. They played outsidewith sidewalk chalk, bubbles, Frisbees,
hulahoops, parachuteand jumped inablowup.Theyended the
daywithwaterballoons.Agreat fulfilled last day to remember!
BeachDayAtLNS
SUNDAY, JUNE 21st FATHER'SDAY
A perfect time to treat dad to one of our
certifiedAngusBeef steaks!
Freshly cut to order, tender and juicy!
ServingHours – 7 am-11 am breakfast,
SUNDAY, JUNE 28th
Peoplewait all year for this summertime special
DEPOTSHOREDINNER – served from 11 am
(Includes homemade SeafoodBisque, lobster tail, homemade
crab cakes, broccoli salad and fresh strawberry pie)
TheDEPOT is taking abreak –
wewill beCLOSEDSaturday, July 4 andSunday, July 5
opening again on
Monday, July 6-7 am
one church st. le roy, ny
one church st. le roy, ny