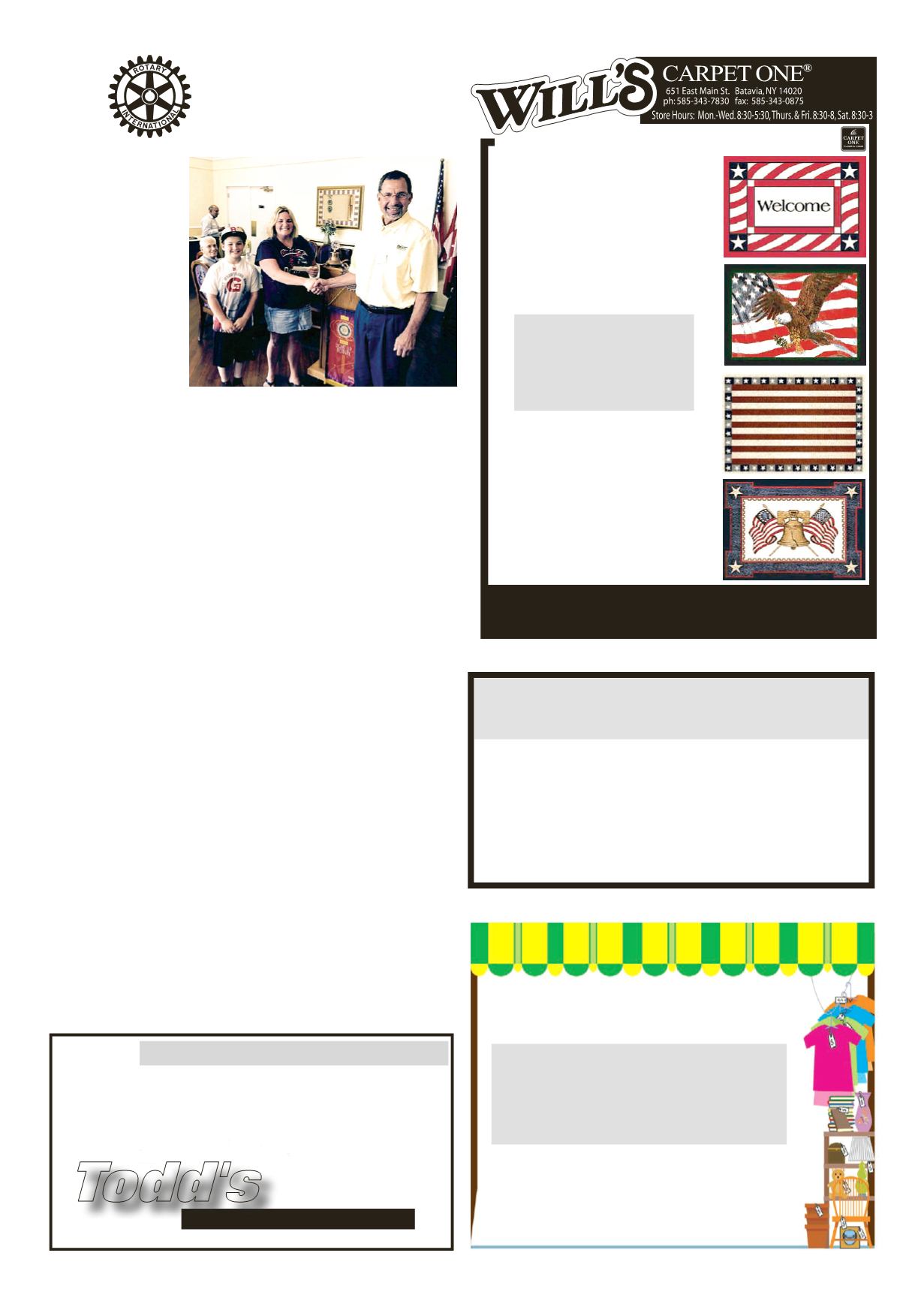 LEROYPENNYSAVER&NEWS - JUNE 21, 2015
• FreeEstimates
• Professional Installation
• FinancingAvailableTo
QualifiedBuyers
TheONE store for your perfect floor.
FLOOR
&HOME
LeRotary
Notes
NewHomes •Additions •Garages •PoleBarns
ToddCarli • Phone 703-0964
Todd's
Decks •Windows •Doors
Kitchens •Baths
CeramicTile
Basement Finishing
CustomShelves/Built-Ins
Siding •Remodeling
Roofing • SnowPlowing
FULLY INSURED
friends are traveling throughout
the Northeast and he looked us
up.Wewere also joined byKate
Flint and her son Brock to
accept a Rotary donation for
And todaywas extra-special as
we inducted Christie LoTempio
into our ranks. Christie is an
integral member of the Muller
teamandwewelcomedheras the
Announcements included our
Rotary ExcitedAbout Literature
(REAL) book give away is June
27th and book donations are
still being accepted at Tompkins
Bank of Castile. Our Installation
Dinner (aka Change-over) is
Belluscio, Jim Ellison, Tracy
Ford, Phil Weise and Jerry Mc-
Cullough. All had make-ups or
GreenCards toclearup theatten-
dance records.LarryBoylanwas
alsowelcomedbackandbrought
us up-to-speed on where he and
Sherye have traveled so far this
year.Hewashappy to report that
theyhavenowvisitedeachofour
Bruce Baker was called on to
tell the group about his son...
Col. John Baker was nominated
by President Obama on June
4 for promotion to Brigadier
General and to be the Chief
Defense Counsel for Military
Commissions, an Alexandria,
Virginia-based position that en-
tailsoversightofdefensecounsel
JerryMcCulloughwasdelighted
to report that his daughter Lizzy
has turned 21. It was kind of a
bigdealwhen thePresident of the
American Alliance of Museums
(AAM) droppedbyLeRoyHouse
and the Jell-OMuseum. FordBell
certainly surprised and delighted
Lynne Belluscio with his im-
promptuvisitand itwasquiteclear
that sheenjoyed theopportunity to
Program today was a presen-
tation on the emerging market
of telehealth, telemental health
and telemedicine solutions by
DanCote, President of Fortified
Fortifiedcare.com> and as long
asyouareclackingawayonyour
internet device anyway, whynot
slide over to Facebook and give
Rotary Club of LeRoy, NY a
"Like" and invite your friends
St.Mark's Episcopal Church
FleaMarket
Saturday, July18th
If interestedormore informationneeded,
585-768-7200
Sale!
PatrioticAreaRugs
Just In timeForJuly4th
HolidayHours
close
Friday,July3rd.
closed
Saturday,July4th.
Stop inandsee
our largeselectionof
CarpetandVinylflooring.
ALLWORKMANSHIP GUARANTEED • INSURED
297-9097 • 768-7737
• InteriorPainting
• Plaster/LathRestoration
•Drywall&Drywall Repair
•TextureRemoval
• Floors Stripped
&Refinished
•OldCeilings&Walls
MadeLikeNew!
MikeDarby'sPatch&Paint