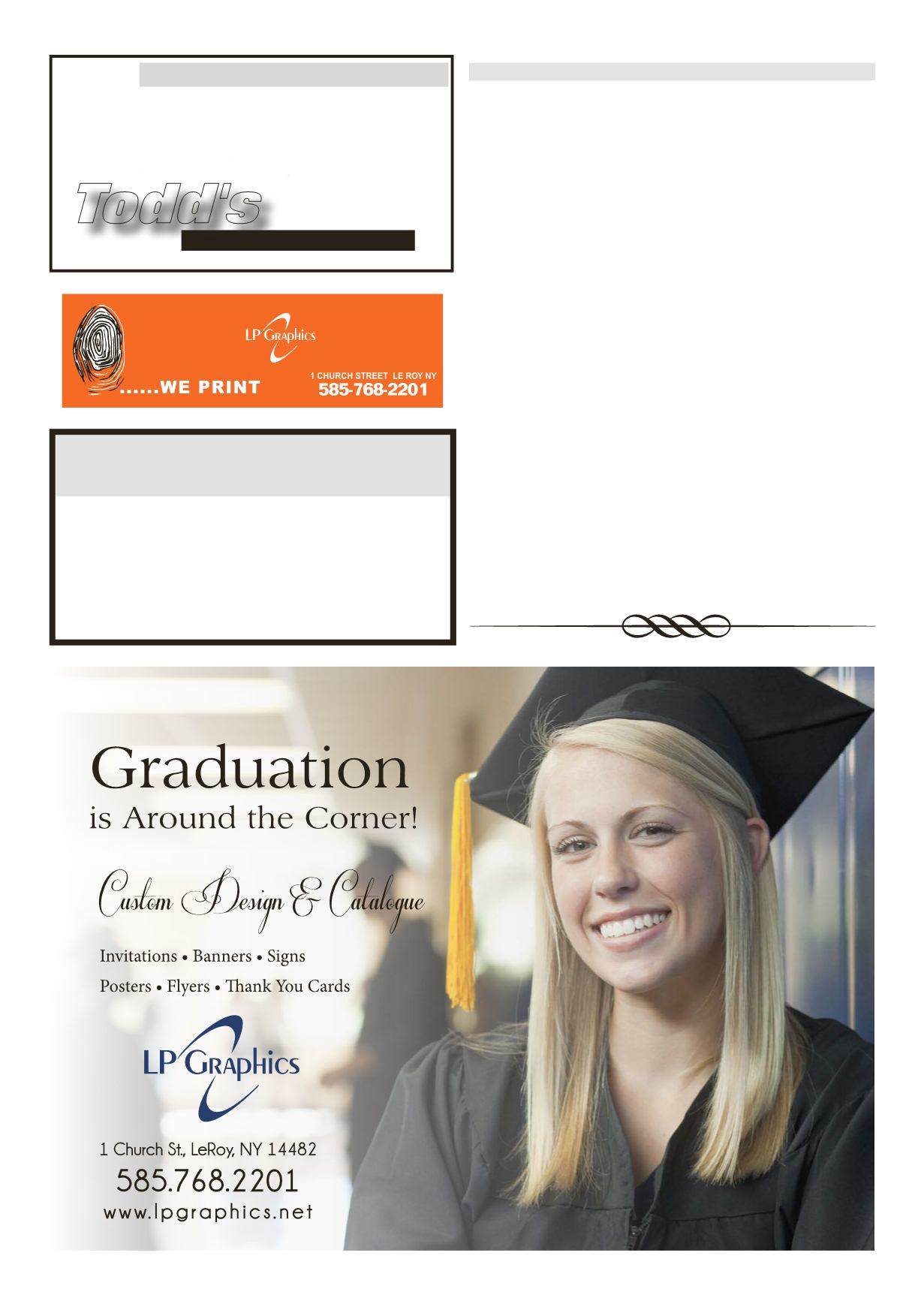 LEROYPENNYSAVER&NEWS -MAY 24, 2015
byKimM. Cox
Superintendent of Schools
LeRoyCentral School District
Iwant tobeginby thanking the
community for the overwhelm-
ing endorsement of the Le Roy
Central School District 2015-16
Budget. TheBoard of Education
and the administration, with
input frommany others, worked
diligently to create a budget that
allows for important programs
to continue and new ones to be
expanded, allwhilebeingfiscally
responsible to the community. I
want thankall those that contrib-
uted to thisprocess,andallofyou
that supported the budget.
Pleasewelcomebackour incum-
bent board members, Mr. Larry
Bonacquisti, Mr. Don Hobart,
and Mr. Lloyd Miller. Each of
these individuals are dedicated to
providing thebest to thechildren,
staff, and community of Le Roy.
They are all very excited to con-
tinue their service to the board of
education for threemore years.
Iwould like to sayabig thanks
to the poll clerks that spent their
entire day with us on Tuesday.
Please join me in recognizing
Marianne Garigen, Barb Parton,
Dave Parton, newcomer to the
polls, Tori Prinz, and of course,
our District Clerk, Lori Wrobel.
Also special thanks to Duke
Merica, JohnWolfandBrunoDe-
Fazio for helpwith settingup the
voteandkeepingourmachines in
tip-top condition. We were also
grateful to theseniors thathelped
with the exit poll. It was great to
have thestudents involved in this
Ican'tbelieveweareat theend
of the 2015 school year. There
are a plethora of events and ac-
tivities happening at our schools
in themonth of June.Make sure
to check the website for all the
upcoming important dates.
Thank you again for your on-
lpgraphics.net
NewHomes •Additions •Garages •PoleBarns
ToddCarli • Phone 703-0964
Todd's
Decks •Windows •Doors
Kitchens •Baths
CeramicTile
Basement Finishing
CustomShelves/Built-Ins
Siding •Remodeling
Roofing • SnowPlowing
FULLY INSURED
ALLWORKMANSHIP GUARANTEED • INSURED
297-9097 • 768-7737
• InteriorPainting
• Plaster/LathRestoration
•Drywall&DrywallRepair
•TextureRemoval
• Floors Stripped
&Refinished
•OldCeilings&Walls
MadeLikeNew!
MikeDarby'sPatch&Paint