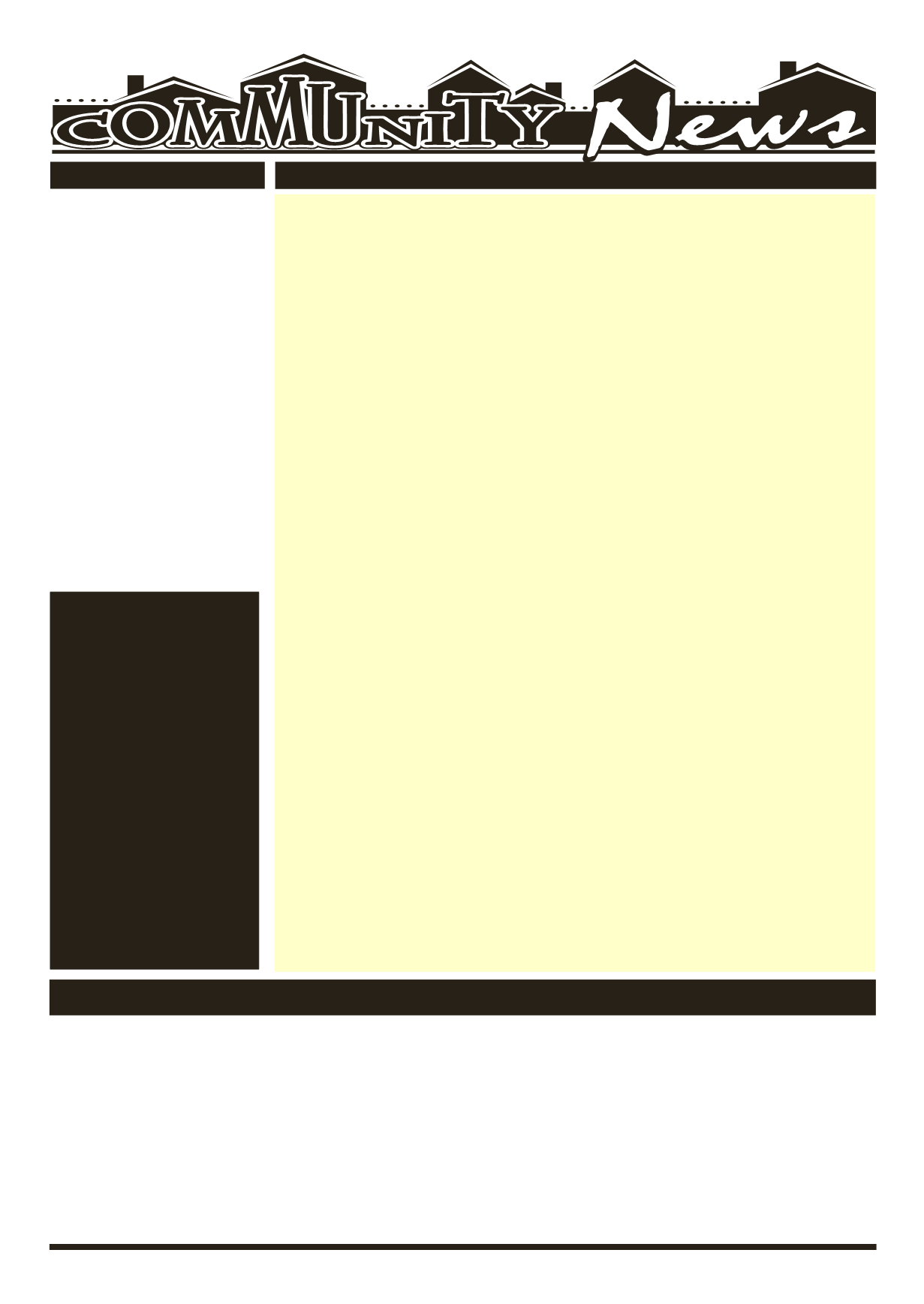 LEROYPENNYSAVER&NEWS -MAY 24, 2015
Le Roy
Pennysaver
All GeneseeCounty residents, 60andolder, can takepart in thisweek'sactivitiesat theBataviaSenior Center, 2BankSt., Batavia. Formore information, call 343-1611.
WEEKLYEVENTS
OBITUARIES
MemorialDayHoliday–SeniorCenterClosed.
DefensiveDrivingClassbyReservationOnly
Cribbage
is scheduled tobeginat 1:00pm.
QuiltersGroup
is scheduled tomeet at 9:00am.;
Euchregame
is scheduled tobeginat 1:00pm;
Medicare101Pro-
gram
LifespanMeeting
TaiChi
is set tobeginat 9:30amwith
GentleFitness
Cribbage&Bridge
are scheduled tobeginat 1:00pm;
MusicalKeyboardLessons
LineDancingandArtClass
is set tobeginat 10:00am;
Euchre
is set tobeginat 12:00pm.
SUNDAY,MAY24
Konnect YouthGroup at LivingWaters Church,
Sundays from6:30 to8:30pm for ages12-18. "BringDownall theWalls!
ConnectwithGodandConnectwithothers." Formore information, check
usoutonlineat: livingwatersleroy.org/konnect-youth-ministry/
MONDAY,MAY25
TOPS(TakeOffPoundsSensibly)
meetsMondayeveningsattheLeRoy
Presbyterian Church, corner of Clay &Main Streets. Doors open at 6:00
pmandmeeting is from6:30-7:15pm.Visitors arealwayswelcome. Call
585-768-7103 formore information.
Byron - ChickenBBQ
hostedbyand for thebenefit of theByron Ladies
Auxiliarywill beheldat theByron FireHall (Rt. 262). Eat-inor take-outs
begin immediatelyafter the11:00amByronMemorialDayParade.
TUESDAY,MAY26
Preschool Storytime:
Every Tuesday at 11 am featuring stories, craft
and songs at Pavilion Public Library, 5Woodrow Dr., Pavilion. For info:
LCCP'sGRACE'SKITCHEN:
A FREEdinner everyTuesdayevening, 5-6:30
pmattheLeRoyUnitedMethodistChurch,10TrigonPark.Parkingavailable
onTrigonPark& the lots to the left andbackof theChurch.Handicapped
Entrance in the back of the Church. Takeout &delivery are available. For
Foodlink Free Mobile Food Pantry:
Morganville United Church of
Christ ispartneringwithFoodlinkof Rochester tohost a freemobile food
pantry, 4:00-6:00pm atMorganvilleUnited Church of Christ, 8466Mor-
ganvilleRoad (offRt 237, 1milenorthof Stafford). Theexact food items
andquantityavailablearenotknown,but freshproducewillbeavailable.
Mustbe18yearsofage,no income requirementor ID required. Mustpro-
videownbags/vehicletotransport itemstoyourhome. Foodprovidedon
afirst come, first servebasiswhile supplies last.
LeRoyZoningBoardof AppealsMeeting
(as necessary), 7:30pm at
theTownHall, 48MainSt. For further info. call 768-6910, Ext. 223.
WEDNESDAY,MAY27
LEGO&GameClubat theWoodwardMemorial Library
in grades K-6 from 3:15 - 4:15 p.m. Buildwith Legos, play board games
with your friends, or jamout onGuitar Hero. There is something for ev-
eryone. Registration isNOT required.
Village of LeRoy BoardMeeting
, 7 pm at the Village Hall, 3West
THURSDAY,MAY28
GeneseeVeteransSupportNetwork
(GVSN)supportsthedevelopment
ofVeteransfocusedAAmeetingseveryThursday,6-7pmattheFirstBaptist
Church, 306 E.Main St., Batavia.Meetings ledbyMikeW. & are open to
non-veterans as well. Handicap accessible. For additional information
GRACE'SCLOSET:Aclothinggiveawayprogram
UnitedMethodistChurch,10TrigonPark,LeRoy,9:30amto11:30amevery
Thursday.Wehaveclothing forallages.SPRING&SUMMERclothingnow
being put in place.We are in need of COOLER clothing especially coats,
jackets rain boots, especially clothing for children of all ages. We need
beddingofallkindsespeciallyblankets.Weacceptdonationsbedropped
offatthehousenexttothechurch.Pleaseputallbags INSIDEontheback
porch. NO ELECTRONICS, COMPUTERS,DISHES, etc. Any questions call
Townof LeRoyBoardMeeting
, 7 pm at theTownHall Board Room,
FRIDAY,MAY29
PenuelChristianFellowship,
OneSteptoFreedomaddictionsministry,
aChrist CenteredAddictions program, aweeklymeetingevery Fridayat
7pm. Call theChurch formore informationat768-6901or594-9575.
SATURDAY,MAY30
UPCOMINGEVENTS
LCCP's Mommy &Me Playgroup: Every 2nd& 4th Friday,
1:30, Le Roy Physical Therapy (in the back gym). Anymoms and their
birth-kindergarten children are welcome to come enjoy socialization,
lunch, coffee, structuredgames& freeplay.
TheLeRoyChristianCommunityProject ishosting its'3rdAnnual
SpringCelebration
on June6th, from11am - 4pmatTrigonPark. Call
YardSaleandOpenHouse,
Sat., June6th, 9am to2pm.Morganville
United Church of Christ, 8466Morganville Rd., 1mile north of Stafford.
Browseourbargains,enjoy freebeverageand icecreamand$1hotdogs.
Todonate sale items to the churchor to rent a table at $5, call Laurie at
St.Mark's Episcopal Church,
1 EastMainSt., LeRoy is hostinga
Sup-
per&BookDiscussion
onMonday, June8at6:00pm to talkaboutThe
FaithClub: AMuslim, AChristian, A Jew—ThreeWomenSearch for Un-
derstandingbyRanya Idliby,SuzanneOliver,andPriscillaWarner.Supper
is free, butplease call the churchat768-7200 to reserveyourplace.
StaffordUnitedMethodistChurch'sannual freegiveaway
uled for June19th&20th, isbeingpostponeddue to construction inside
our building. It will be rescheduled as soon as this project is finished.
Pleasewatch thePennysaver for thenewdates.
27th Annual Oatka Festival,
July 18th & 19th, 2015. SAVE THE DATE!
ebook.com/oatkafest,Twitter.com/OatkaFestival
CommunityCalendar Submissions shouldbe sent to:
BYRON— Donna E. Freer-Strong, 56,
of Byron diedWednesday (May 6, 2015)
at her home from a heart related illness.
Memorials in her memory are requested
BERGEN – Mrs. Doris M. Schoepflin,
90, ofWest Seneca, formerlyof Bergen,
member of theBergenUnitedMethodist
Church, passed away onTuesday (May
19, 2015) at St. Joseph's Hospital in
Cheektowaga. In lieu of flowers, please
consider memorial designations to
CrossroadsHouse,POBox403,Batavia,
LE ROY – Robert "Bob" F. Hawes Jr.,
58, of Marcellus, husband of the former
Suzanne Fatcheric, formerly of Le Roy,
passed away peacefully May 8, 2015 at
SUNYUpstateMedicalUniversity.Memo-
rials may be made to Development De-
partment, Good Shepherd Hospice, 320
West MainStreet, Lakeland, FL33815.