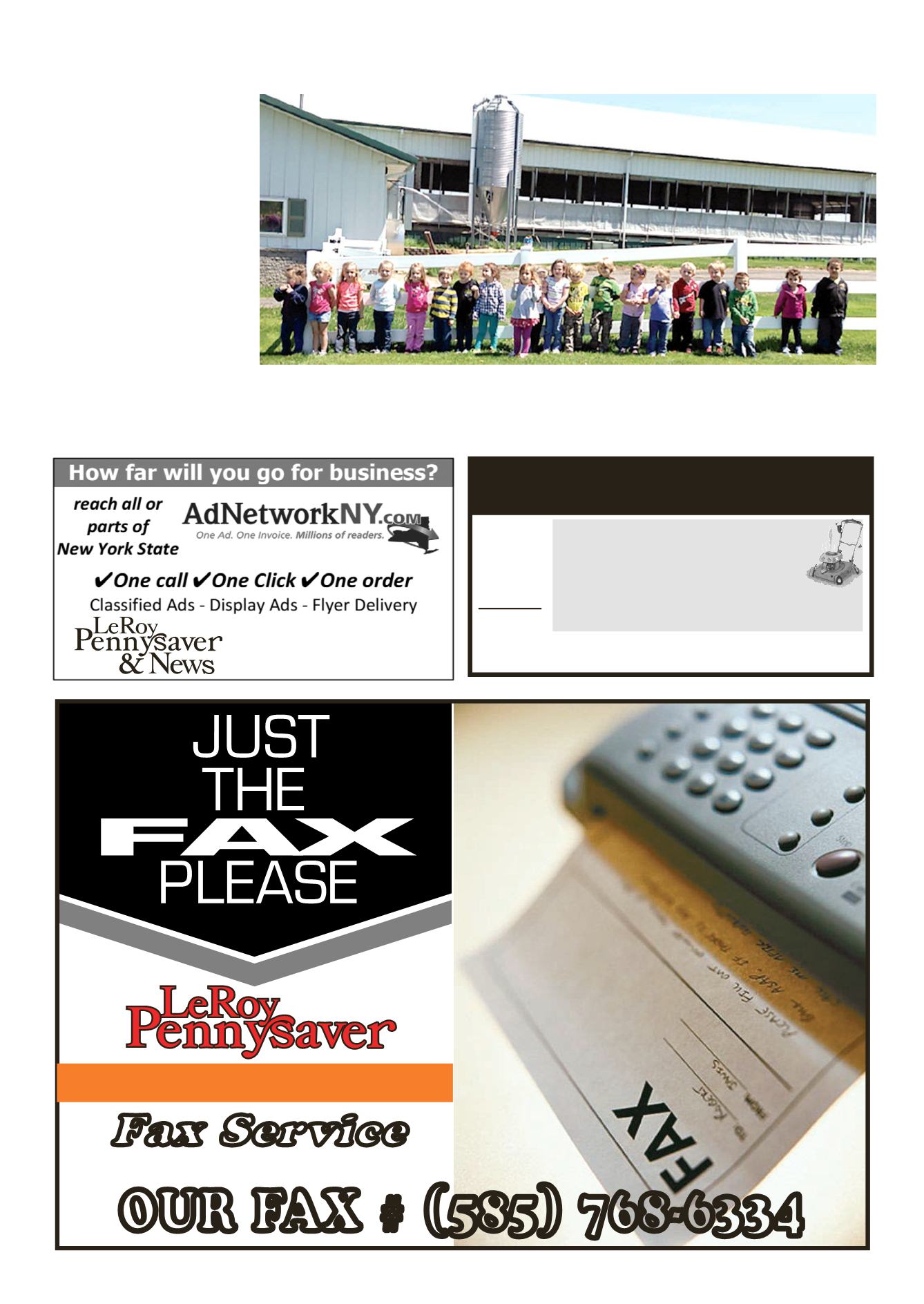 LEROYPENNYSAVER&NEWS -MAY 24, 2015
1Church St., LeRoy, NY 14482
1ChurchSt., LeRoy, NY • (585) 768-2201
• Engine andTransmissionRebuilds
• Lawn andGardenEquipment
•ATV's, Dirt Bikes • Light Equipment
• PickUp andDeliveryAvailable
• Snowblowers • Snowmobiles •Generators
SummerHours:
Thurs., Fri., Sat.
9 am to5 pm,
Sunday
9 am toNoon
Mon., Tues.,
Wed. byAppt.
WeNow
AcceptAll
Major
Credit Cards
SunshineNurserySchool'sNurseryclasswentonafield trip toSpringdale farm.Theywereexcited
to see all of the farm animals that theyhave been learning about.The childrenwere able tohold
several small animals andwatched themilking of a cow. They also enjoyed a picnic lunchwith
Sunshine friends and family!A great timewas hadby all!
FieldTripToSpringdaleFarm
Nazareth College graduate
students earned theirmaster's or
doctoral degrees at the 88thAn-
nual Commencement ceremony
that took place at theBlueCross
Arena inRochester,NY, onMay
Brittany Bills
earned a Doctorate of Physical
Sandra Whiting
earnedaMasterofSciencedegree
inSpeechLanguagePathology.
Nicole L. Bailey
received a bachelor of science
degree in environmental engi-
neering fromClarksonUniversity