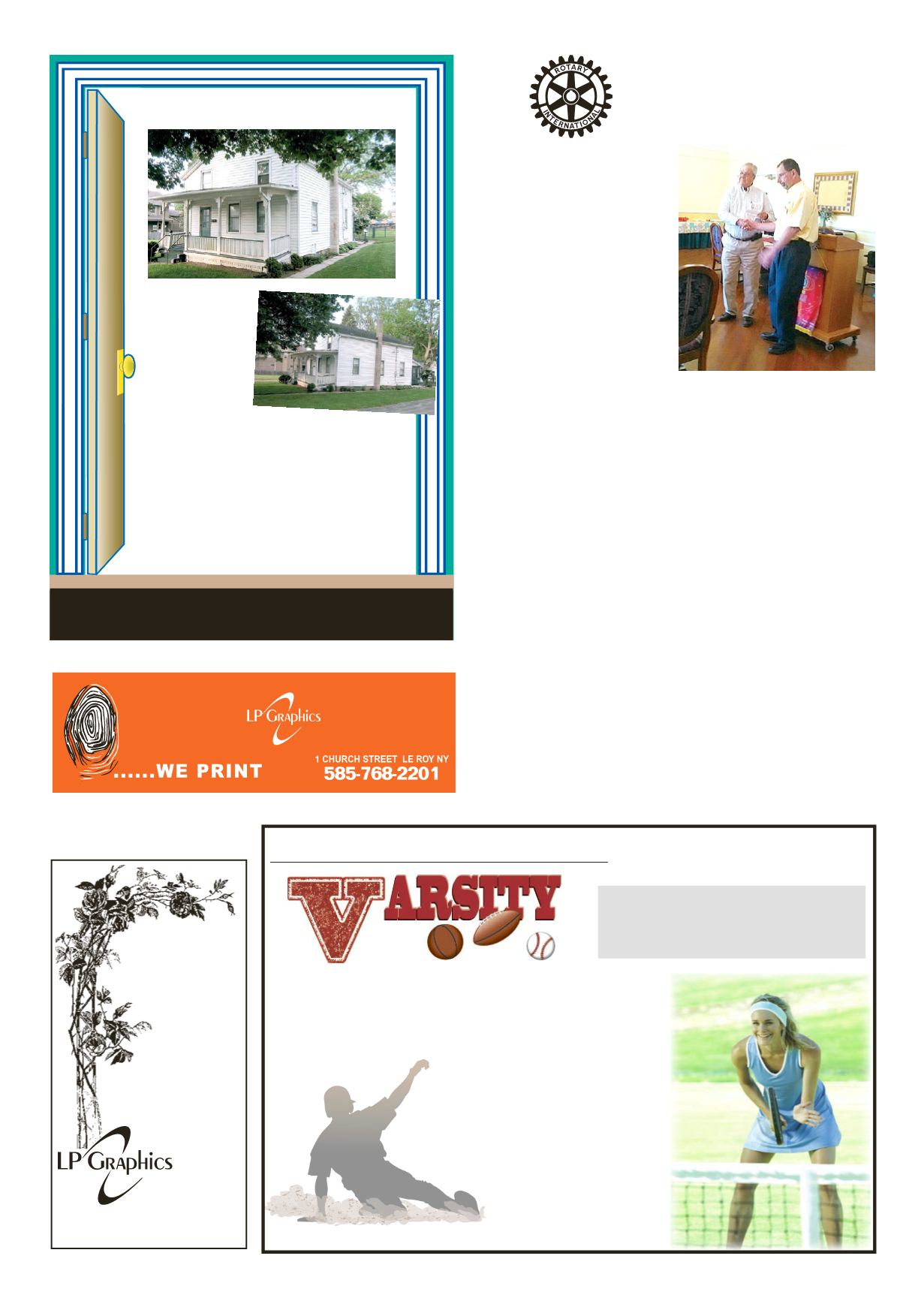 LEROYPENNYSAVER&NEWS -MAY 24, 2015
LeRotary
Notes
5/6/15 –Our weeklymeeting
at the Green's of LeRoy was
greetedby awarm, sunny spring
day. We were joined by guests
Sheri Boylan (wife of Larry
Boylan) and our presenter from
LeRoy Central School Brian
Foeller. Springtime has the
Rotarycalendar fullofannounce-
mentsandactivities:MarthaBai-
ley reminded us that Rent a Ro-
tarianwill beSaturday,May9th
and that theREALBookProject
has begun collecting books at
TompkinsBankofCastile inLe-
Roy. TracyFord announced that
the annual Graze toRaise Fund-
raiser isMay15thand ticketscan
be turned in up to the day of the
event. LaurenHumphrey toldus
that theLCCPSpringFestival is
seekingvendors. JimEllisonand
committee announced that the
installationbanquetwill be June
The list of missed meetings
was highlighted by Ron Pan-
grazio's 28 make-ups while
avoiding the snow. Welcome
backRon. Ronwas thenprompt-
ly fined $19.00 for his sun tan.
PresidentRandy thenfinedMar-
cia McKenzie and Bob Bennett
for the"Bankof it". Dr. Joewas
fined $15.00 for knowing that
Anilwas telling the truth.Finish-
ing thefiningoffwasJimEllison
for not knowing the inventor of
Thisweek'sprogramwasapre-
sentation of the upcoming year's
LeRoy Central School (LCS)
budget. Presenting the informa-
tion was LCS Superintendent
Kim Cox and Brian Foeller the
school's business administrator.
Thisyear'saccomplishmentswere
highlightedand included Section
V Championships, a new and
popular fitness center, and many
great musical accomplishments.
This year's Budget will see an
increaseof0.94%or$212,521.00
to the total budget. State funding
has almost returned to pre-2008
levels.Therewillbeapublichear-
ingMay12that theschooland the
budget and school boardmember
votewill follow onMay 19th.
LikeusatFacebookat "Rotary
4 bedrooms,
family room,
living room,
dining room,
2 bathrooms,
2 car garage,
central air, large back yard,
aluminum siding
AppointmentsOnly
Call
585-409-0842
collection of Traditional
1Church St., Le Roy • 768-2201
lpgraphics.net
LeRoySportsBoosters presents
BANQUET
Dinnerwill be followedbyawards presentations.
Tickets for athletes andguests areonly $10each.
Due to thegenerosityof the Sports Boosterswhoarepaying
for aportionof everyone's ticket.
Tickets canbepurchasedat thehigh school office.
Pleasepurchase your tickets asap.
Everyone is
Welcome!
Comecelebratewith theathletes
onanamazing
Winter/Spring Sports Seasons.
VOLUNTEERS
ARENEEDED!
June1st
•5:00pm
Stafford FireHall