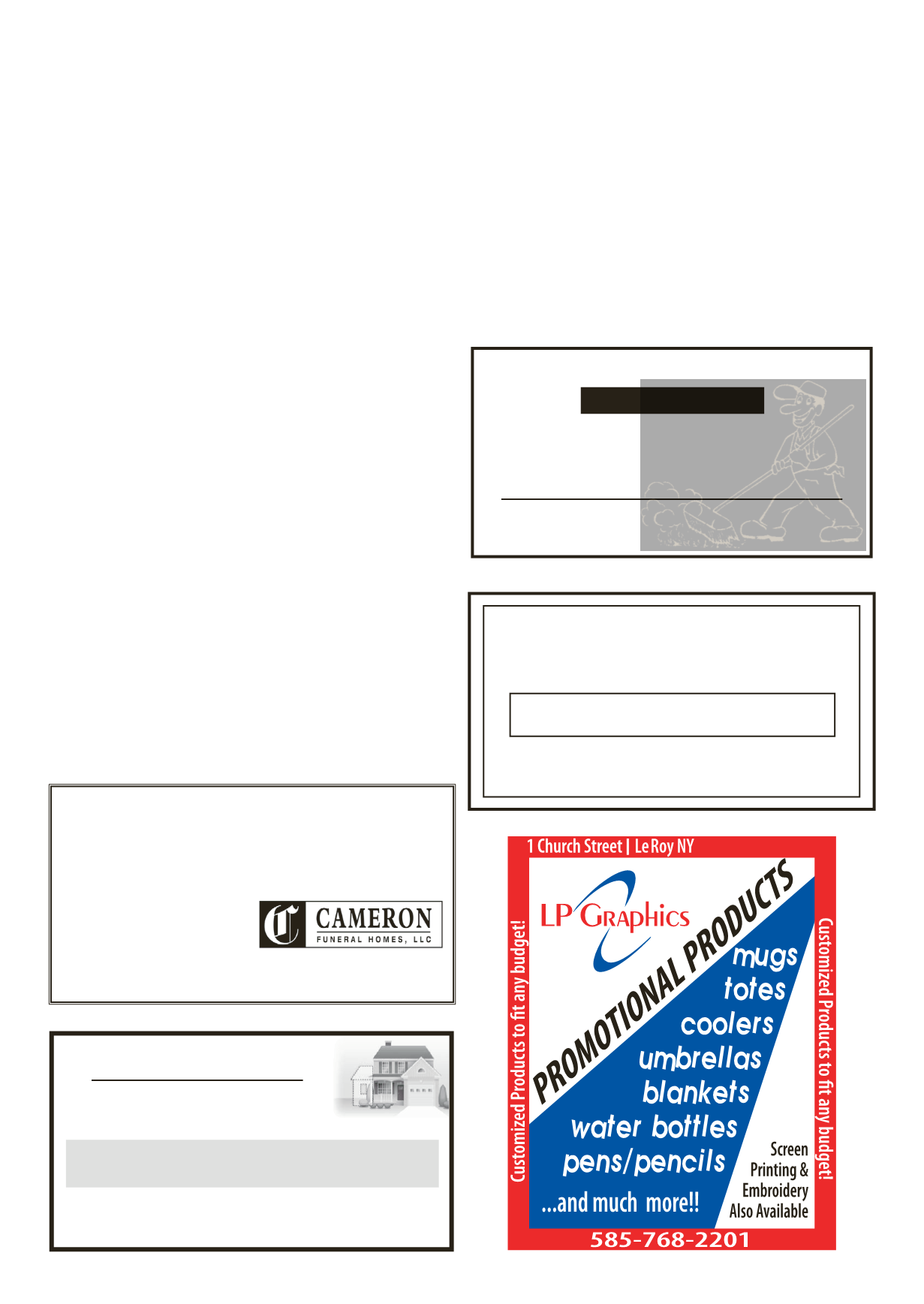 LEROYPENNYSAVER&NEWS -MAY 24, 2015
HelpingFamiliesCelebrateaLifeLived
"Our FamilyServingYours Since 1907"
Trusted•Honest •Proven
Cameron, Brady&Steuber
FuneralHome
111Wolcott Street
LeRoy,NY14482
(585) 768-6800 •
Likeus onFacebook
"CompleteCarpentry Service"
M
ILLER
B
ROTHERS
B
UILDERS
CustomHomes •Remodeling•Additions
Roofing• Siding
DANIEL
MICHAEL
Plumbing • Heating
Installation&Repair Service
For All Residential &Commercial Work
CleaningService
•Carpet &UpholsteryCleaning
•Spot Cleaning&Odor Removal
•Tile&WoodFloor Cleaning&Waxing
•Complete Janitorial Services
bySenatorRanzenhofer
May 2015
As your State Senator, helping
olderWestern NewYorkers pay
for the soaring costs of prescrip-
tion drugs is, and always will
be, a priority. In fact, one of my
proudest accomplishments in re-
cent yearswas restoring funding
to New York's Elderly Phar-
maceutical Insurance Coverage
cost-sharing program that helps
eligible seniors pay for their
prescription drugs. The program
hasbeen recognizedasoneof the
best low-cost prescription drug
programs in thenation.Currently,
more than a quarter of amillion
EPIC members are saving, on
average, 90 percent of the costs
In thiscolumn, Iwillsharesome
basic informationonNewYork's
EPIC program, including details
on eligibility and coverage.
To be eligible, you must be
a New York State resident 65
years or older with an annual
income under $75,000 if single,
or $100,000 or less if married.
You must also be enrolled in a
MedicareAdvantage(HMO)plan
oraMedicarePartDprescription
Once enrolled, a senior will
receive an EPIC card; each time
youpurchaseprescriptions,pres-
ent your EPIC card and your
Medicare Part D card (all EPIC
enrollees must participate in
Medicare Part D or a Medicare
Advantage plan) to the phar-
macist. Seniors with moderate
incomes pay a low quarterly fee
and participate in the "fee" plan.
Seniorswithhigher incomesmeet
an annual deductible and partic-
ipate in the "deductible" plan.
Those who pay a fee, or who
meet their deductible, make a
co-payment at the pharmacy
when purchasing prescriptions,
typically in a range between $3
and $20. For single members
with incomes up to $23,000, as
well asmarriedparticipantswith
incomes up to $29,000, EPIC
will alsopay at least a portionof
Seniorswill be responsible for
anyMedicarePartDdeductibles.
However, higher income seniors
in the deductible plan will see
theirEPICdeductible loweredby
the annual cost of a basicMedi-
Most pharmacies inNewYork
State are enrolled as EPIC pro-
viders. However, EPIC cannot
be used at pharmacies located
Almost all prescription med-
icines are covered, as well as
insulin, and insulin syringes and
needles. Both brand name and
generic drugs are included. The
quantities you may purchase at
one time are determinedbyyour
MedicareD plan, not byEPIC.
Toget anapplicationand/or for
more details, please call the toll-
freeEPIChelplineat:1-800-332-
3742 or visit: health.ny.gov. As
always, ifyouhaveanyquestions
orconcerns,pleasedonothesitate
tocontactmyoffice.Mystaffand
Seniors:YouMayQualifyForNewYork's
Low-Cost PrescriptionDrugProgram!