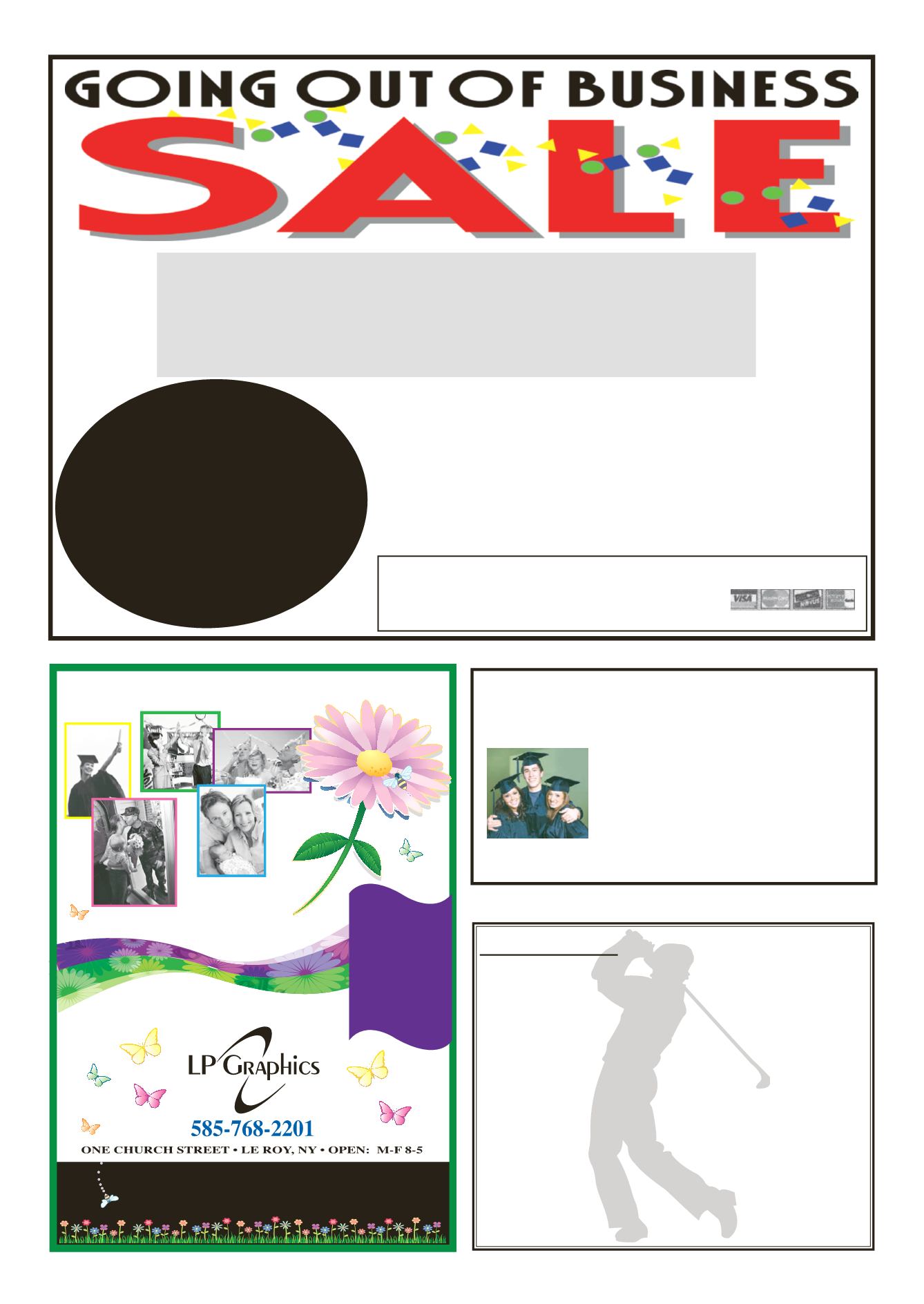 LEROYPENNYSAVER&NEWS -APRIL 12, 2015
M-F 9 am-6 pm, Sat. 9-4 pm, Sun. 10-1 pm
For over 20 years.
LeRoy
YourElectronic Store - Just Around theCorner
ON ALL
MERCHANDISE
Except
Ink Cartridges
20%
OFF
Our Low
List Price!
OurLoss IsYourGain -All SalesAreFinal!
50%
OFF
Senior Golf League
LeRoyCountryClub
EastMainRoad
All interestedmen 55 years or older that have not previously
signedup&would like to be a full time player
or a substitute, please callDavid Jeary at 768-7586
and leave amessage beforeApril 29th.
TheOrganizationalMeetingwill beheld
Wednesday,April 29th
at 9:00 am
Leagueplaywill beginWed.,May 6th
LorenWetzel
AttentionAllHigh School Seniors
The First Baptist Church of LeRoy is now accepting appli-
COVELLMEMORIAL SCHOLARSHIP
be awarded on Sunday,May 31, 2015.
The application
DEADLINE isApril 30, 2015.
Applications are available from your
school GuidanceOffice, your Priest,
or your Pastor or youmay call the
First BaptistChurch at (585) 768-7600
to request an application.
Send in your own artwork or let our
come upwith a design to suit your style and your event.
....with a Sign
Welcome Special Occasions ...
lpgraphics.net