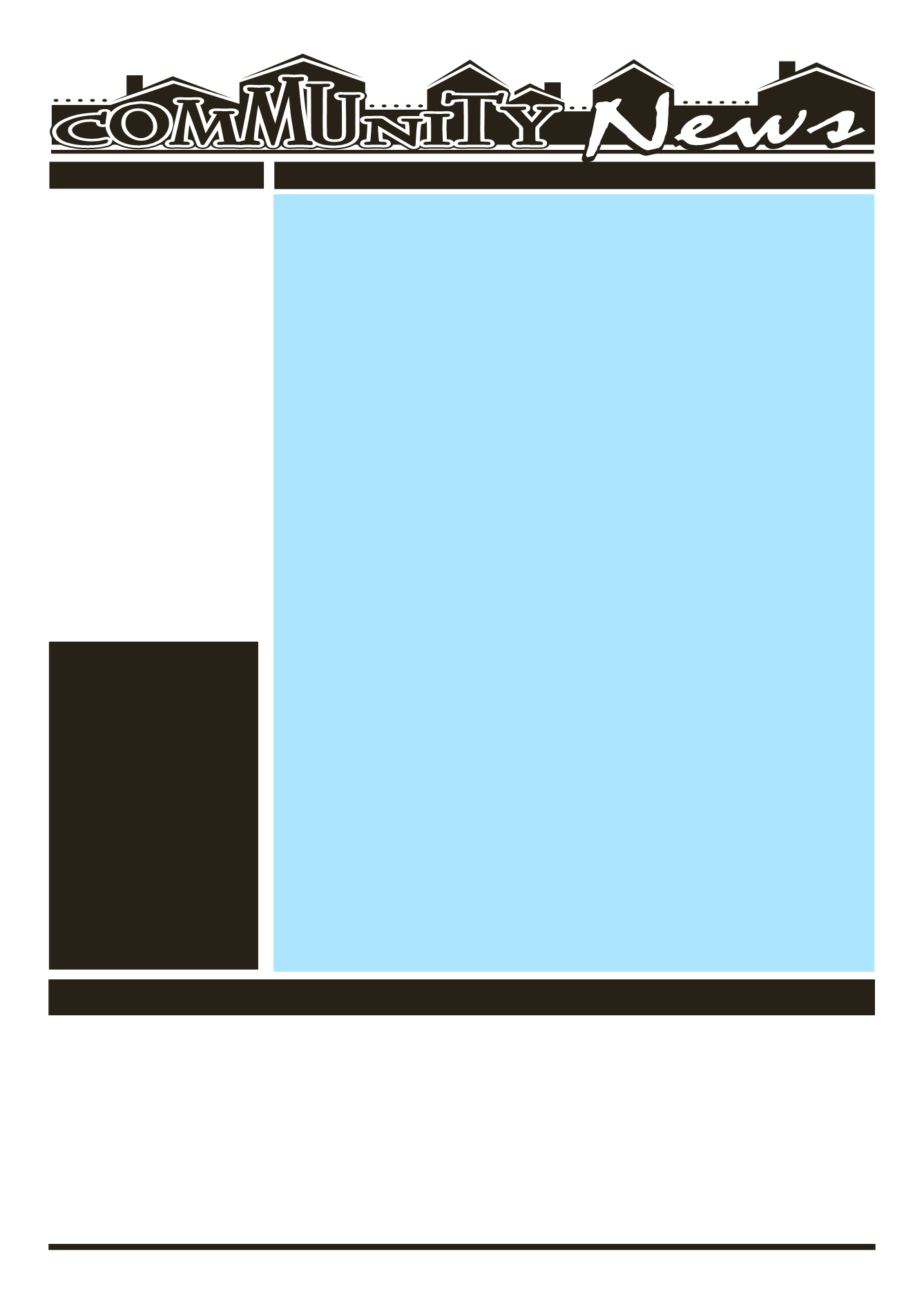 LEROYPENNYSAVER&NEWS -APRIL 12, 2015
Le Roy
Pennysaver
All GeneseeCounty residents, 60andolder, can takepart in thisweek'sactivitiesat theBataviaSenior Center, 2BankSt., Batavia. Formore information, call 343-1611.
WEEKLYEVENTS
OBITUARIES
IncomeTaxPreparation
by APPOINTMENTONLY takingplace between 9:00 am to 3:00 pm;
Arthritis Exercise
Mini
HealthFair
will be takingplace from11:00am to1:00pm; and
Bridge
Jill'sLegalProgram
is scheduled to takeplace from8:30am to5:00pm;
Cribbage
is scheduled tobeginat 1:00pm.
IncomeTaxPreparation
byAPPOINTMENTONLY takingplacebetween9:00am to3:00pm;
QuiltersGroup
Euchregame
is scheduled tobeginat 1:00pm.
ARepresentative from IndependentHealth
willbeavailable from9:30am to11:30am;
TaiChi
isset tobeginat9:30amwith
Gentle
Fitness
Cribbage&Bridge
arescheduled tobeginat1:00pm;
MusicalKeyboardLessons
LineDancingandArtClass
Euchre
Low IncomeWalk InAssistance forMedi-
careReimbursement
takingplace from2:00pm. to4:00pm.
SUNDAY,APRIL12
Konnect YouthGroup at LivingWaters Church,
onMain St. LeRoy. Sundays
from6:30 to8:30pm forages12-18. "BringDownall theWalls! ConnectwithGod
andConnectwithothers." Formore information, checkus out onlineat: livingwa-
tersleroy.org/konnect-youth-ministry/
MONDAY,APRIL13
TOPS (TakeOffPoundsSensibly)
meetsMondayevenings at the LeRoyPresby-
terian Church, corner of Clay&Main Streets. Doors open at 6:00 pm andmeeting
is from 6:30-7:15 pm. Visitors are always welcome. Call 585-768-7103 for more
TUESDAY,APRIL14
PreschoolStorytime:
EveryTuesdayat11am featuringstories, craftandsongsat
PavilionPublicLibrary, 5WoodrowDr., Pavilion. For info: 584-8843.
LCCP'sGRACE'SKITCHEN:
AFREEdinner everyTuesdayevening, 5-6:30pmat the
LeRoy UnitedMethodist Church, 10 Trigon Park. Parking available on Trigon Park
& the lots to the left andbackof theChurch. Handicapped Entrance in thebackof
the Church. Takeout &delivery are available. Formore info. contact SelbyDavis at
WEDNESDAY,APRIL15
PavilionBaptistChurch
youthprograms
Wednesday evening. All community children arewelcome to attend. AWANA is a
program for younger childrenPreschool (4 year old) through6thgrade. It is a fun
time of Bible Stories, games Biblememory and even refreshments.Word of Life
program is for teens7th through12thgrade.Weareeasily locatedat10956SLake
Road inPavilion. Call 585-584-3179ext. #12 for anyquestions.
NightattheMuseum3-MovieShowingattheWoodwardMemorialLibrary
forchildren ingradesK-6,from3:15–5:00p.m.Registrationrequired! Call768-8300
MovieDiscussionofBirdmanat theWoodwardMemorial Library
Watch this film at home (available for loan atWML) and then join in a staff-led
discussionof thisyear'sBestPictureAcademyAwardwinner. Registration required!
Call 768-8300or registeronlineat
TheWoodwardMemorial Library Board of Trustees
The senior citizens of LeRoy and Stafford
meet the thirdWednesday of each
month for a pot luck dinner and a planned program. Wemeet at the Knights of
ColumbusHall locatedbehindSave-A-LotonWestMainStreet. Eachpersonattending
bringsagenerousdishtopassorcontributes$4.00Foranicebuffetmealandsocial.
Pleasebringyourownplacesettingandbeverage. Coffeeandteaareprovided.Dinner
isservedat6:00pmandaprogram follows.Please joinus foranenjoyableevening.
Anyquestions,pleasecontact JudyRidleyat768-2001orSharon frostat768-6846.
THURSDAY,APRIL16
Genesee Veterans Support Network
(GVSN) supports the development of
Veterans focusedAAmeetings everyThursday, 6-7pm at the First Baptist Church,
306E.MainSt.,Batavia.Meetings ledbyMikeW.&areopentonon-veteransaswell.
Handicapaccessible. For additional information call 585-302-0825.
GRACE'S CLOSET: A clothing giveaway program
sponsored by Le Roy United
Methodist Church, 10TrigonPark, LeRoy, 9:30am to11:30ameveryThursday.We
haveclothing forallages. FALL&WINTERclothingnowbeingput inplace.Weare in
needofWARMERclothingespeciallycoats, jacketsboots,pajamas.Weneedbedding
of all kinds especially blankets.We accept donations be dropped off at the house
next to the church. Pleaseputall bags INSIDEon thebackporch. NOELECTRONICS,
COMPUTERS,DISHES, etc. Anyquestions call theoffice768-8980.
FRIDAY,APRIL17
PenuelChristianFellowship,
OneStep toFreedomaddictionsministry, aChrist
CenteredAddictionsprogram,aweeklymeetingeveryFridayat7pm.CalltheChurch
formore informationat768-6901or594-9575.
FishFryatNorthBergenPresbyterianChurch
Rd. Bergen. The dinner includes fried fish, potatoes, cabbage salad, applesauce,
rolls, beverage, anddessert. Serving from4:30 -6:30pm. Takeoutsareavailable.
Call 575-494-1815 formore information.
SATURDAY,APRIL18
RoycroftBookmakingattheWoodwardMemorialLibrary
p.m. Thisprogram for teens andadults. Createaccordionbooksusingavarietyof
techniques. Presented by The Roycroft Campus in East Aurora, NY. There is a $5
fee per person. Registration required! Call 768-8300 or register online at
LeRoyFirst PresbyterianChurch - Spaghetti &Meatball Dinner
salad, bread, homemadedessert andbeverage.
LeRoyFirstPresbyterianChurch-VendorBlender:
across fromFirehall, 10am -3pm.
"YummyTurkeyDinner!"A
t Riga Church, 7057Chili-Riga Center Rd. (33a@36)
Servingbeginsat 4:30pm til all served. Roast turkey, homemade stuffing,mashed
Free Food outreach brought to you by Foodlink
in theMill Street parking
lot. Every3rdSaturdayof themonth. 11-1pm. CallPenuel ChristianFellowshipat
585-768-6901withanyquestions
UPCOMINGEVENTS
LCCP'sMommy&MePlaygroup: Every2nd&4thFriday,
Physical Therapy (in thebackgym). Anymoms and their birth-kindergarten chil-
dren arewelcome to come enjoy socialization, lunch, coffee, structuredgames &
The Genesee Valley Civil War Roundtable
presents R.L. Murray on "Re-
demptionof Harper's Ferry Cowards". Themeetingwill take place onWednesday,
April 15th at 7 pm at LeRoy UnitedMethodist Church, door on right end of long
sidewalk, 10 Trigon Park, LeRoy, NY. Discussion periodwill follow program. New
Wyoming Hook & Ladder,
26Maple Street,Wyoming, NY -
All You Can Eat
Breakfast,
Sunday,April 19th, 2015, 8am -12:30pm.
TheStaffordHistoricalSociety
,onWednesday,April22,2015,willhostaprogram
withGretchenMurraySepik,whowillspeak inthepersonaofMaryJemison-White
SenecaWoman of the Genesee. Themeeting starts at 7:00 pm at the town hall
StoneChurchPresbyterianChurch Women's-AnnualRummageandBake
FoodSale
,May7th.Thursday–5pm-7pm,May8th. Friday–9am–1pm.
Bag
Sale
the8th. -9am-1pm -7549S. LakeRd. (Rt.19) Bergen,NY.
CommunityCalendar Submissions shouldbe sent to:
PAVILION — Ann M. D'Angelo of
Pavilion died Tuesday (April 7, 2015).
In lieu of flowers, memorials may be
made to thePavilionFireDepartment,
11302LakeSt., POBox 156, Pavilion,
LE ROY — Family and friends of
Margaret "Peg" Rich, who passed
away Feb. 19, 2015, are invited to her
Memorial Mass at 11 a.m. Saturday,
April 11, at Our Lady of Mercy Parish,
St.Peter'sChurch,44LakeSt.,LeRoy.
STAFFORD— Valerie Elizabeth Pe-
nepent, 38, of Stafford, passed away
Tuesday, (April 7, 2015) at her home
inStafford. ThePenepent Family has
requestedmemorialsbemade toeither
theSpecial OlympicsOfWesternNew
York, Genesee Reg, 1 Grove, Pitts-
ford, NY 14534 or Genesee ARC, 64
Walnut St., Batavia, NY 14020, Attn:
Development & Community Relations