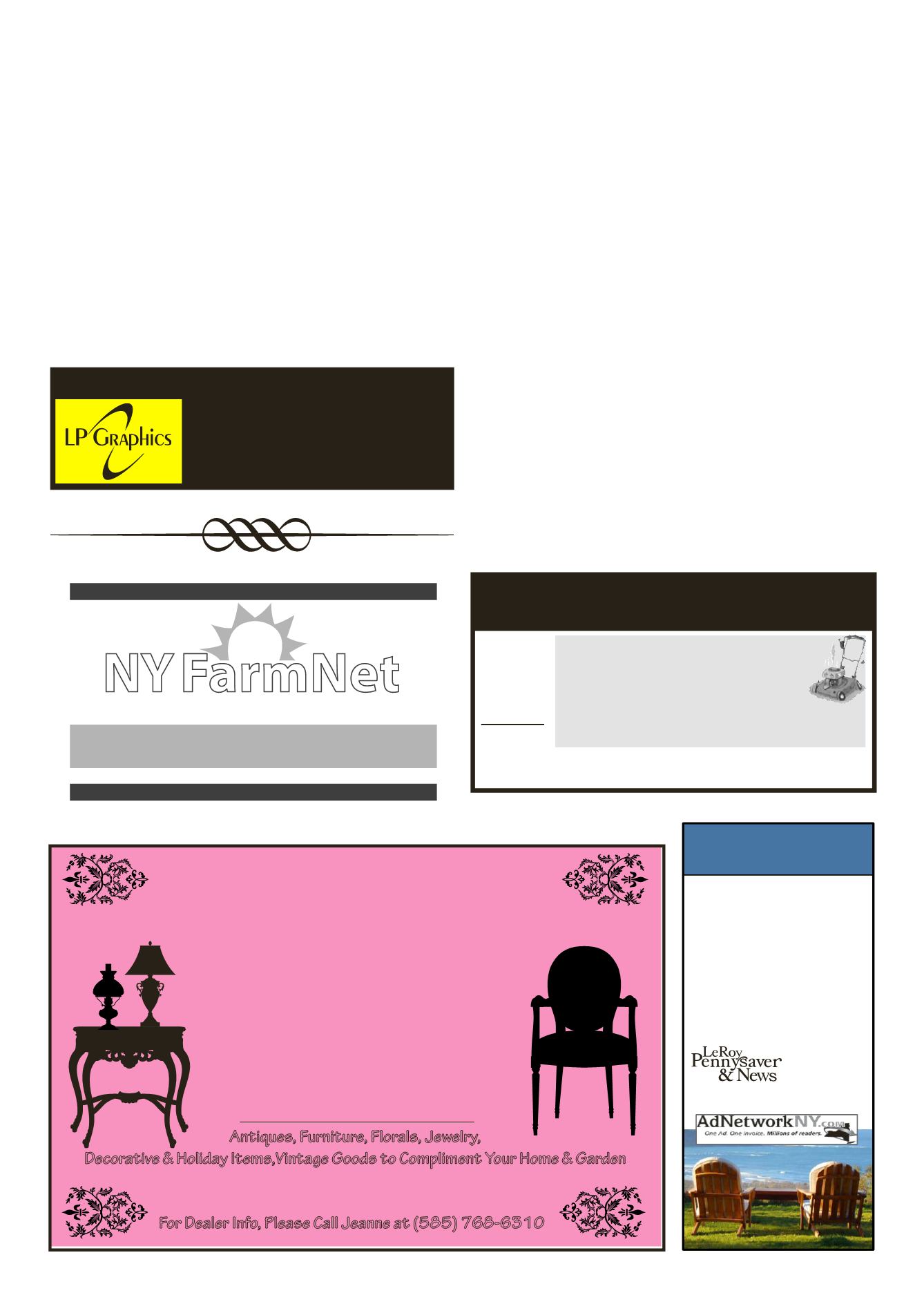 LEROYPENNYSAVER&NEWS -APRIL 12, 2015
SpringAntiques
&TreasuresSale
Saturday,April11,2015
10am -4pm
attheLeRoyCountryClub
7759EMainRd, LeRoy,NY14482
Venderswill offeravarietyof
Antiques, Furniture, Florals,Jewelry,
Decorative&Holiday Items,VintageGoodstoComplimentYourHome&Garden
$3.00Admissionwill benefittheLeRoyHistoricalSociety&Jell-OMuseum
CometoShop...Stay foraWonderful Lunch...
ForDealer Info,PleaseCallJeanneat (585)768-6310
1ChurchSt., LeRoy, NY14482
585-768-2201
FAX 585-768-6334
WeDo
• Engine andTransmissionRebuilds
• Lawn andGardenEquipment
•ATV's, Dirt Bikes • Light Equipment
• PickUp andDeliveryAvailable
• Snowblowers • Snowmobiles •Generators
SummerHours:
Thurs., Fri., Sat.
9 am to 5 pm,
Sunday
9 am toNoon
Mon., Tues.,
Wed. byAppt.
WeNow
AcceptAll
Major
Credit Cards
04/05/2015-A23-year-oldChurchvillemanwaschargedwithDWI
in the earlymorning hours of Sunday, April 5, 2015 by the LeRoy
Police Department. Alexander D. Sweeney of 25 RedfernDrive in
Churchville was stopped at about 1:20 A.M. for allegedly failing
to keep right on Lake Street in the village. Sweeney was found to
be allegedly intoxicated and was charged. In addition to the DWI
charge, Sweeney was also charged with DWI-BAC .08% or more
and failure to keep right.
Sweeneywas issuedappearance ticketsand is toappear in theTown
of LeRoyCourt onApril 20, 2015 at 1:00 pm.
An investigation into the cause of a 3 car motor vehicle collision
which occurred onDecember 30, 2014 in theVillage of LeRoy re-
sulting in serious physical injury to one driver has led to the arrest
NYFarmNet
Brightening the futureofNYagriculture since1986
BusinessPlanning •Retirement&EstatePlanning
FinancialAnalysis •StressManagement
PersonalWellbeing •BusinessTransfers
1.800.547.FARM • NYFarmNet.org
100% FREE&CONFIDENTIAL
04/07/2015 - Charles R. Lowe Jr., age 51 of 8131EastMainRd,
Lot6LeRoywasarrestedon4/7/15by theLeRoyPoliceandcharged
with one count each of DrivingWhile his abilitywas Impaired by
Drugs (Misdemeanor), RecklessDriving (Misdemeanor), Speed in
Zone 52mph in a 30mph zone (violation), Fail toUseDesignated
Lane (violation), following tooclosely (violation)and twocountsof
Assault in theThirdDegree (misdemeanor)asCriminalNegligence.
It is alleged that Lowe, whileDrivingWhile Impaired byDrugs,
passed out or fell asleep while driving Westbound on East Main
Street at a speedof 52mph in a30mph zone, then allegedlyveered
left from his lane, striking a vehicle in front of him, whichwas in
position tomake a left turn. This collision caused a chain reaction
threecarcollisionat/in the intersection. Thedriversof theother two
vehicles sustained injuries, one suffering a fractured nose and the
other a large laceration to the head.
Lowe at the time suffered serious physical injuries andwas en-
trapped insidehisvehicleandhad tobeextricatedby theLeRoyFire
Department andwas initially treated by the LeRoyAmbulance but
thenflown to the hospital byMercyFlightHelicopter.
Lowewas issued the traffic summons' and appearance tickets to
reappear inLeRoyTownCourt onApril 27, 2015.
The LeRoy Police Department was assisted at the scene by the
Genesee County Sheriff's Crash Management team, LeRoy Fire
Department, LeRoy Ambulance and both Mercy Flight air and
Have a vacation
property to rent?
Reachmillionsof
NYState consumers!
Print&Online
One call -­‐One click
Oneorder
Paper logo/contact\info
HERE