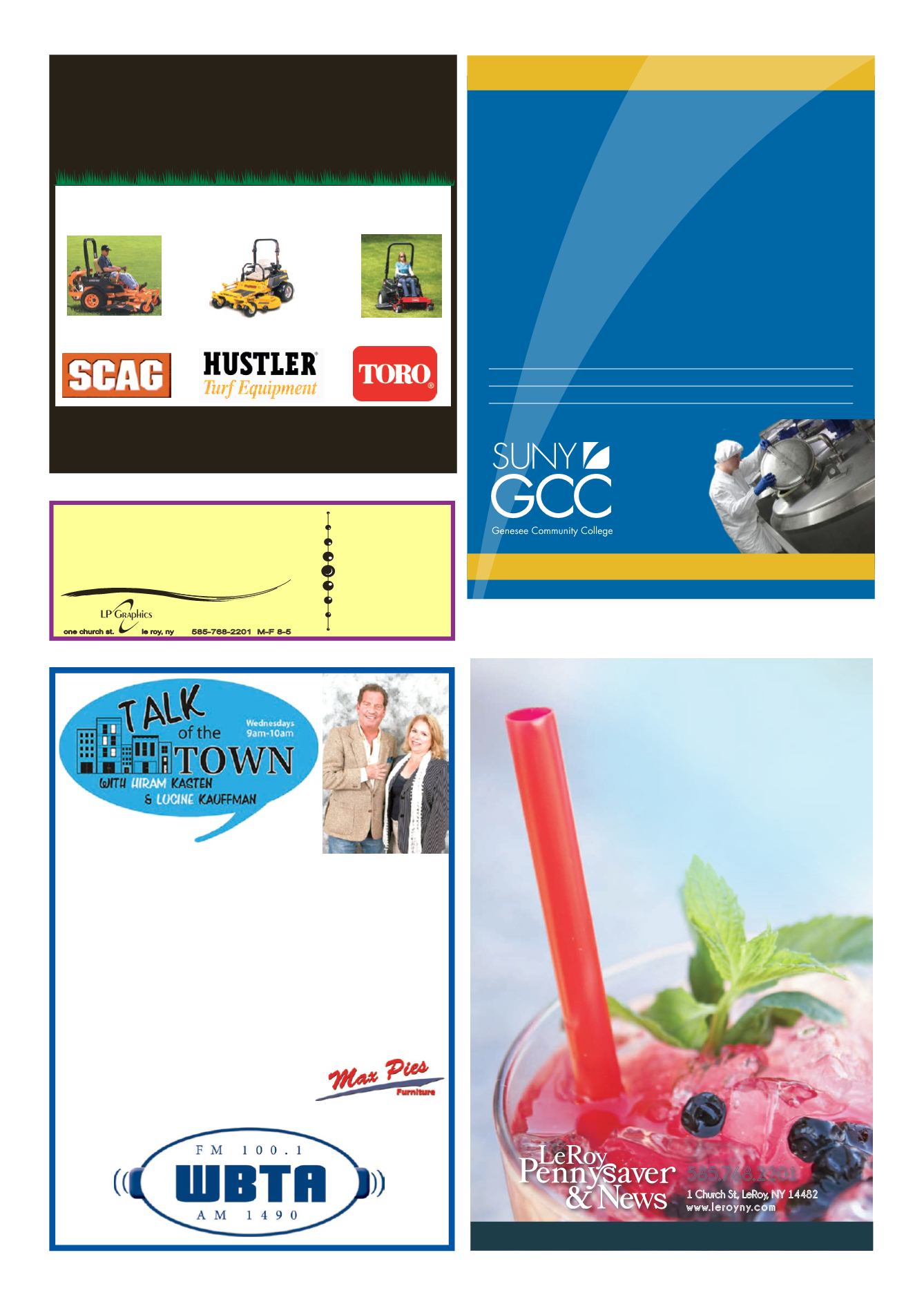 LEROYPENNYSAVER&NEWS -APRIL 12, 2015
Conversation about the arts and entertainment scene
inGeneseeCounty andWesternNewYork,
includinghigh schoolmusicals, theatre andmore.
A fun filled hour of information and bantering between
HiramKasten andLucineKauffman
Listen on theWBTA ap,
streamed on theweb or on
your radio atWBTAAM 1490
EveryWednesday at 9am – 10am
GeneseeCommunityCollegePresents
585-343-0055 ext. 6157
GeneseeCommunityCollege is an affirmative action/equal opportunity institution
FOOD PROCESSING TECHNOLOGY
FPT "INFO TOUR"
•Discover themany careers in Food Technology
•Meet GCC's FPT Instructor Greg Sharpe
• Play the Fun Food FactsWheel of the FutureGame
• Enter towin themini shopping basket full of local foods
• Test your cell phone against Food Tech cleanliness
• FREE&Open to the public
Thursday, April 23
·
Lima Campus Center
Saturday, April 25
· Batavia/Main Campus
/One College Rd., Batavia
Thursday, April 30
· Arcade Campus Center
LINWOOD
TURF EQUIPMENT, LLC
1818 LinwoodRd., Linwood, NY
HOURS:Mon.-Fri. 8am-5:00pm, Sat. 8am-12:00noon
... andwe serviceALLbrands!
Advertise •Classifieds •News •HelpWanted •CommunityCalendar
585.768.2201
1ChurchSt., LeRoy, NY14482
one church st. le roy, ny
one church st. le roy, ny