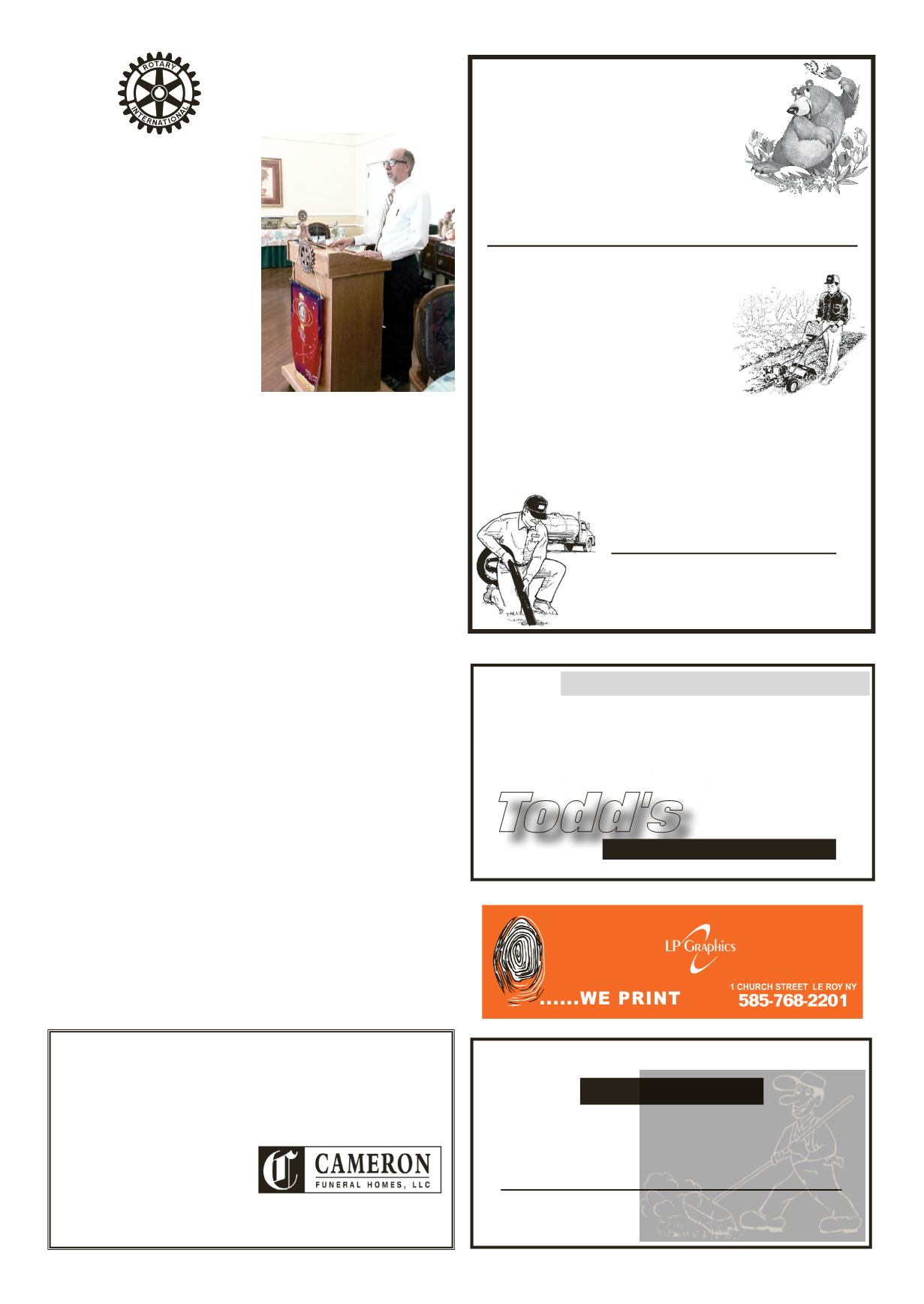 LEROYPENNYSAVER&NEWS -APRIL 12, 2015
HelpingFamiliesCelebrateaLifeLived
"Our FamilyServingYours Since 1907"
Trusted•Honest •Proven
Cameron, Brady&Steuber
FuneralHome
111Wolcott Street
LeRoy,NY14482
(585) 768-6800 •
Likeus onFacebook
NewHomes •Additions •Garages •PoleBarns
ToddCarli • Phone 703-0964
Todd's
Decks •Windows •Doors
Kitchens •Baths
CeramicTile
Basement Finishing
CustomShelves/Built-Ins
Siding •Remodeling
Roofing • SnowPlowing
FULLY INSURED
a call for anyof your needs at 768-6769.
Starting our 51st year servingLeRoy and surrounding areas!
Lawn Rolling • GardenTilling • Lawn Restoration
Hydro-Seeding • Landscape • Shrubs
Septic Pumping, Installation
Repairs,Port-A-Jon Rentals
Excavator,Backhoe &Bulldozer Service
PureOrganic or ScreenedTopsoil
Gravel • Stone ProductsAvailable at
78 1/2LakeSt.
PlumbingNeeds
No JobToo Small
Or Large For
McGinnis Excavating
CleaningService
•Carpet &UpholsteryCleaning
•Spot Cleaning&Odor Removal
•Tile&WoodFloor Cleaning&Waxing
•Complete Janitorial Services
LeRotaryNotes 4/1/15
It was a beautiful day for a
Rotary lunch (no foolin') as
President Randy called us to
order. Guests today were Dawn
McCullough,BenDeragon,Mary
Margaret Ripley's son, Douglas
and our guest speaker, Michael
Alt. Also on hand was Susan
Wakefield to accept a Rotary
We were reminded about the
Community EggHunt April 4th
at Hartwood Park and Rotary
will have a special Paul Harris
presentationaspartofour regular
June 3rd meeting. Planning for
ourGraze toRaiseMay15th is in
full swing and auctiondonations
are being sought. Contact any
Rotarian if you or your business
would like todonate to thiswor-
thycause that supports theMilne
Martha Bailey is tentatively
planningourAnnualRent-A-Ro-
tarian function forMay 9th. We
just need Rotarians and Mother
Nature to cooperate. Chris Bi-
viano was out-of-town and had
to pay for his missed meeting.
Martha Bailey, Tony Gugino,
Scott McCumiskey, Jerry Mc-
CulloughandSamVaggwereall
well preparedwithmake-ups for
their misses. Carol Wolfe tried
the age-old routine of bribing
the President with gifts from
her trip to Florida to avoid the
missed meetings, but alas, had
tohandoveracouplegreencards
plus! MarthaBailey isTompkins
Bank of Castile newest account
manager and such an announce-
mentdoesnot comecheap. Jerry
McCullough'snewTVand radio
spots are paying off... and good
thing. Marcia McKenzie had to
pay, now that the 5-Star time/
temperature isagainreliable.Anil
SawhneyandTonyGuginohad to
endure an article about a retired
dentist that, at95, canusehis feet
insteadof his hands. Lastly, Bob
Carlson threwPresidentRandya
curve-ball and paid up anyway.
Our guest speaker, Michael
Alt, is general manager of the
Eastman Business Park (fka
Kodak Park).Mike has awealth
of knowledge of the history, no-
menclature, operations, footprint
and business potential of that
storied piece of real estate. He
has the envious responsibility of
attractingpeople in thepublicand
private sector to take an interest
in the park. His group in un-
daunted by the business climate
in, and the ranking of, NYS and
has a growing list of potential
businesses considering starting
or relocating their business at
the Rochester site. We truly are
"Open for Business" and the
Eastman Business Park ready to
accommodate. Please "Like" us
on Facebook at Rotary Club of
LeRotary
Notes
lpgraphics.net