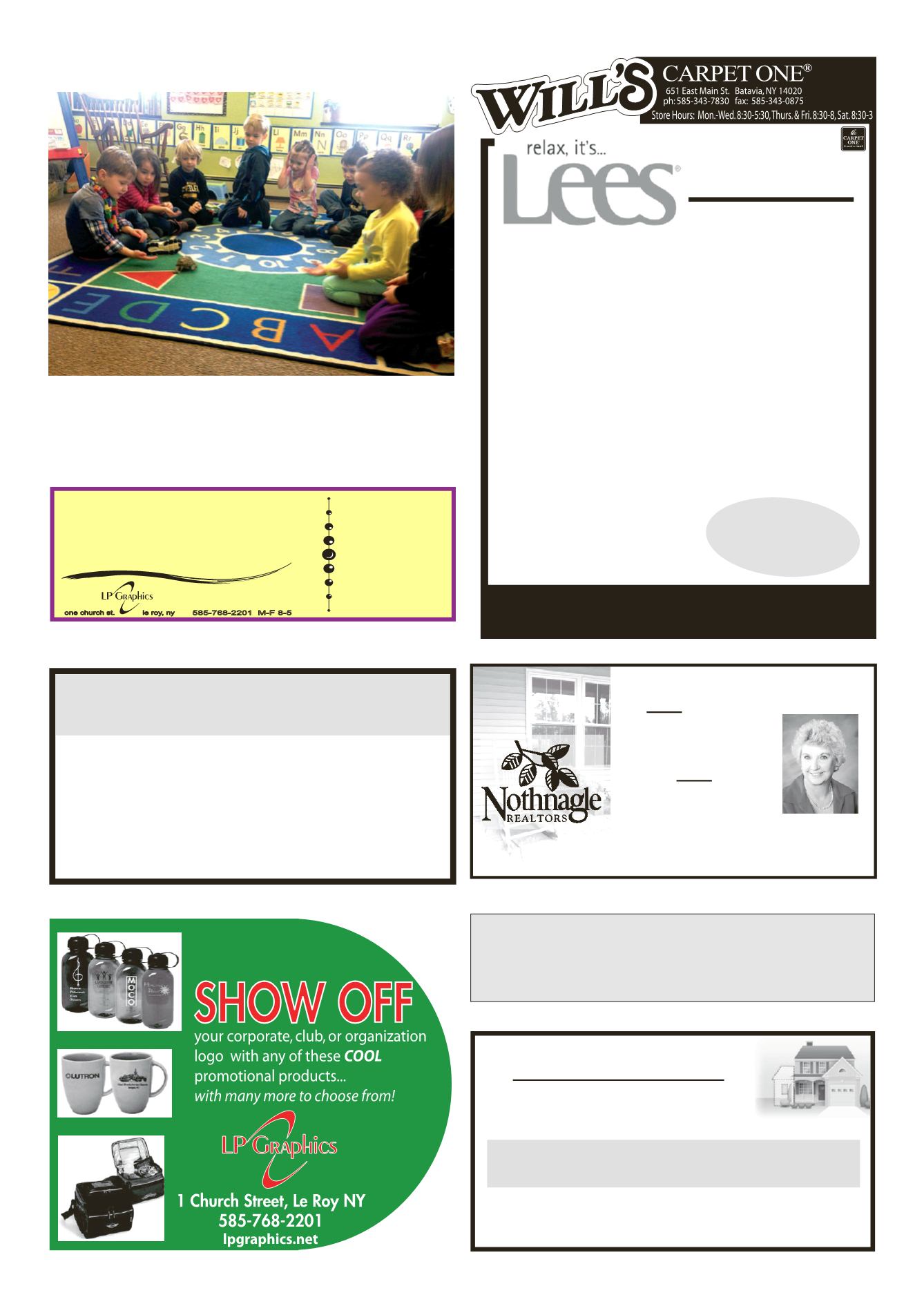 LEROYPENNYSAVER&NEWS -APRIL 12, 2015
"CompleteCarpentry Service"
M
ILLER
B
ROTHERS
B
UILDERS
CustomHomes •Remodeling•Additions
Roofing• Siding
DANIEL
MICHAEL
Batavia
585-343-6750
NOW is theBEST time
toBUYwith the interest rates
at their lowest!
Don't wait
toBUY -
call
LindaBeaumont
for all your real
estateneeds.
LindaBeaumont
Home (585) 768-6315
LicensedReal Estate
Salesperson
Multi-MillionDollar Producer
TheONE store for your perfect floor.
FLOOR
&HOME
• Lifetime - Stain& SoilWarranty
• 25Year TextureRetentionWarranty
• FreeEstimates
• FinancingAvailableTo
QualifiedBuyers
Ends
Soon!
CARPET
InstalledWith a 6#Pad
SUPPORTYOUR LOCALADVERTISERS!
They help sponsor the local news section of the Le Roy Pennysaver.
THANKS FORYOUR SUPPORT!
ALLWORKMANSHIP GUARANTEED • INSURED
297-9097 • 768-7737
• InteriorPainting
• Plaster/LathRestoration
•Drywall&DrywallRepair
•TextureRemoval
• Floors Stripped
&Refinished
•OldCeilings&Walls
MadeLikeNew!
MikeDarby'sPatch&Paint
Sunshine Nursery School's Pre-K students welcomed a special
visitor to theirclass.Squirtle theTurtlehelped them tocelebrate
"T"week.Thechildren learnedabout thecareofbox turtlesand
enjoyedwatchinghim explore the classroom.
"T" IsForTurtle
one church st. le roy, ny
one church st. le roy, ny