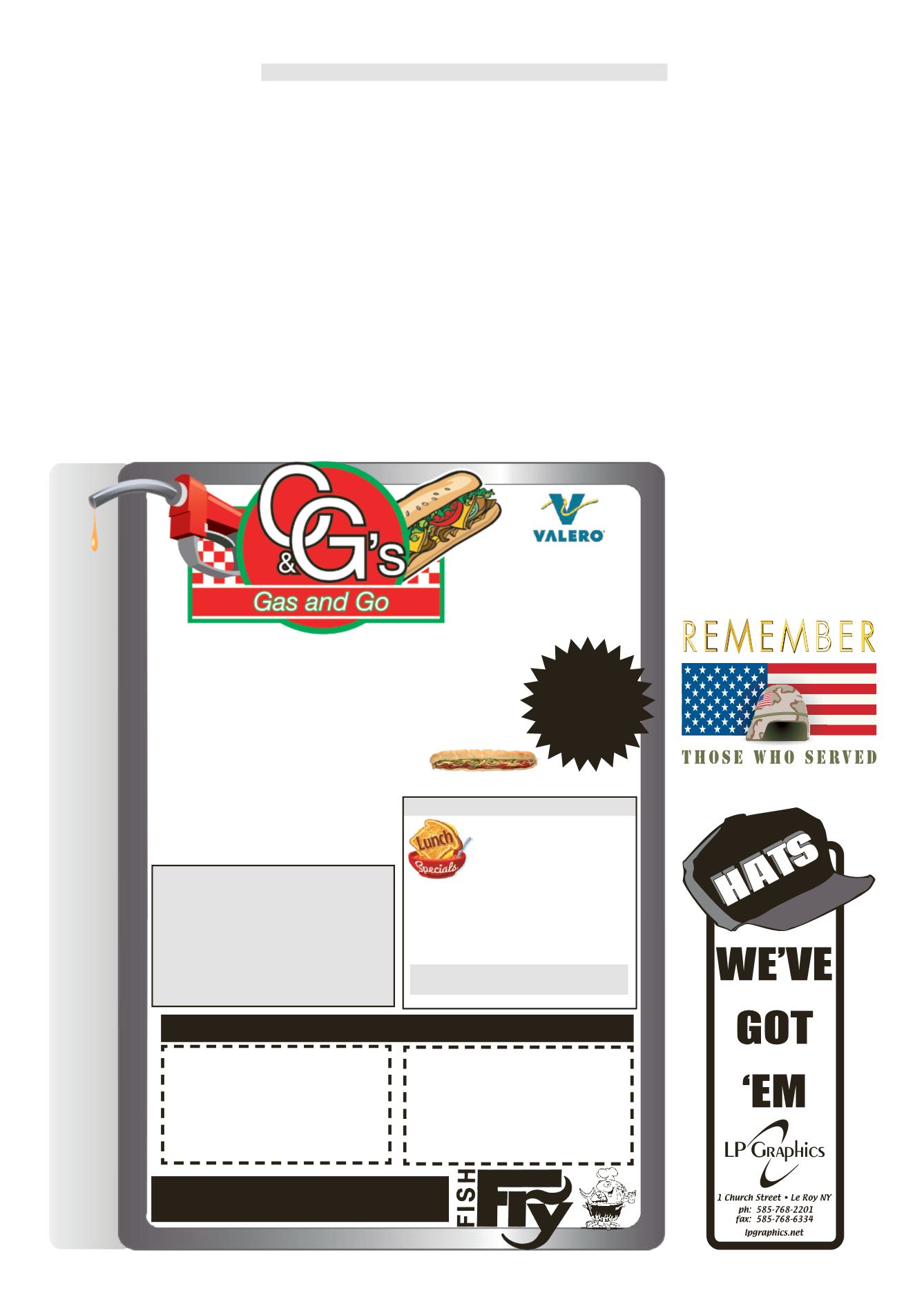 LEROYPENNYSAVER&NEWS -NOVEMBER 9, 2014
byKimM. Cox
Superintendent of Schools
Happy November! It's hard
to believe that we are already
approaching theholiday season.
It has been an exciting fall with
extraordinary sports seasons
and new academic programs.
Thanks to all of you that have
celebrated our children by at-
tending games, meetings, and
conferences. Your ongoing sup-
port is critical to our students'
continued success in all aspects
of their educational journey.
Two important initiatives have
been the focus for us during this
fall. One is the continued devel-
opment of our CommunityEdu-
cation Program. We have heard
from the community that there
is a need for programming for
adults. Last springwewere able
to offer several courses and the
feedbackwasquitepositive.New
classeswill bebeginning second
semester,butwearealsohavinga
fewclasses startingupnow.One
WalkingProgram
CardMaking
Both are very popular, so sign
up soon. Just visit ourwebsite at
the Community Education Link
or contact Lynda Lowe, Com-
munity Education Coordinator,
either by telephone (768-8131)
The other initiative is the cap-
ital improvement project,
The
R.I.T.EProject
of the past fewweeks, we have
met with several community
groups who have had some ex-
cellent questions and feedback.
OnMonday,November10that
7:00p.m. wewill hold apublic
hearing regarding the project
in the Wolcott Street School
Memorial Auditorium.
thispresentationwewill show the
scope of the project and answer
any questions. Ninety-two per-
cent of this project is targeted at
enhancementsof the instructional
space to ensure our students are
as prepared as possible to meet
the demands of a 21st century
education. The remaining 8%
targets some areas at Hartwood
Park, which we have not been
able to address in previous proj-
ects. One exciting feature of
the renovations is that all stu-
dents will realize an advantage
from some aspect of the project.
Whether theyare inkindergarten,
playsports,are researchers,orare
involved inmusic,allwillbenefit.
In addition, therewill be awin
for the community at large, as
our spaceswill be enhanced and
made more accessible to all. Fi-
nally, theBoardofEducationhas
worked diligently to ensure
that
thisprojectwillnotresult inan
increase in taxes
Hope to see you on the 10th.
If youhave anyquestions please
contact me at 585-768-8133 or
visit thewebsiteandclickonThe
Buy 1LargeCheesePizza
..................................$8.99
Get SecondLargeCheesePizza
.....................$5.00
Extra toppings $1.50.
NoCouponsPlease.
EARLY BIRDPIZZA SPECIAL!!
Sun. •Mon. •Tues. -LargeCheese - 16"
FRESHMADE TOORDER SUBS
ColdSub
......................$7.99
Hot Sub
.............................$8.99
MEAL DEAL
NoCouponsPlease
LargeCheesePizza&
12BuffaloWingsBone-in
CheckOut
Our GAS PRICE
5¢OFF
Every SUNDAY
ExpiresNovember 30th
ExpiresNovember 30th
NotGoodWith Specials
NoCouponsPlease
Saturday& Sunday ONLY
SUPERSUBSPECIAL
(ColdSub)
Monday-Friday
$5.00
IncludesFountainDrink
Homemade Chili Available
ComingSoon ... Friday
s
Wednesday- StuffedShellswithRoll
Thursday- ChickenandBiscuits&MashedPotatoes
All SpecialsComeWith
16 oz. FountainDrink!
*Subject to change