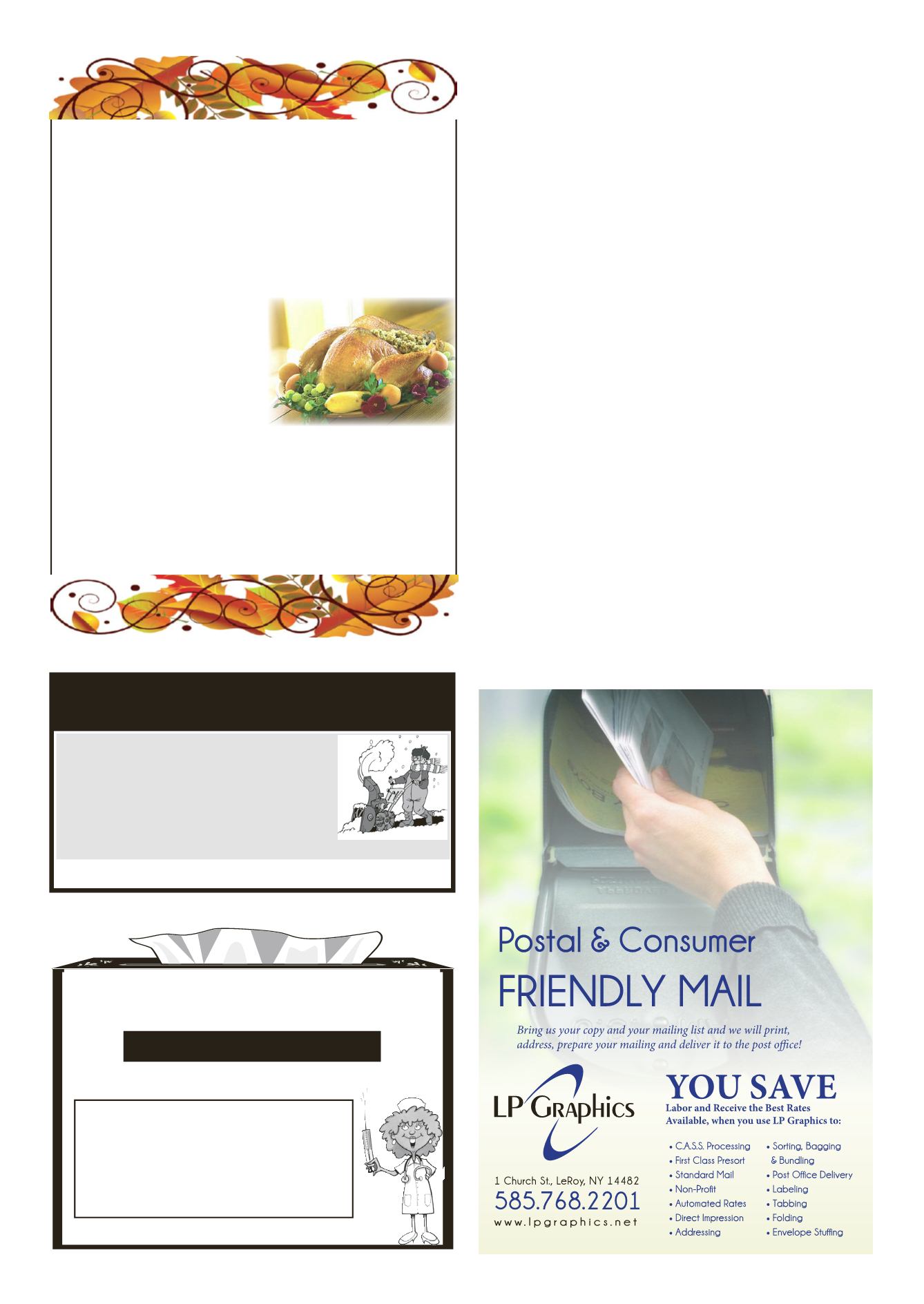 LEROYPENNYSAVER&NEWS -NOVEMBER 9, 2014
• Engine andTransmissionRebuilds
• Lawn andGardenEquipment
•ATV's, Dirt Bikes • Light Equipment
• PickUp andDeliveryAvailable
• Snowblowers • Snowmobiles •Generators
ATTENTIONPATIENTSOF
LeRoy FamilyMedical Care
FLU SHOTCLINICS
Pleasecall 768-4400 to scheduleyour appt.
PresidentBobBennett called themeeting
to order at 5:34 pm on November 3, 2014
at The Greens of LeRoy. After a review of
last month's minutes, a motion was made
to accept the minutes from Frank Davis,
seconded by JimNielson, and carried. Bob
Bennett gave theTreasure'sReport,motion
by JimNielson toaccept, secondedbyGreg
Announcements included a Save the
Date for The Annual Chamber Awards at
The Clarion in Batavia on 2/28/2015, and
the deadline for nominee application is
Kim Cox and Brian Fuller then gave a
presentation on the capital improvement
plan known as, "The R.I.T.E Project". The
R.I.T.E. Project has beenmany years in the
making, and LeRoy Central School Board
of Education thinks right now is the time
tomove forward. KimCox gave a detailed
overview of the proposed renovations and
upgrades to the Wolcott Street School,
LeRoy Jr./Sr. High School, Bus Garage,
and Hartwood Park. The total project has
a $12.7million projected cost, with no ad-
ditional increase inour residents' taxes due
to this project. KimCox and Brian Fuller
were very clear, that they cannot guarantee
therewill not be an increase in our taxes in
the coming years, but it will not be due to
thisproject. Thebestpart is that all students
will benefit from the many aspects of the
project. If you are interested in learning
more about this excitingproject you cango
Public Hearing on November 10, 2014 in
theMemorialAuditorium. ThePublicVote
will be onDecember 3rd from 7 am-9 pm,
inTheWolcottStreetGymnasiumCorridor.
Bob Bennett is looking for a volunteer
to head up the Welcome Wagon for the
Business Council. JimDeLooze reminded
thegroupof "Fall forLeRoy"onNovember
7th. Bob Bennett formed a committee for
The First Night Raffle, and there will be
more information to come. TheWomen of
theMoosewill be having aHam&Turkey
Raffleon11/8/2014. LucieGriffis informed
us thatWinterfestwill be onDecember 6th.
For every $10 spent at local business until
December6th,youwill receiveoneentry for
prizes at Winterfest, so save your receipts.
The Business Council also voted to give a
$250 donation to help offset the costs. The
motionwasmadebyKimPasquale, second-
ed by JimNielson, and carried.
JackHempfling informed the group that
The LeRoy Business Council Website is
moving forward. Jackalsoasked forsugges-
tion for thehomepageonwhatmight attract
business or families tomove here.
David Paddock gave an update from the
Town. Davidsaid themain issueat thePublic
Hearingwas theLeRoyAmbulance. Steven
Barbeau andDavidPaddockboth requested
thatTheLeRoyBusinessCouncil sponsor a
community education forum on the future
of theambulanceearlynextyear.BillKettle
made a motion that The Business Council
sponsor an education forum, Jim Nielson
seconded, motion carried. More details on
dateand time to follow.StevenBarbeaualso
reported the landsaleonNeidRoadhasbeen
turneddown.TheTown is looking intoother
options.Also, therehasbeennoprogresson
the gas line onWest BergenRoad.
BillKettlegave a report from theVillage
Board. TheVillage is currentlyworking on
CodeEnforcement.Thecodechangeson the
PodMall were approvedwhich has created
additionalmarketing opportunities.
TomTurnbull reported from theChamber
of Commerce. He reiterated the Save the
Date for TheChamberAwards onFebruary
28th, 2015. Also, The Home Showwill be
onMarch 28, 2015-March 30, 2015. More
details to follow. Lynne Belluscio also
spoke on theChamber's efforts to do some
branding for tourism inWesternNewYork.
The next meeting will be on December
1st, 2014 at a location to be announced.
MotionbyFrankDavis toadjourn, seconded
LBCMinutes
It is that time of year again, and even though theworld is full
of turmoil, grief, hunger and sickness, there is one day in
America calledThanksgiving.When everyone, even if it is hard
for some people, can always find something to be thankful for,
even if all you cando is some small thing for someone else
each day. Be thankful, you can.
OnThanksgivingDay,
if you are alone orwould like a
dinner served -
rides can be arranged or
delivered to your home.
Please call andwewill
arrange it.
From all of us at
McGinnisExcavating
Tom'sFavoriteDay
Please call ahead of time - 768-6769 or 721-5700