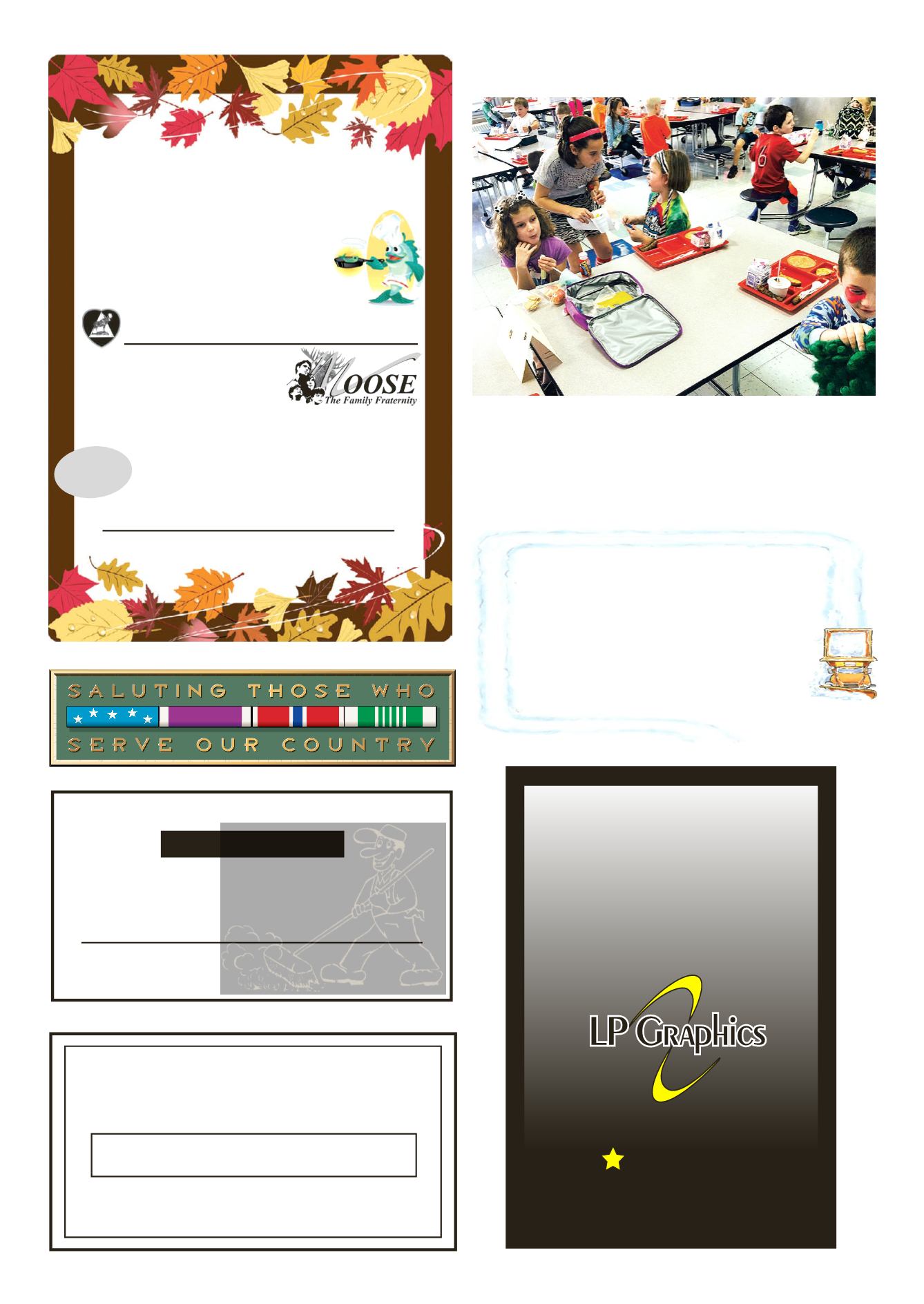 LEROYPENNYSAVER&NEWS -NOVEMBER 9, 2014
FISH FRY
LeRoyWomenOf TheMoose, Chapter 370
21BankSt., LeRoy •768-6170
OpenTo
ThePublic
Sunday, November 16th
1:00 to 4:00pm
Raffles •Door Prizes • Bake Sale • FoodAvailable
5:30pm to 8:00pm
NewMenu Items&Weekly Specials!
ForMembers andQualifyingGuests
Full Menuand SaladBar Available!
Plumbing • Heating
Installation&Repair Service
For All Residential &Commercial Work
CleaningService
•Carpet &UpholsteryCleaning
•Spot Cleaning&Odor Removal
•Tile&WoodFloor Cleaning&Waxing
•Complete Janitorial Services
Wolcott Street School students recently participated in "Mix It
Up"day.This is anational campaign launchedbyTeachingTol-
erance that encourages students to identify, question and cross
socialboundaries.Activities for thisday includedmixingup their
normal seatingarrangements in lunchandparticipating ingrade
level activities that encouragepositive social awareness.
Mix ItUpDay
For Residential
&Commercial
SNOWPLOWING
1CHURCHST, • LEROY, NY • lpgraphics.net
WEHANDLEALLASPECTSOFPRINTING...
PROGRAMS
LETTERHEADS
BILLHEADS
FLYERS
BROCHURES
POSTERS
CARBONLESSFORMS
ENVELOPES
RAFFLETICKETS
NEWSLETTERS
RESUMES
TYPESETTING
RUBBERSTAMPS
ENGRAVEDSIGNS
NAMETAGS
COPIES
LAMINATION
COMMUNITYFAX
NEWSANDPICTURES
ADVERTISING
BUSINESSCARDS
HOURS: Monday thruFriday8:00 to 5:00