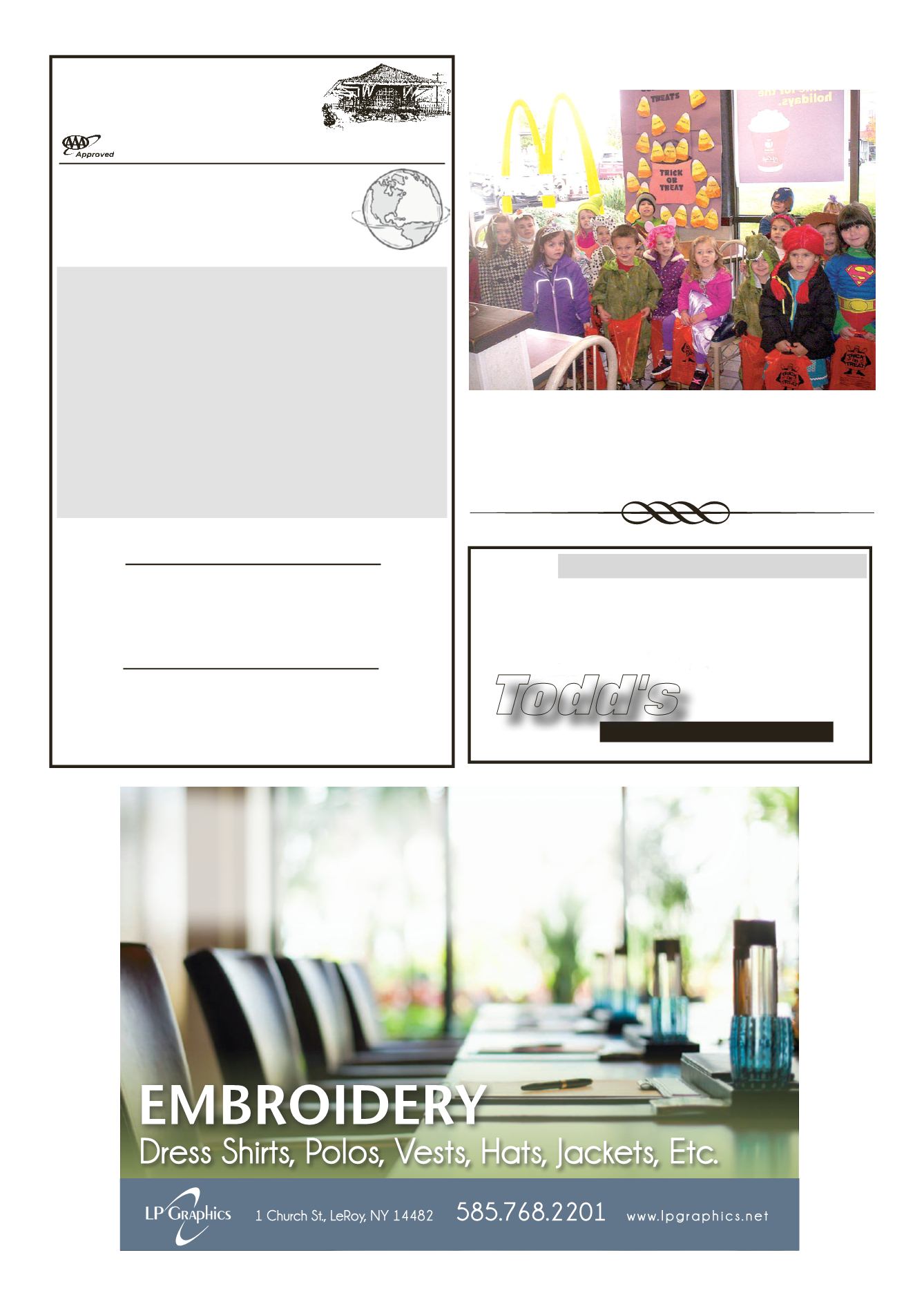 LEROYPENNYSAVER&NEWS -NOVEMBER 9, 2014
D&RDepot
63LakeSt. (Rt. 19), LeRoy• 768-6270
Let'sMeetAt The ...
OpenForBreakfast, Lunch&Dinner - 7DaysAWeek 7am-9pm
Oneof thebest partsof traveling iseating the
local Fare. In case youdidn't get a chance to
globe trot thispast summer, we'regoing tohelp
you to take aculinaryvacation. Our upcoming
all inclusiveSunday specialswill featuredishes
from around theworld! –And all for 17.99or less!
SUNDAY, NOVEMBER 9th–We're off toDenmark for theday!
Danish food culture is shaped and created to protect against the coldweather.
HomemadeFrikadellers (a flat meatball)withbrowngravy, boiledpotatoes&
gerkenpickles. For dessert, Rodgrod, which is aberries& creamdish.
SUNDAY, NOVEMBER 16th –Brazil is next on our itinerary
The Portuguese brought tastes& styles of cookingwith them,
including sugar, citrus fruits, and sweets.
We'll bemakingFeijoada (a beef stew) servedwithorange salad.
For dessert we'll be featuringBananaFrita (fried bananas)
Sunday, November 23rd –HeadNorth, to Iceland
ThePortuguese brought tastes& styles of cookingwith them,
including sugar, citrus fruits, and sweets.
We'll bemakingHangikijot, a smoked lambdishwith peas, potatoes& béchamel
sauce. Mondlukatka is for dessert – almond/strawberry coffee cake
Ourpuzzlepiececontest endsNovember23rd!
Hurryup, get yourpuzzlepieceandget to theDepot before9pm
THANKSGIVINGDAYdinner – serving from 11 am – 7pm
TheDepot is openThanksgivingDay serving a slightly limited dinner
menu, featuringRoast Turkey, ChickenPot Pie, HamSteak,
BroiledScallops, PrimeRibs ofBeef, PorkChops, andmore –muchmore!!
We encourage you tomake your dinner reservations soon for this special day
And – yes –wewill be offering our famous 'Leftovers to go'
TheDepot's new sister company, DoubleLRentals - offering tables, chairs,
heaters, bars, linens, dishes& catering supplies for your special occasions!
10%Discount
when youuseboth the
D&RCateringServices andDoubleLRental for your event.
Visit doublelrental.com or call us at (585) 344-0023
NewHomes •Additions •Garages •PoleBarns
ToddCarli • Phone 703-0964
Todd's
Decks •Windows •Doors
Kitchens •Baths
CeramicTile
Basement Finishing
CustomShelves/Built-Ins
Siding •Remodeling
Roofing • SnowPlowing
FULLY INSURED
LeRoyNurserySchool had it's annualHalloweenParadedown
MainStreet.Thechildrenwerealldressed in theircostumesand
manybusiness invited them in.Everyone loved tosee thechildren
all dressedup andhaving somuch fun!They are picturedhere
in front of their artwork atMcDonald's.
HalloweenParade
MissingSomething?