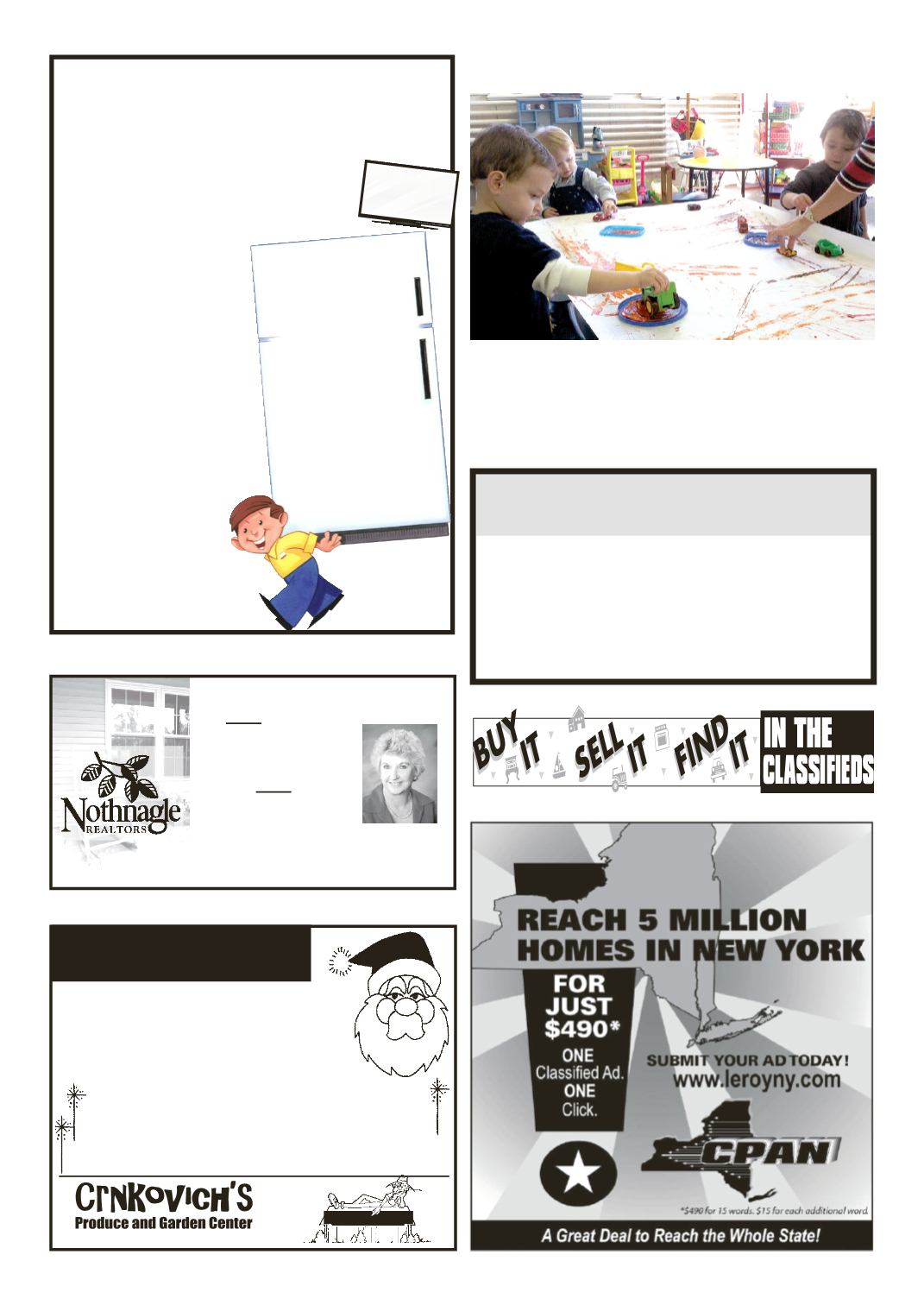 LEROYPENNYSAVER&NEWS -NOVEMBER 9, 2014
ALLWORKMANSHIP GUARANTEED • INSURED
297-9097 • 768-7737
• InteriorPainting
• Plaster/LathRestoration
•Drywall&Drywall Repair
•TextureRemoval
• Floors Stripped
&Refinished
•OldCeilings&Walls
MadeLikeNew!
MikeDarby'sPatch&Paint
Batavia
585-343-6750
NOW is theBEST time
toBUYwith the interest rates
at their lowest!
Don't wait
toBUY -
call
LindaBeaumont
for all your real
estateneeds.
LindaBeaumont
Home (585) 768-6315
LicensedReal Estate
Salesperson
Multi-MillionDollar Producer
The friends in the Little Bugs Playgroup class spent a day dis-
coveringcars.Theywalked into theirclassroom todiscovercars
everywhere! They were in the sandbox, in the water table and
even in some paint. The children had a great time running the
cars through the paint and seeing the many different sizes of
tracks that theymade.
MakingTracks
TheRotaryClub
of LeRoywould
like to thank
everyone that
purchased
tickets for the
26thAnnual
ApplianceRaffle
andwhomade
this year's raffle
ahuge success.
EmilyTyle
CharlieMiller
- 5 cu. ft. Chest Freezer
GeneSinclair
Pat Fisher
DavidGrayson
SelbyDavis
DeeHenry
CharlesWood
PattiMajor
RonLaRocco
8041 E.MainRd., (Rt. 5), LeRoy, NY
37thAnnual
Gift Shoppe 2014