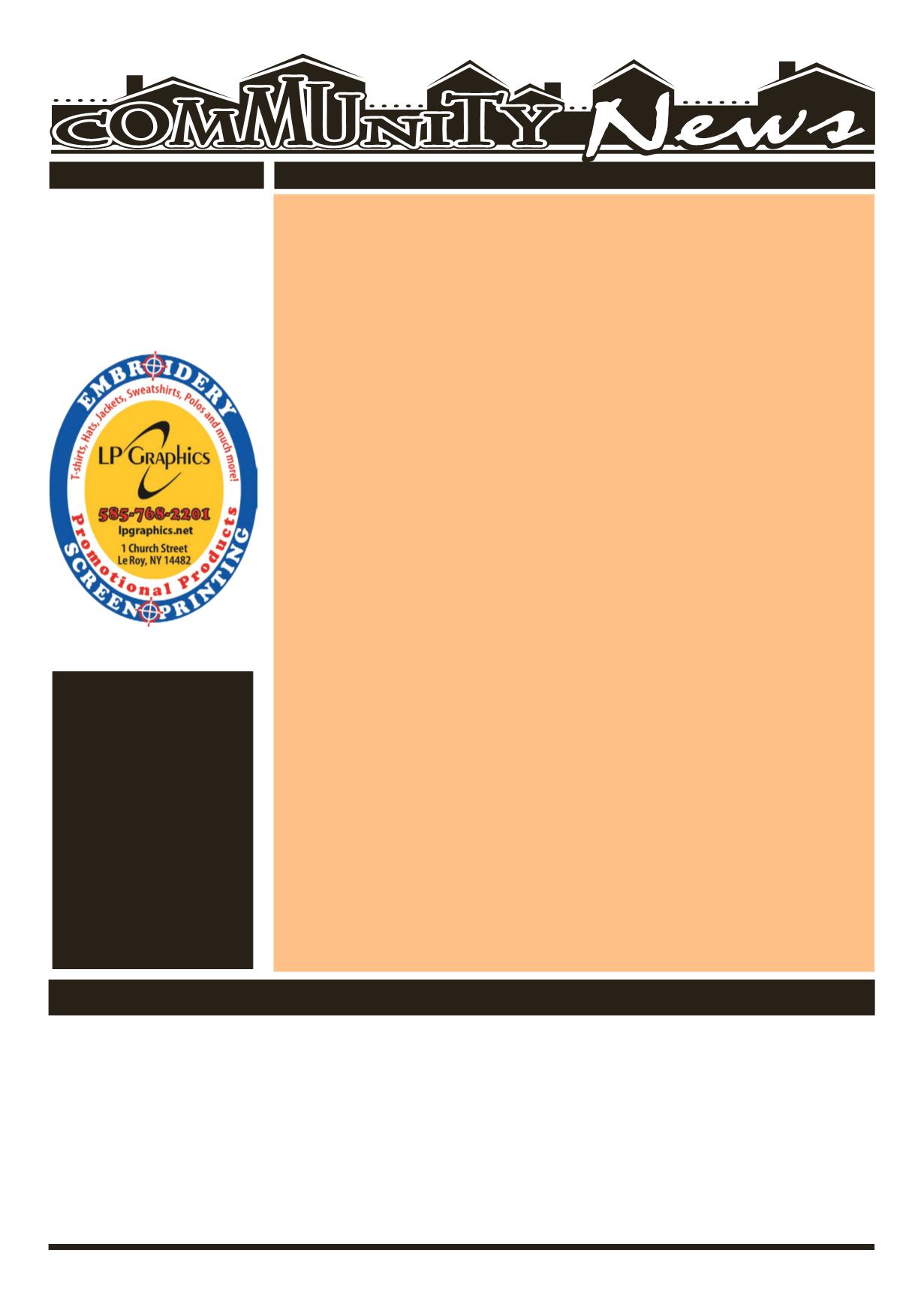 LEROYPENNYSAVER&NEWS -NOVEMBER 9, 2014
Le Roy
Pennysaver
All GeneseeCounty residents, 60andolder, can takepart in thisweek'sactivitiesat theBataviaSenior Center, 2BankSt., Batavia. Formore information, call 343-1611.
(November 10 -November 14)
WEEKLYEVENTS
OBITUARIES
ArthritisExercise
is scheduled tobeginat 9:30a.m.;
Bridge
is set tobeginat 11:30a.m.
VeteransDayHoliday–SeniorCenterClosed.
Quilters
are scheduled tomeet at 9:00 a.m.;
DefensiveDrivingClass
is scheduled tobegin at 9:30 am to5:00pm;
Euchre
game
is scheduled tobeginat 1:00p.m.
Tai Chi Exercise class
is scheduled for 9:30 amwith
Gentle Fitness Exercis
Cribbage andBridge
MusicalKeyboardingLessons
Rolling IntoTheHolidaysFundraisingEvent&PulledPorkLuncheon
takesplace from9:00am to3:00pm;
LegalServices
is forAPPOINTMENTSONLYall day;
Euchre
is set tobeginat 12:00p.m.
SUNDAY,NOVEMBER9
AWANA Program at Penuel Christian Fellowship.
Street. Sundays 12:15 to 1:45 pm. Ages 5-17 broken into groups.
Developing friendships. Having fun. Learning about God. Safe envi-
Konnect Youth Group at Living Waters Church,
LeRoy. Sundays from 6:30 to 8:30 pm for ages 12-18. "BringDown
all theWalls! ConnectwithGodandConnectwithothers." Formore
information, check us out online at: livingwatersleroy.org/kon-
OpenHouse tohonor Jim&BarbDourie
yearsof servingWyomingatDourie'sShopWise. 2-5pm.
MONDAY,NOVEMBER10
TOPS (Take Off Pounds Sensibly)
meets Monday evenings at the
LeRoyPresbyterianChurch, corner of Clay&MainStreets. Doors open
at6:00pmandmeeting is from6:30-7:15pm.Visitorsarealwayswel-
come. Call 585-768-7103 formore information.
TUESDAY,NOVEMBER11
Preschool Storytime:
Every Tuesday at 11 am featuring stories,
craft and songs at Pavilion Public Library, 5Woodrow Dr., Pavilion.
LCCP's GRACE'S KITCHEN:
A FREE dinner every Tuesday evening,
5-6:30 pm at the LeRoy UnitedMethodist Church, 10 Trigon Park.
ParkingavailableonTrigonPark& the lots to the left andbackof the
Church. Handicapped Entrance in the back of the Church. Takeout &
deliveryareavailable. Formore info. contact SelbyDavisat 585-738-
WEDNESDAY,NOVEMBER12
Novembermeetingof theLeRoyTown&CountryGarden
Club
willmeet at 7 pm at LeRoy Presbyterian Church. The business
meetingwill include a discussion of next year's officers. Members
who aremaking scarves should come by 6:30. Remember to bring
a non-perishable item for the LeRoy Pantry. Contact AnnWalters at
737-9481or768-8130 formore information.
Kids Movie Club shows
the movie Maleficent at theWoodward
Memorial Library for children in grades 3-6, from 3:15 to 4:45 p.m.
Snacks served. Registration is required. This program is for children
inGrades3-6. Registration required! Call768-8300or registeronline
THURSDAY,NOVEMBER13
GeneseeVeterans SupportNetwork
(GVSN) supports thedevel-
opment ofVeterans focusedAAmeetings everyThursday, 6-7pm at
the First Baptist Church, 306 E. Main St., Batavia. Meetings led by
MikeW.&areopen tonon-veteransaswell.Handicapaccessible. For
additional information call 585-302-0825.
GRACE'S CLOSET:
A clothing giveaway program
Le Roy United Methodist Church, 10 Trigon Park, Le Roy 9:30 am
to 11:30 am every Thursday. We have clothing for all ages. FALL &
WINTER clothingnowbeingput inplace.Weare inneedofWARMER
clothingespeciallycoats, jacketsboots,pajamas. Weneedbeddingof
all kinds especially blankets.We accept donations be dropped off at
thehousenext to the church. Pleaseput all bags INSIDEon theback
porch. NOELECTRONICS, COMPUTERS,DISHES,etc. Anyquestionscall
TownofLeRoyBoardMeeting
,7pmattheTownHallBoardRoom,
Adult Craft Program at theWoodwardMemorial Library
6:30p.m.Turna rusticglass vase intoabeautiful candleholder! You
design the look! . Registration required! Call 768-8300 or register
FRIDAY,NOVEMBER14
Penuel Christian Fellowship,
One Step to Freedom addictions
ministry, a Christ Centered Addictions program, a weeklymeeting
every Friday at 7 pm. Call the Church formore information at 768-
SATURDAY,NOVEMBER15
Roycroft Presents "Make Your Own Book"
Memorial Library, Two Programs: 11:00 a.m. to 12:30 p.m. for
Kindergarten– 6thgraders; 1:30 to 3:00 p.m. for teens and adults.
Registration required! Call 768-8300 or register online at
is program is made possible by
theNewYorkStateCouncil on theArtswith the support ofGovernor
AndrewCuomoand theNewYorkStateLegislature.
UPCOMINGEVENTS
LCCP's Mommy &Me Playgroup: Every 2nd & 4th Friday,
12:00-1:30, LeRoyPhysicalTherapy (in thebackgym).Anymoms
and their birth-kindergarten childrenarewelcome to comeenjoy
socialization, lunch, coffee, structuredgames& freeplay.
All You Can Eat Breakfast,
Wyoming FireHall,
Adults $8.00, Children 10 and under $4.00.
ByronKiwanis -PancakeBreakfast
to12:30,November 16th. $6.00, Under 5 -$3.00. ChineseAuction,
50/50Raffle. Proceeds to support: ByronSummerDayCamp,Med-
icalTransportation cost forTomHartwig.
CommunityCalendar Submissions shouldbe sent to:
PAVILION — Richard J. Herold, 83, of
Pavilion Center Road, passed away at
homeunexpectedlyMondayevening (Nov.
3, 2014). The courtesy of no flowers is
requested with memorials suggested to
eitherCUREChildhoodCancerAssociation,
200Westfall Rd., Rochester, NY14620; or
GeneseeCancerAssistance, 16Bank St.,