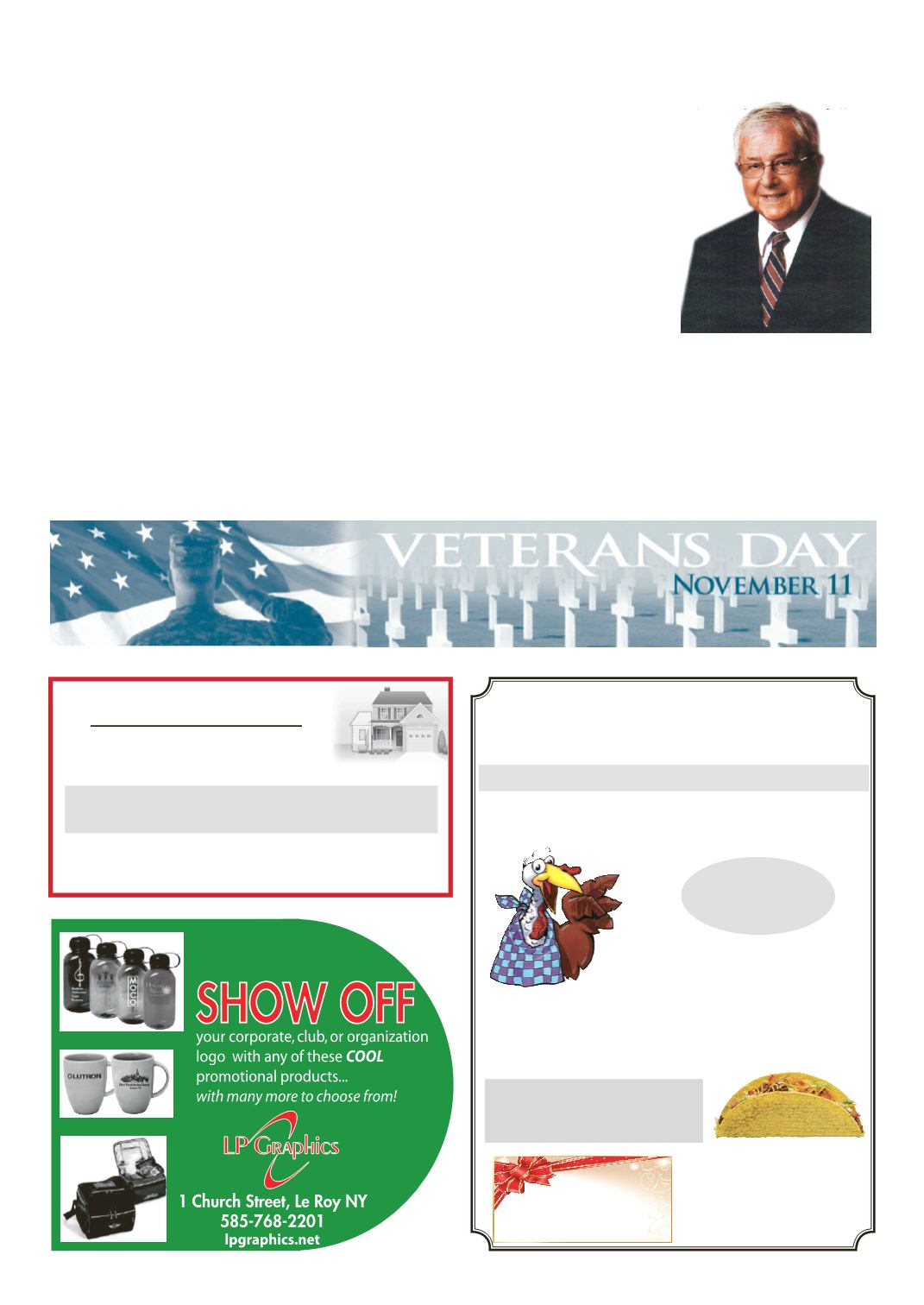 LEROYPENNYSAVER&NEWS -NOVEMBER 9, 2014
The 30th annual Health and
Humanitarian Award of Gen-
esee County will be presented
to Robert L. Boyce of LeRoy
on Friday, December 5 at an
awards luncheon at Terry Hills
Restaurant. Theawardpresented
by The Jerome Foundation and
UnitedMemorialMedicalCenter
Foundation recognizesvolunteer
Countywhohavehelpedpromote
emotional, physical and spiritual
well-beingof thearea's residents.
Nominations reflected "ordinary
people who reach far beyond
themselves to the lives of those
inneed, bringinghope, care, and
friendship, and helping build a
stronger, healthier community."
In naming Robert Boyce for
this year's award, the Founda-
tions will recognize his volun-
teer contributions to the LeRoy
Committee,UMMCFoundation,
GeneseeCommunityCollegeand
For more than twenty-six years
Mr. Boyce has devoted his time
and talent to improving thequality
of volunteer ambulance service
for the people of LeRoy. He is
currently president of the LeRoy
Ambulance Service, a position he
hasheld for thepast 12years. Un-
derhis leadershipLeRoyVolunteer
Ambulance grew to LeRoy Am-
bulance Service, assuring avail-
ability of both trained personnel
and volunteers needed to provide
ambulance service toLeRoyans.
Honoree SelectedForHealth andHumanitarianAward
"CompleteCarpentry Service"
M
ILLER
B
ROTHERS
B
UILDERS
CustomHomes •Remodeling•Additions
Roofing• Siding
DANIEL
MICHAEL
Directors, and the former Gen-
esee Memorial Hospital Group
In one of several letters nomi-
nating Mr. Boyce, Marie Scofield
noted his volunteer efforts have
not been limited to health-related
organizations, but have included
education. He currently serves on
the Board of Trustees of Genesee
Community College after serving
on GCC Foundation Board of Di-
rectors fornineyears, including two
yearsas itspresident. Hehasbeen
activewith theLeRoyRotaryClub
that helps raisemoney for scholar-
ships benefittingLeRoy students.
Other civic leadership commit-
ments include the Village of Le-
RoyandLeRoyHistoricalSociety.
The Health and Humanitari-
an Award luncheon is open to
the public. Reservations can
be made by contacting United
MemorialMedicalCenterFoun-
dationat 344-5300. Seatingwill
be limited so early reservations
RESTAURANT •CATERING•GOLF
7759 EastMainRd. (Rt. 5) • LeRoy, NY
RESTAURANT 768-6000 • PRO SHOP 768-7330
INCLUDES ... Fresh turkey, honey glazed ham, homemade
stuffing and gravy, homemademashed, homemade squash,
corn, breads& rolls, cranberry sauce, coffee& dessert
MAKEYOURRESERVATIONSNOW585-768-6000
ThursdayNight
TACOBUFFET
$9.95
ALLYOUCANEAT!