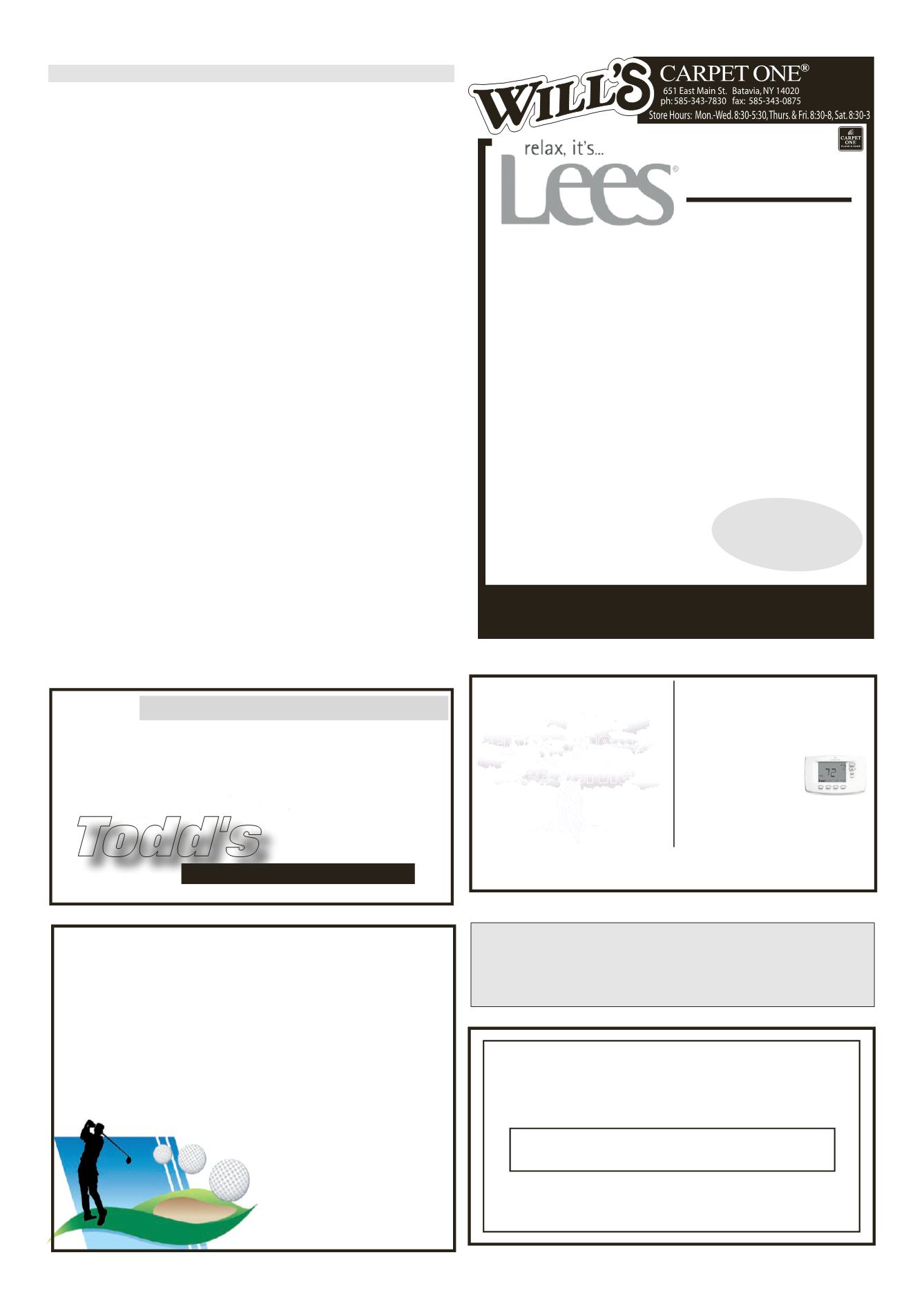 LEROYPENNYSAVER&NEWS -AUGUST 31, 2014
FLOOR
&HOME
TheONE store for your perfect floor.
•NOExclusions - Stain& SoilWarranty
• 25YearPet StainWarranty
• FreeEstimates
• FinancingAvailableTo
QualifiedBuyers
Malovich
Environmental
Tree Service
•TreeTrimming
•TreeRemoval
•StumpGrinding
FreeEstimates • Fully Insured
24Hour Service
• Residential
•MobileHomes
• ServiceRepairs
•New Installations
•ChimneyCleaning/Repairs
•ChimneyLiners
• Plumbing&Electrical
585-409-6509
Hurry
LimitedTime!
CARPET
ENTIRELINEOFLEE'SONSALE
InstalledWith a 6#Pad
50%
OFF
Plumbing • Heating
Installation&Repair Service
For All Residential &Commercial Work
2014DonaldWoodwardMemorialGolfLeague
Congrats to the 2014Champions - LeRoyCountryClub
(CharlieMiller, Eric Stauffer, JohnLowe&Dave Stella)
Iwould like to thank the following sponsorswho have showed their
continuing support of theTuesdayNightMen'sGolf League:
THANKS
for his help, effort and support in
making this a great league.
We look forward to another
byKimCox
Superintendent of Schools
The 2014-15 school year is
fast approaching. I hope that you
and your family enjoyed a great
Asalwayssummer isabusy time
at the District. Facilities, Food
Service,Transportation,Business,
Instruction,Technology,Buildings
and Grounds, and District Office
staffhavebeenworkingdiligently
toprepare towelcomeourstudents
welcomessomenewfaces:Reilly
Condidorio, Jennifer Bertrand
and Josh Baker -WSS Elemen-
taryclassroom teachers;Lindsay
Buckel - Jr./Sr.HighSchoolMu-
sic teacher; andMikeHumphrey
Much of this summer has been
spent continuing the work of
buildingconnectionsbetweenour
mission and vision of a "world
class" learningorganization. Our
commitments of preparing all
students tobe college and career
ready, having a united school
culture, providing leadership
opportunitiesforall,andensuring
a safe and fiscally responsible
environment, are the foundation
of thiswork. Areas under devel-
opment this year will include:
improving instructionalpractices
andprograms, establishinggrad-
uationoutcomes forour students,
and providing all staff with high
quality professional develop-
ment. Inadditionwewillexplore
a capital project that focuses on
assetpreservationand renovation
of existing facilities to ensure a
21st Century learning environ-
ment. More information about
the projectwill be coming soon!
We are fortunate tohave a sup-
portive Board of Education that
is committed to the mission of
empowering all learners to suc-
ceed¬— "learners" applying to
allmembers of the organization.
Together, teachers, support staff,
administrators, and the Board
of Education work to ensure
each and every person's success
through the promise of contin-
uous improvement and lifelong
I'm looking forward to a great
2014-15 and can't wait to have
all of our students backwith us!
Enjoy the rest of your summer.
Kim Cox, Superintendent of
NewHomes •Additions •Garages •PoleBarns
ToddCarli • Phone 703-0964
Todd's
Decks •Windows •Doors
Kitchens •Baths
CeramicTile
Basement Finishing
CustomShelves/Built-Ins
Siding •Remodeling
Roofing • SnowPlowing
FULLY INSURED
SUPPORTYOUR LOCALADVERTISERS!
They help sponsor the local news section of the Le Roy Pennysaver.
THANKS FORYOUR SUPPORT!