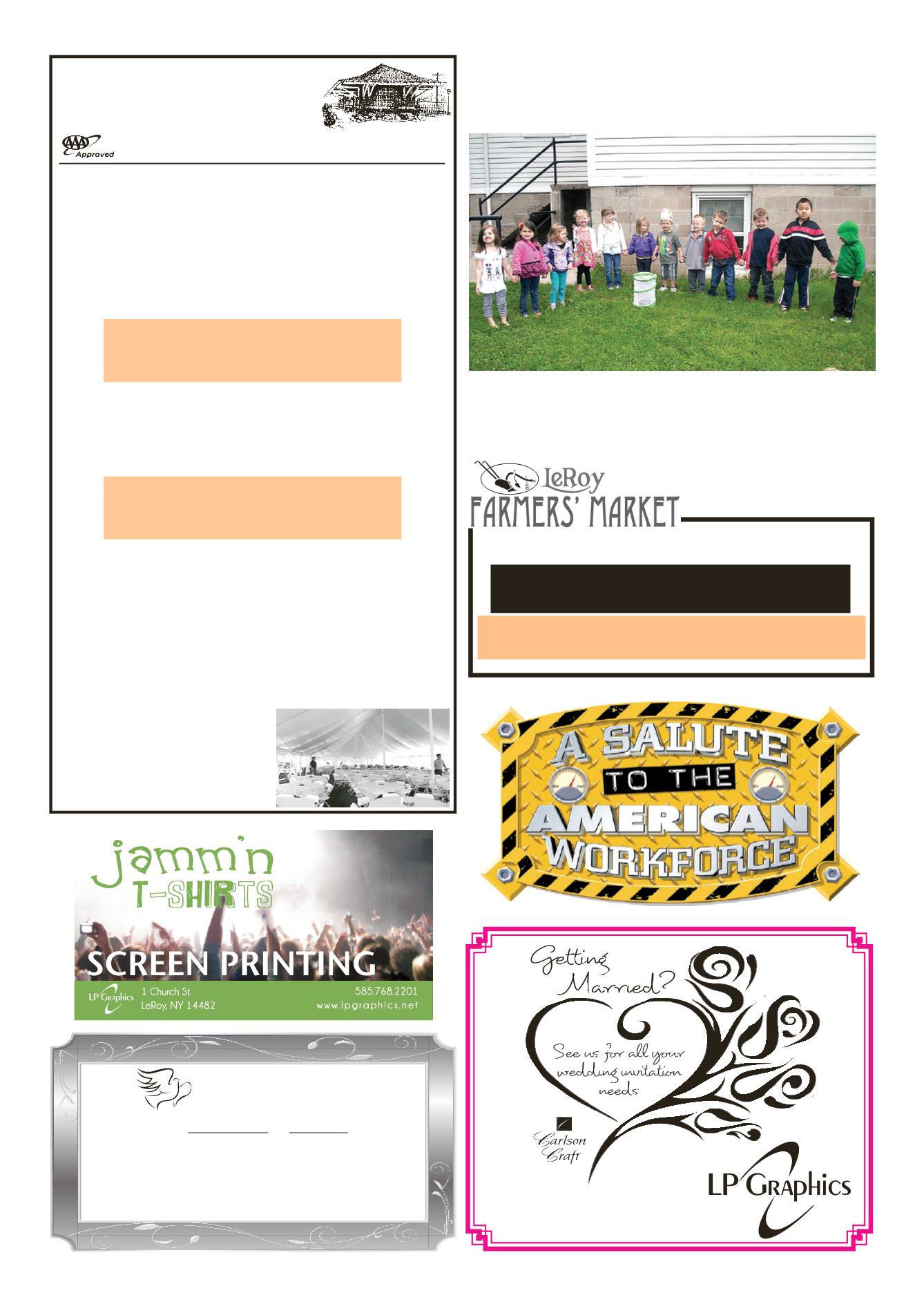 LEROYPENNYSAVER&NEWS -AUGUST31, 2014
D&RDepot
63LakeSt. (Rt. 19), LeRoy• 768-6270
Let'sMeetAt The ...
OpenForBreakfast, Lunch&Dinner - 7DaysAWeek 7am-9pm
F
ALCONE
F
AMILY
Funeral&Cremation Service, Inc.
Director/Owner
Director /Owner
FuneralDirector
SUN.,AUGUST31st/MON., SEPTEMBER 1st
LaborDayWeekend
SOUTHERNFRIEDCHICKENDINNER - $15.99
(includes soupor salad, mashed potatoes, beverage
and lemonmeringue pie)
TheDepot is open regularhours
LaborDayWeekend – 7AM – 9PM
SPECIALEVENT - SEPTEMBER 1
HopsPickingParty at the
GeneseeCountryVillage andMuseum
SUNDAYSEPTEMBER 7thDINNERSPECIAL
CANADIANCRABCAKESDINNER - $16.99
(includes Strawberry soup, potato salad, beverage
and aCrèmePuff dessert)
SPECIALEVENT–SEPTEMBER 6
GermanDay at the
GeneseeCountryVillage andMuseum
SUNDAYSEPTEMBER 14thDINNERSPECIAL
VIRGINIABAKEDHAMDINNER - $15.99
(includes soup or salad, scalloped potatoes, beverage
and coconut layer cake)
TheDepot's new sister company, DoubleLRentals - offering tables, chairs,
heaters, bars, linens, dishes& catering supplies for your special occasions!
10%Discount
when youuseboth the
D&RCateringServices and
DoubleLRental
foryour event.
Visit doublelrental.com
or call us at (585) 344-0023
We are inviting the community to join our
Market Meeting at Trigon Park
on
September 6th at 12:30
to discuss next year'smarket.
OurMarket canonly be as strong as the support we receive from our community.
Please consider joining our conversation.
eRoyFarmer'sMarket onFacebook
TRIGON PARK
Saturday, Sept. 6th
9:00 am-12:30 pm
LOCAL • FRESH•DELICIOUS •NUTRITIOUS
More variety arrivingweekly as the growing season progresses. Support your neighbor! Buy Local!
ill be entertaining theMarket and
be selling tickets for theirQuilt Raffle
9/6Market -
Fiddler, LynnArnoldwill be in ourMusic tent.
LeRoyNurserySchoolwatched caterpillars growand turn into
beautiful Painted Lady butterflies. They fed them flowers and
thenaspicturedhere they took themoutsideand let themfly free.
Thiswas all part of a fun& learningScienceunit.
LNSLearnsAbout
Caterpillars