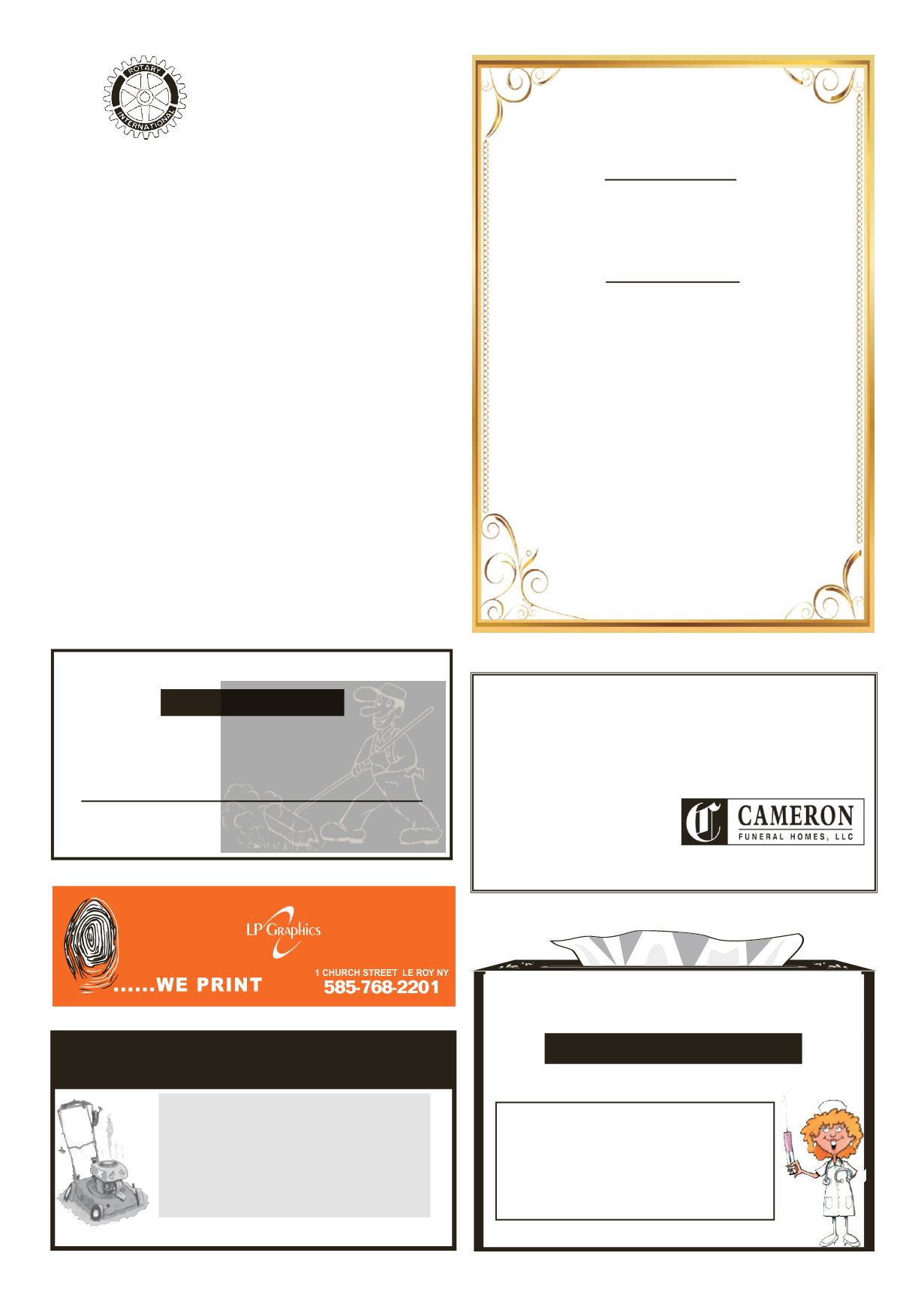 LEROYPENNYSAVER&NEWS -AUGUST 31, 2014
HelpingFamiliesCelebrateaLifeLived
"Our FamilyServingYours Since 1907"
Trusted•Honest •Proven
(585) 768-6800•LeRoyFuneralHome.com
Cameron, Brady&Steuber
FuneralHome
111Wolcott Street
LeRoy,NY 14482
• Engine andTransmissionRebuilds
• Lawn andGardenEquipment
• PickUp andDeliveryAvailable
LeRotary
Notes
An overcast andmuggy day as
President Randy rang the bell to
convene our regular lunchmeet-
ing. Our only guest today was
Master Biviano, son of Chris.
Announcements were started on
a sad note. Past President Don
Cooneydied thisweek.Heserved
asClubPresident during theRo-
news that our Club Picnic is
scheduled for September 14th
and theLeRoyBusinessCouncil
Golf Tourney still has openings
for theirannualonSeptember9th
at LCC. Lauren Humphrey took
the opportunity to fill us in on
the success of "Lite the Night".
A big thank you to everyone in
the community that pitched in!
Cindy Bishop, Chris Biviano,
JimEllison,LynnFreeman,Carol
Wolfe and Mary Young all had
make-ups for theirmissedmeet-
ings. SamVagg,EricFixandJoe
Giannettino were all serenaded
LarryBoylanwas"recognized"
for 42 years in Rotary and Tom
McGinnis happily shared that
this year is his 50th year doing
business inLeRoy.AnilSawhney
paid up for a recent office visit
by a locksmith. David Grayson
called on the services of Past
President Larry Boylan. When
this phenomenon of two Past
Presidents teaming up occurs,
it generally means the current
President is about to be fined.
Let's just say that PresidentRan-
dy will not forget his meeting
Our program centered on Ro-
taryMembership and our efforts
to continue to market our Club
activities and Rotary in general.
If you would like to learn more
about Rotary , ask anyRotarian,
or look us up at LeRoyRotary.
org and don't forget to 'like" us
ATTENTIONPATIENTSOF
LeRoy FamilyMedical Care
FLU SHOTCLINICS
Please call 768-4400 to scheduleyour appt.
CleaningService
•Carpet &UpholsteryCleaning
•Spot Cleaning&Odor Removal
•Tile&WoodFloor Cleaning&Waxing
•Complete Janitorial Services
lpgraphics.net