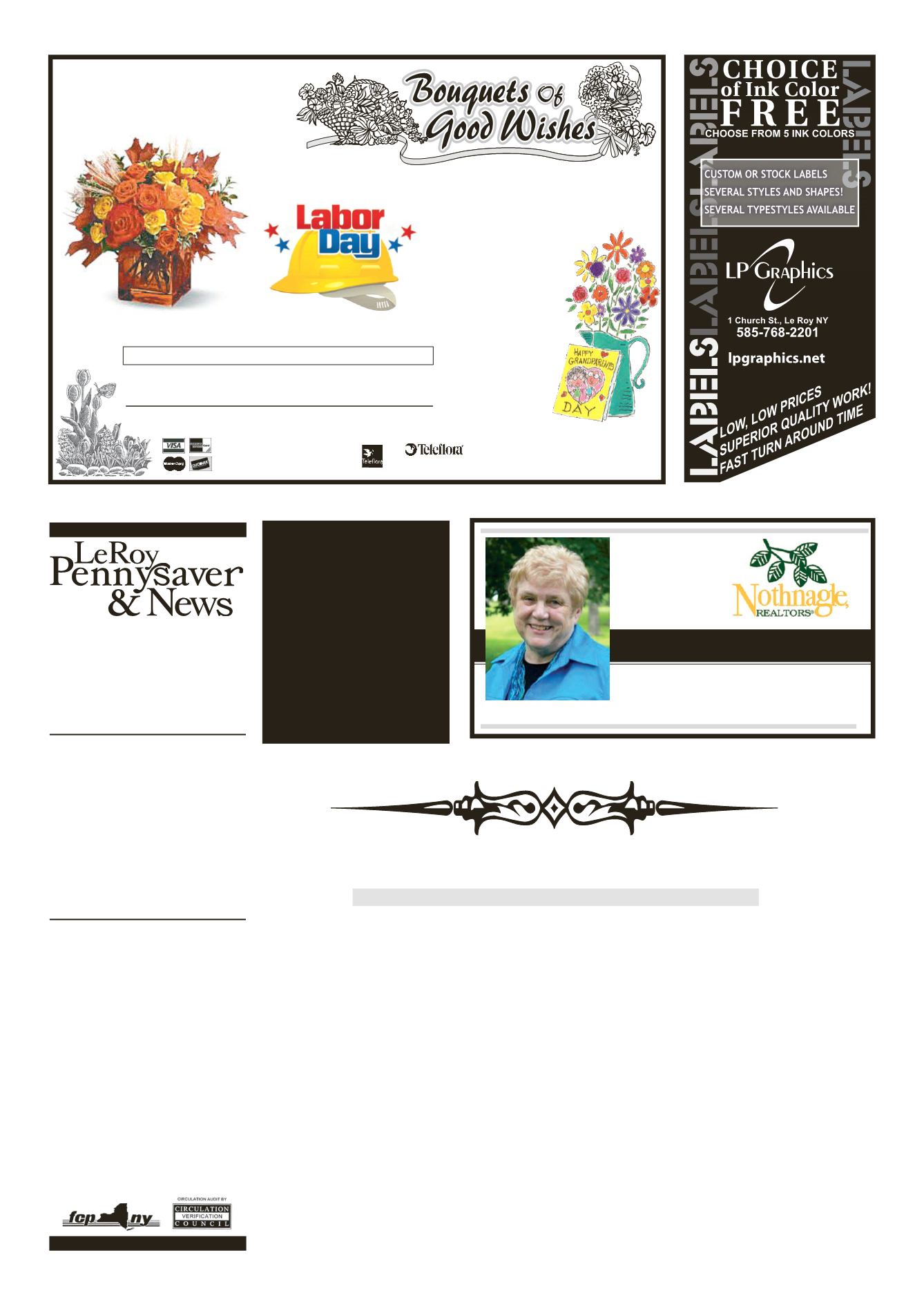 LEROYPENNYSAVER&NEWS -AUGUST 31, 2014
LeRoy'sBestAdvertisingMedium
The Le Roy Pennysaver will not knowingly accept or
publish advertising which is fraudulent or misleading
in nature. The publisher reserves the right to reject or
cancel anyadvertising.TheLeRoyPennysaverassumes
no financial responsibility for typographical errors in
advertisements, but if at fault, will reprint the portion of
the ad in which the error appears. Style, size of type
and locationof advertisement are left to thediscretionof
the publisher. The opinions expressed in this publication
are not necessarily those of the publisher. We cannot
guarantee the returnof photographs.
CALL
768-2201
NANCYCROCKER
LicensedReal EstateSalesperson
570EastMainStreet •Batavia, NewYork 14020
Cell: 585.314.7982 • Fax 585.343.8502
Multi-MillionDollar
Producer
Lakestreet Florist&Gift Shoppe
WeDeliver To: LEROY, Byron, Bergen, Caledonia,Mumford, Pavilion,Wyoming, Stafford&Batavia
TelefloraWireServiceForFamily&FriendsOut of Town
768-7720
110LakeSt., LeRoy
HOURS:
M-T9-5:30
F9-6:00
Sat. 9-4:00
LookatourWEBSITE for lotsof ideas!
Start the
NewSchoolYear
WithA ...
School Starts
Wednesday, September 3rd
Watch out
for the kids!
GrandparentsDay
Is Sept. 7th,
2014
Happy
Sept. 1
FineFall Roses, Starting at $42.95
by
Greg "Porp"Rogers
Mayor
We received some bad news
last week; we thought we were
ready to go to bid for our side-
walks when we were told we
havemorepaperwork toprovide.
This will push the project into
Trees seem to be a hot topic.
The National Grid trimming
program has left East Main St.
looking pretty bad. The logic
behind it is they cut whatever
trees that may become a hazard,
within thenext sevenyears.Then
trim the trees back to adjust for
such a time line.We really have
no input on the job they do or to
what extent theycut. It seemswe
have lost a lot of trees in recent
years. Traditionally we budget
$10,000 a year, and this number
mayhave todouble in the future.
We currently try to replace trees
thatwere theywere takendown.
If youhave a spot that you think
may need a tree please call the
VillageOffices,768-2527,exten-
sion2216,wewill get to itwhen
wecan, keep inmind itmay take
In the upcoming months the
VillageBoardwill be looking to
strengthen our code, in regards
to unkempt properties. It hardly
seems fair that the97%ofpeople
who take care of and have pride
in theirhomes, shouldhave toput
up those 3%who don't.Wewill
be looking fora fairandequitable
way tomanage this problem, but
Lastly, thechildrenwillbeback
to school next week, please use
extra caregetting around theVil-
lageandwatch forkidsandbuses.
If I have used this quote be-
fore please excuse me, but it is
one close tomy heart andwould
deserves seconds anyway. "For-
mula for success, under promise
andover deliver"ThomasPeters
Notes From TheMayor's Office