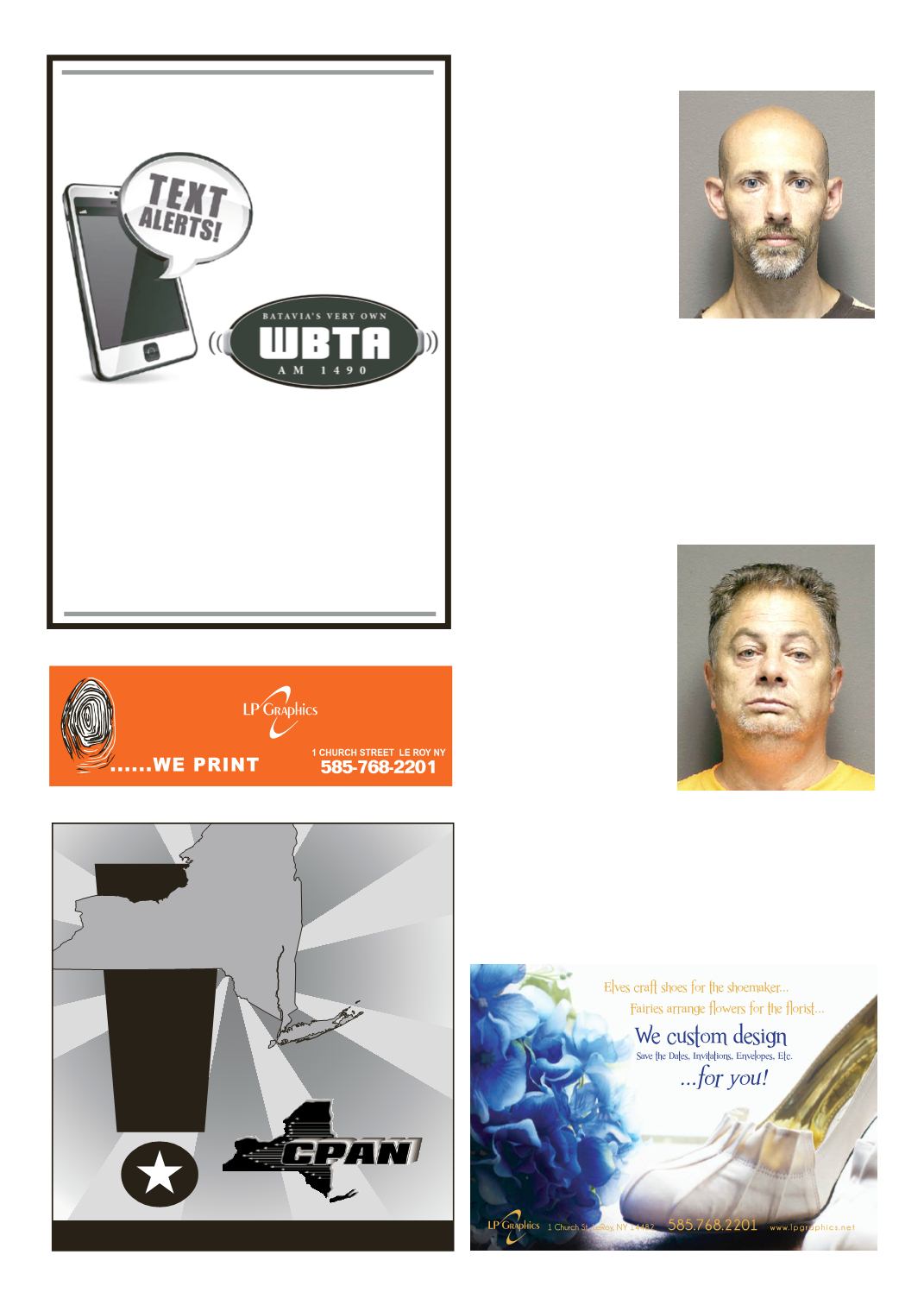 LEROYPENNYSAVER&NEWS -AUGUST 31, 2014
SIGNUP TODAY!
GET ONLY THE
NEWS YOU
CHOOSE
FROM
New! Signup for TEXTALERTS.
Get only thenews you choose!
Be the first to knowabout SevereWeather,
Breaking Local News, TrafficAdvisories&dSchool Closings.
Signup today forWBTATextAlerts.
You need to only supply your cell phone number
and select the services youwant to receive.
Wewill never sell your information toanyone.
WBTAi.com
08/23/2014 - Further charges
havebeenplacedagainst 37year
oldMichael J. Stack Jr. of 7450
Randall Road, LeRoy after an
investigationby theLeRoyPolice
Stackwas initially arrestedby
the LeRoy Police on 7/23/2014
and chargedwith Criminal Sex-
ual Act in the First Degree for
allegedly having oral sexwith a
Victim by forcible compulsion
andwhile the victimwas physi-
callyhelpless.After that investigationwasconducted,asecondVictim
came forward and alleged that on the same date, Stack allegedly
forcibly raped that victim.
Stackwas arrested a second time on8/21/2014by theLeRoyPo-
liceDepartment for this new allegation and chargedwithone count
of Rape in the First Degree (by forcible compulsion). Stack was
arraigned before the Hon. R. Penepent of the StaffordTown Court
(as noLeRoy Justicewas available) and committed to theGenesee
County Jail in lieuof $10,000 bail.
08/27/2014 -A report of a suspicious condition at a local bank in
theVillage of LeRoyhas led to the arrest of 54year oldThomasA.
Webbofnopermanentaddress in
SyracuseNY, whowas charged
with one count of Criminal Pos-
session of a Forged Instrument
in the Second Degree, a Class
The complaint from the bank
alleged thatWebbwas inside the
bank with one other person and
they were both allegedly trying
tocash forgedchecks. Webbwas
taken into custody at the scene
by theLeRoyPoliceDepartment
but theother personfled thearea
prior topolicearrival. Thechecksand identificationofbothsuspects
was recoveredat thescene. During the investigation inLeRoy, it was
learned that at least one other suspect was involvedwho allegedly
supplied the forgedchecksand thesesuspectsallegedlycashedother
similar checks in another branch of the same bank in the City of
Batavia. TheLeRoyPoliceDepartment isworkingwith theBatavia
PoliceDepartment to continue this investigation.
SUBMIT
YOURAD
HERE
ONE
ONE
*$490 for15words. $15 foreachadditionalword.
AGreat Deal toReach theWholeState!
lpgraphics.net