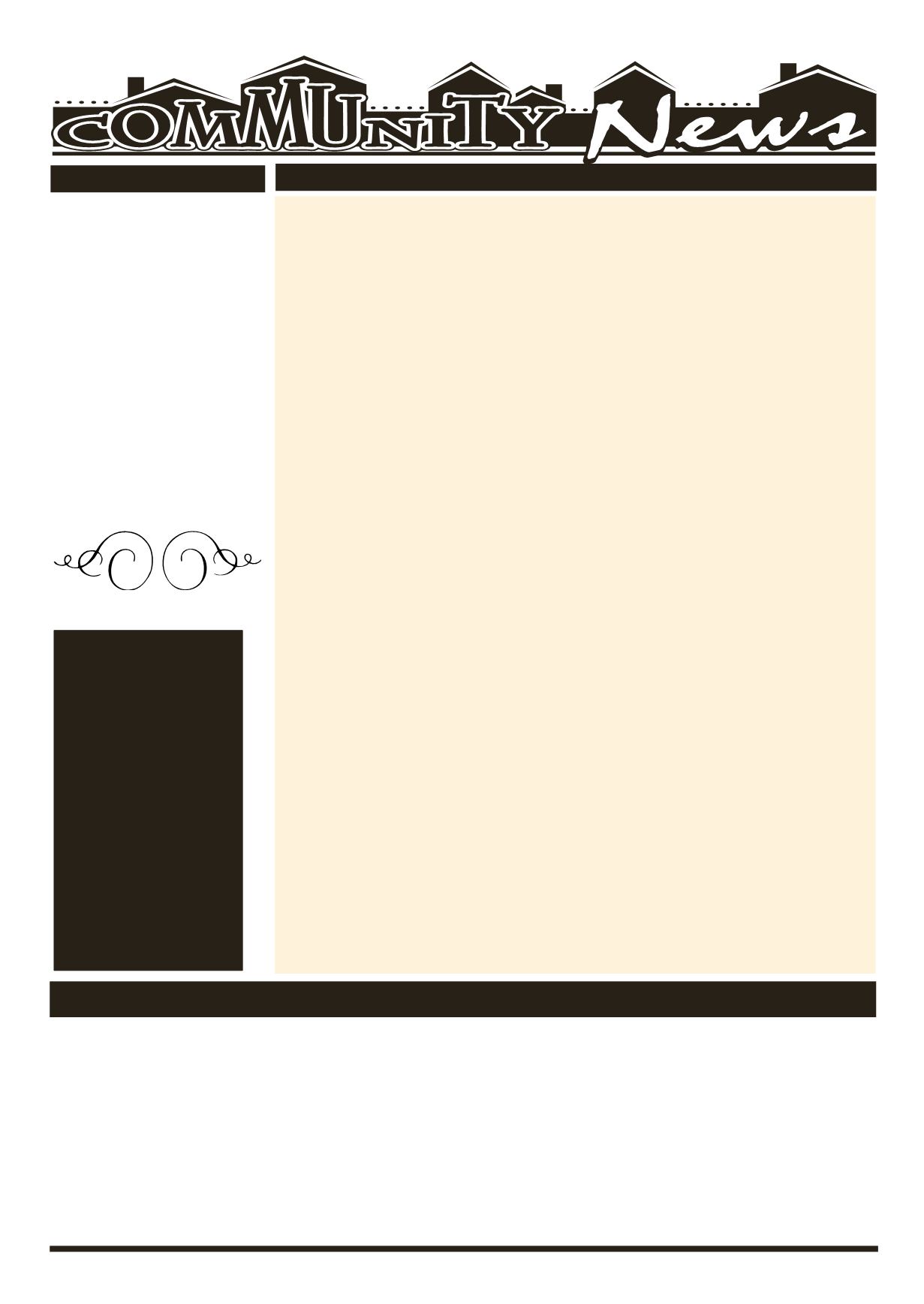 LEROYPENNYSAVER&NEWS -AUGUST31, 2014
Le Roy
Pennysaver
All GeneseeCounty residents, 60andolder, can takepart in thisweek'sactivitiesat theBataviaSenior Center, 2BankSt., Batavia. Formore information, call 343-1611.
(September 1 - September 5th)
WEEKLYEVENTS
OBITUARIES
LaborDayHoliday–Office for theAgingClosed.
Cribbage
Quilters
are scheduled tomeet at 9:00a.m.;
Euchregame
is scheduled tobeginat 1:00p.m.
CribbageandBridge
MusicalKeyboardingLessons
LineDancing&ArtClass
are set tobeginat 10:00am.
SUNDAY,AUGUST31
AWANAProgramatPenuel ChristianFellowship.
Sundays 12:15 to1:45pm. Ages 5-17broken intogroups. Developing
friendships.Having fun. LearningaboutGod. Safeenvironment.
KonnectYouthGroupatLivingWatersChurch,
Sundays from 6:30 to 8:30 pm for ages 12-18. "Bring Down all the
Walls! ConnectwithGodandConnectwithothers." Formore informa-
tion, checkusoutonlineat: livingwatersleroy.org/konnect-youth-min-
MONDAY, SEPTEMBER1
TOPS (TakeOffPoundsSensibly)
6:30-7:15pmat theLeRoyPresbyterianChurch, cornerof Clay&Main
Streets.Visitorsalwayswelcome. Call 768-2933 formore info.
TUESDAY, SEPTEMBER2
LCCP'sGRACE'SKITCHEN:
(willbeclosedSept.2nd&9th,andwillreopen
AFREEdinnereveryTuesdayevening, 5-6:30pmat theLeRoy
UnitedMethodist Church, 10 Trigon Park. Parking available on Trigon
Park&the lotstothe leftandbackoftheChurch.HandicappedEntrance
in the back of the Church. Takeout & delivery are available. For more
info. contact SelbyDavisat585-738-8882or
WEDNESDAY, SEPTEMBER3
THURSDAY, SEPTEMBER4
GeneseeVeteransSupportNetwork
(GVSN) supports thedevelop-
ment ofVeterans focusedAAmeetings everyThursday, 6-7pm at the
First Baptist Church, 306E.MainSt., Batavia.Meetings ledbyMikeW.
&areopen tonon-veteransaswell.Handicapaccessible. Foradditional
information call 585-302-0825.
GRACE'S CLOSET: A ClothingGiveaway Program
RoyUnitedMethodistChurch, 10TrigonPark, LeRoy. 9:30am to11:30
am everyThursday. We have clothing for all ages. Spring& Summer
clothingnowbeingput inplace. Weare inneedof lighter coats, cloth-
ing, shoes, pajamas, bedding, sheets in all bed sizes. We accept do-
nations bedroppedoff at thehousenext to the church. Pleaseput all
bags INSIDE on thebackporch. Noelectronics,TV's, computers,dishes,
etc. Anyquestions call theoffice768-8980.
DraftDay-MovieShowingforadultsattheWoodwardMemorial
Library
at 6:00 p.m.WatchDraft Day in the Community Room at the
Library on a big screenwith surround sound. Free popcorn provided.
Le Roy Nursery School Parent Night and Open Registration
will be7pmat theFirst PresbyterianChurch inLeRoy. Please joinus
for information on our 2, 3 and 5day classes aswell as tomeet the
teachersandtheboardmembers.Pleasecall768-7700for information
or to register at any time.
FRIDAY, SEPTEMBER5
Penuel Christian Fellowship,
One Step to Freedom addictions
ministry, a Christ Centered Addictions program, a weekly meeting
every Friday at 7 pm. Call the Church for more information at 768-
UPCOMINGEVENTS
LCCP'sMommy&MePlaygroup: Every2nd&4thFriday,
1:30, LeRoyPhysical Therapy (in thebackgym). Anymoms and their
birth-kindergarten childrenarewelcome to comeenjoy socialization,
lunch, coffee, structuredgames& freeplay.
ThemonthlymeetingoftheLeRoyStaffordSeniorCitizens
be resumedonSeptember 10, 2014at 6:00pm. At theKof CMeeting
HallonWestMainSt.BehindSave-A-Lot.Thiswillbeapot lucksupper
and you should bring your own place setting and a generous dish to
pass. Dessertwill be furnished. The LeRoyTownBandwill supply the
PavilionBaptistChurch
youthprograms
winteronWednesdayevening,September10th.Allcommunitychildren
arewelcome toattend.AWANA isaprogram for younger childrenpre-
school (4 year old) through6thgrade. It is a fun timeof BibleStories,
games Biblememory and even refreshments.Word of Life program
is for teens 7th through 12thgrade.We are easily located at 10956 S
LakeRoad inPavilion. Call 585-584-3179ext. #12 for anyquestions.
Genesee Valley CivilWar Roundtable
will present a program by
DonnaLaValleentitled"TheLifeofaSlave-HistoryBehindSlavery"on
WednesdaySeptember17,2014at7pm intheLeRoyUnitedMethodist
Church onTrigon Park in LeRoy. Please use the front entrance on the
far rightat theendof the long sidewalk.Discussionperiodwill follow.
Itwill bean interestingprogram. Newmembers arewelcome. Please
note thenew timeof 7PManddoorswill openat6:30.
Saturday,September20th10:00am–2:00pm
"TheWholeShebang!"
Multi-Vendor&CraftEvent
attheByronFireDepartmentHallonRt.
262. Crafts and new items sale, Chinese auction, free blood pressure
checks&delicious food forpurchaseallday. From11:00am–1:00pm
theGeneseeCountySheriff'sDepartmentwillgive freechildsafetyseat
evaluations.To reservea table, call Brendaat585-356-3720.
CommunityCalendar Submissions shouldbe sent to:
Le Roy — Maureen C. Miggins, 88, of
MunsonStreet, pa ssedawayWednesday
afternoon (Aug. 20, 2014) at the Le Roy
Village Green Nursing Home. Memorials
are suggested to the ''Activities Fund'' at
the Le Roy Village Green Nursing Home,
10MunsonSt., LeRoy, NY14482.
LEROY -DonaldL.Cooney, 83, formerlya
resident of LeRoy, diedAug. 16, 2014, in
PalmDesert, Calif. A celebration of Don's
life will be held at 11 a.m. Sept. 20 at St.
Mark'sEpiscopal Church in LeRoy.
LE ROY — Joseph Inguaggiato, 67, of
NorthStreet passedawayunexpectedlyat
homeWednesdaymorning (Aug.27,2014).
Mr. Inguaggiato and his family are being
cared for by theFalconeFamilyFuneral &