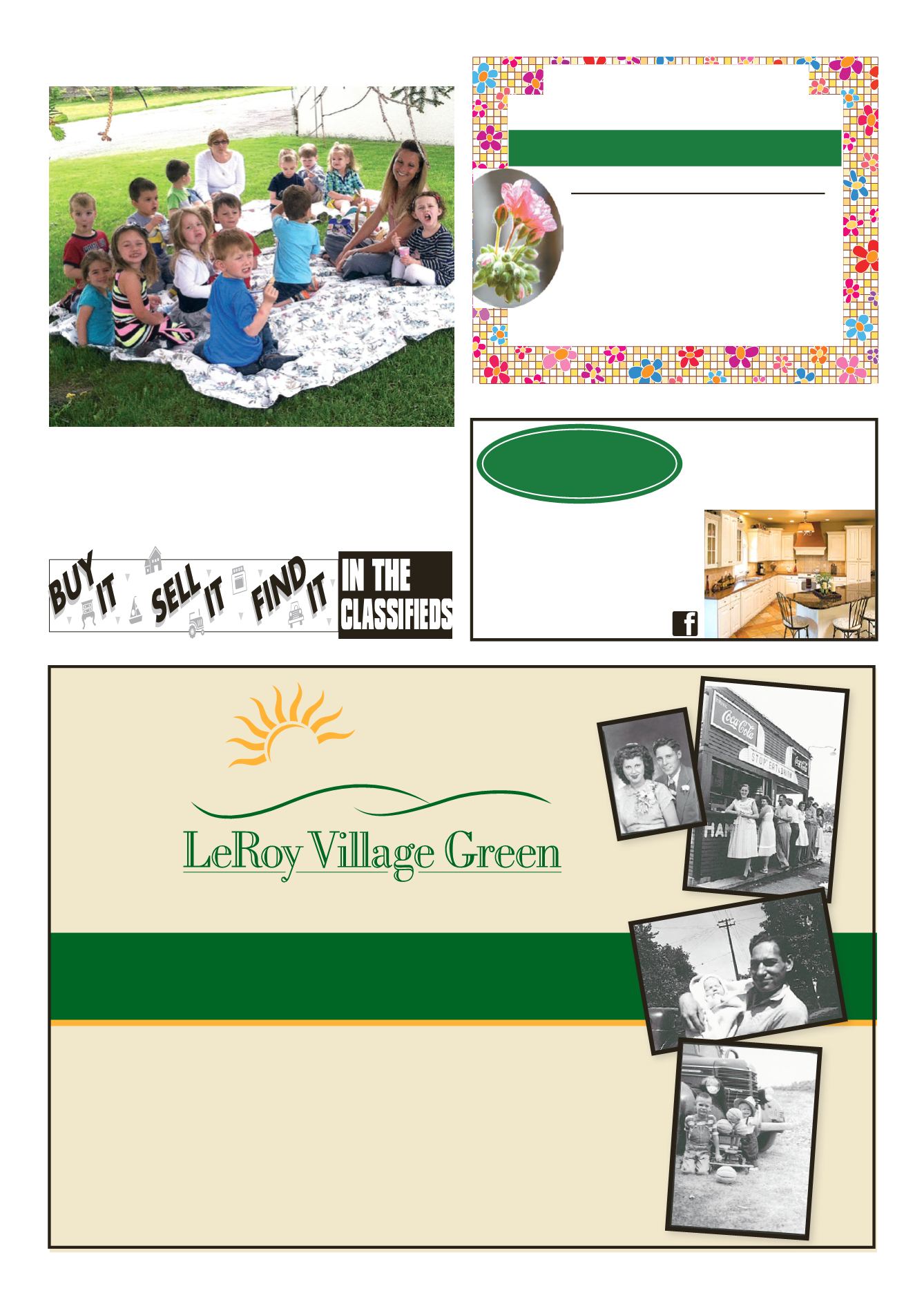 LEROYPENNYSAVER&NEWS - JUNE 1, 2014
Tuesday, June10th from 1-2:30pm
at LeRoyVillageGreen, 10Munson St., LeRoy, NY14482
The Alzheimer'sAssociationofWesternNewYorkwill beonhand toeducate
thecommunityabout thedisease, andanswer anyquestions.
This forum is part twoof a threepart series.
There is nocost, and refreshmentswill beprovided.
RSVP is appreciated to SamanthaVagg
(585) 768-2561ext 230, or byemail at
Will behostingancommunityeducation forumon
Alzheimer'sDiseaseentitled:
Improving CommunicationwithPeople
Suffering fromAlzheimer's/Dementia
Fabulous
FREE
Refreshments
THETOWN&COUNTRY
GARDENCLUBOFLEROY
Will be sponsoring a
PLANTAUCTION
Wed., June 11th
at 6:30pm
First PresbyterianChurch
corners ofMain andClayStreets
Houseplants•Perennials&Bulbs
will be available
LeRoy civic beautification.
ThePublic Is InvitedToAttend
585.345.0012
kreativedesignkitchenandbath.com
CABINETRY •COUNTERTOPS
CORIAN •GRANITE •QUARTZ
FreeProfessionalDesign&Layout
Cabinets&DesignForAnyRoom InYourHouse
DesigningKitchens&Baths ThatReflect
Your Personality&YourDreams
KREATIVEDESIGN
KITCHEN&BATH
All the childrenatLoveBugsPreschool have enjoyed thebeau-
tiful spring weather that is finally here! They have spent a lot
of time outside going fornaturewalks, using theparachute and
even sharingyummypicnics together. Picturedhereare friends
from themorningNursery class enjoying theirpicnic snack!
APicnicWithFriends