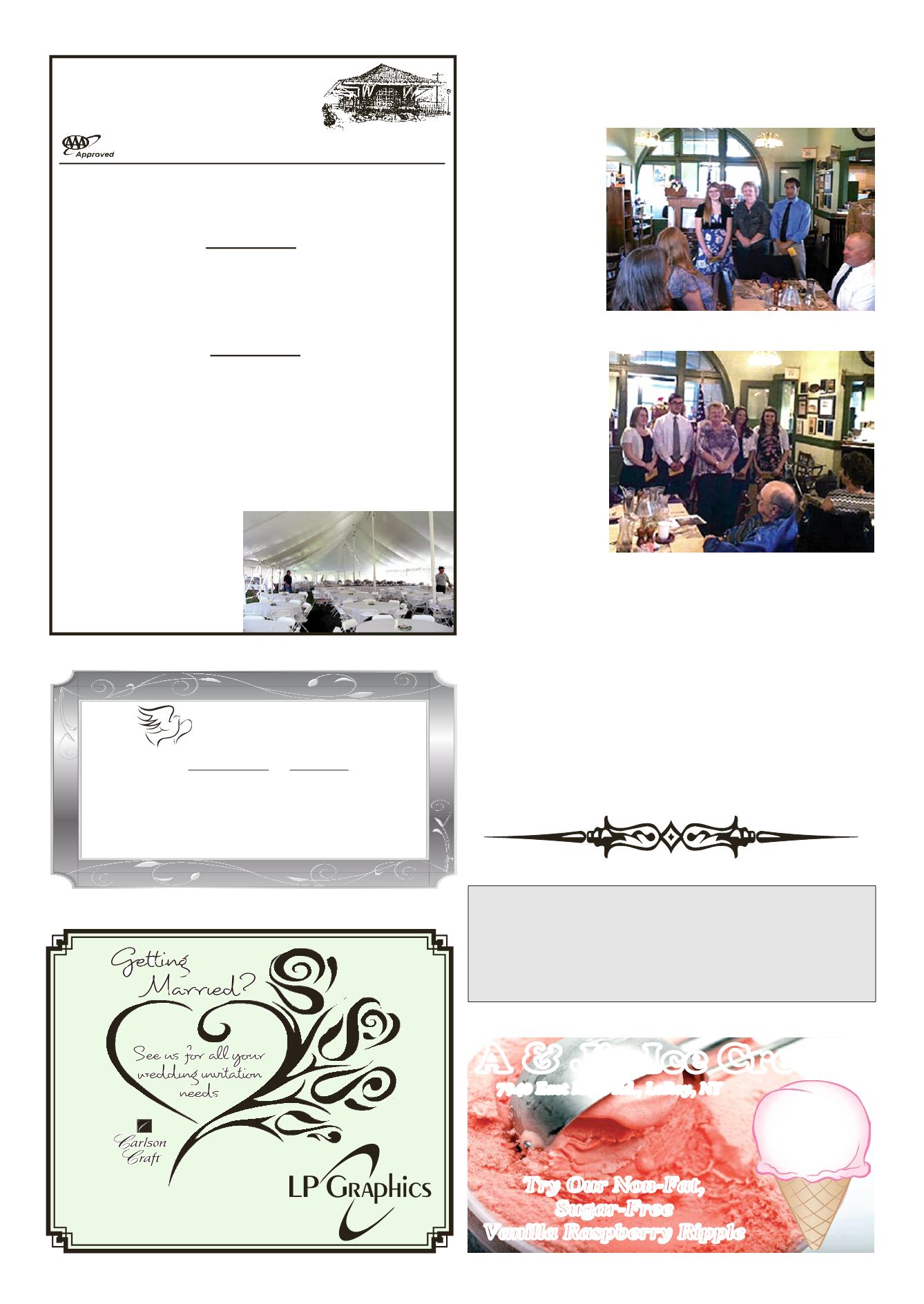 LEROYPENNYSAVER&NEWS - JUNE 1, 2014
D&RDepot
63LakeSt. (Rt. 19), LeRoy• 768-6270
Let'sMeetAt The ...
OpenForBreakfast, Lunch&Dinner - 7DaysAWeek 7am-9pm
F
ALCONE
F
AMILY
Funeral&Cremation Service, Inc.
Director/Owner
Director /Owner
FuneralDirector
SUPPORTYOUR LOCALADVERTISERS!
They help sponsor the local news section of the Le Roy Pennysaver.
THANKS FORYOUR SUPPORT!
SUNDAY, JUNE 8thDINNERSPECIAL
DEPOTSHOREDINNER - $20.99
(includes seafood bisque soup, lobster tail, crab cakes,
broccoli salad, beverage and fresh strawberry shortcake
FATHER'SDAY- SUNDAY, JUNE 15th
FeaturedDinnerBISONSTRIPSTEAK
Our regularmenu also available.
(dessert feature – homemadeBostonCrèmePie)
Open regular hours - 7 am – 9 pm
TheDepot's new sister company, DoubleLRentals - offering tables, chairs,
heaters, bars, linens, dishes& catering supplies for your special occasions!
10%Discount
when youuseboth the
D&RCateringServices andDoubleLRental
foryour event.Visit doublelrental.com, or call us at
(585) 344-0023
DoubleLRental | Tent Rental inWesternNewYork
InfoDoubleLRental at-
tempts to ensure
affordability for your event
without sacrificing quality
or service.
"Every customer is our
only custom...
also submitted letters of recom-
mendation fromcommunity lead-
ers. Theywerechosenbecauseof
thecommitment theyexhibited to
their projects and communities.
The members of the Kiwanis
Clubwerehighly impressedwith
thework these studentshaddone
and the recommendations they
7940EastMainRd., LeRoy, NY
KiwanisCommunity
ServiceAwards
Elizabeth Perrin, Dakota Kegler, Linda
Thompson, Kathleen Saville, Heather
Stefan.
Danielle Wright, Linda Thompson, LPS
KiwanisPresident, SpencerCottman.
The students and their parents
were invited to attend ameeting
where they shared a meal with
the Kiwanians and gave a brief
presentation about their com-
munity service and their future
plans. The Kiwanis Club hopes
that these students continue to
make community service a pri-