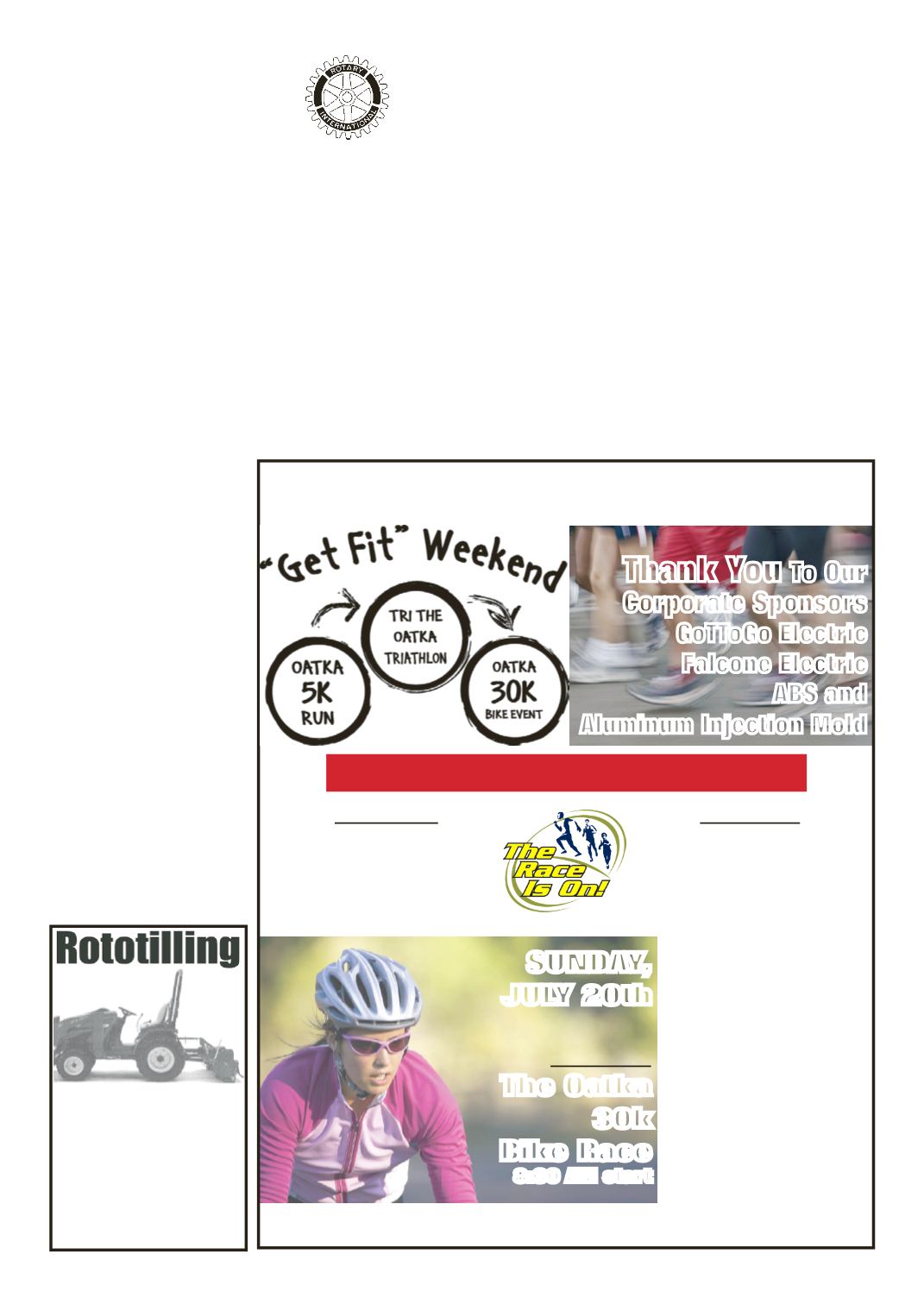 LEROYPENNYSAVER&NEWS - JUNE 1, 2014
SATURDAY, JULY 19th
- 7:30 am
Thank You
To Our
Corporate Sponsors
GoTToGo Electric
Falcone Electric
ABS and
Aluminum InjectionMold
SUNDAY,
JULY 20th
EVENT 3
The Oatka
30k
Bike Race
8:30 AM start
EVENT 1
TRITHEOATKA
TEAMTRIATHLON
(USATSANCTIONED)
EVENT 2
THEOATKA 5K
RUN/WALK
(USATFCERTIFIEDCOURSE)
Tompkins Insurance-Bank ofCastile
"presents"
If youare interested in being aT-shirt sponsor orwould like to volunteer,
Registerat
search "oatka"
orvisit
ROYPENNYSAVER -OCTOBER 24, 2005
Either newor
existing gardens
rototilled.
48" rototiller.
Call Don
At 356-4089
NoTexting
There was yet another packed
houseasPresidentTracyprompt-
ly rang the bell to begin the
Many guests were in atten-
dance, LeRoy High School se-
nior Morgan Pasquale, Chuck
Lovejoy and Brian Bartz from
NYLife. Rotarian spouses Scott
Ripley andCarol Frost. Heather
McGinnis, andAssistantDistrict
Governor Marle Deihl and her
The first announcement was
a very nice rating from our As-
sistant District Governor giv-
ing the LeRoy Rotary Club an
'Excellent' rating for the year.
Other announcements included
asuccessful teamworkingon the
UnitedWayDay of Caring. The
annual Golf Outingwill be held
June 11 at LeRoyCountryClub.
The2014 InstallationDinnerwill
be held June 24 at the Stafford
Country Club. Martha Baily
thanked everyone for another
successful 'Rent-A-Rotarion' as
phase 3 wrapped up. SamVagg
announced the successful Graze
to Raise held on May 16. The
Club had a great participation
once again to help make this
event a success, alongwithgreat
community support. Christine
Gephart reminded everyone of
the Planter Project. All local
businesses are encouraged to
participate in this great commu-
Therewere four birthdays this
month, Bob Sullivan, Martha
Bailey, Marcia McKenzie and
missedmeetings,MarthaBailey,
Tom Cox, Jim Ellison, Tracy
Martorana, Scott McCumiskey,
TamaraTorrey, RandyVink, and
SteveZocco allwere cited.
It was a lively fining session
that opened with Chris Biviano
beingfined for somemiscommu-
nication. Many Rotarians were
cited for somegreat picturesover
the last fewweeks includingTom
Cox,ChristineGephart, andLynn
Freeman. MarthaBailywas next
up for making a very fancy hat,
and Tracy Martorana for an up-
coming trip. Lastbutnot leastwas
SamVagg for her dedication and
hardworkwith theGraze toRaise.
The program was presented
by Chuck Lovejoy and Brian
Bartz fromNewYork Life. This
was a wonderful presentation
discussing college and retire-
ment planning. Most people in
the country arenot appropriately
prepared for retirement. Chuck
andBriandiscussedvariousways
to help individuals growwealth
and save. They keys are finding
abalanceanduncommonview to
createasuccessfulplan.Thereare
numerous myths when it comes
to retirement and the best way
to prepare is to educate yourself
and find out the true facts. Reg-
ular saving habits are the key to
success of any retirement plan.
Since most things in life does
not always go according to your
initial plan, knowing the facts
and staying consistent with your
savings is thefirst step tomeeting
Don't forget to 'Like' us on
Facebook at "Rotary Club of
LeRotary
Notes