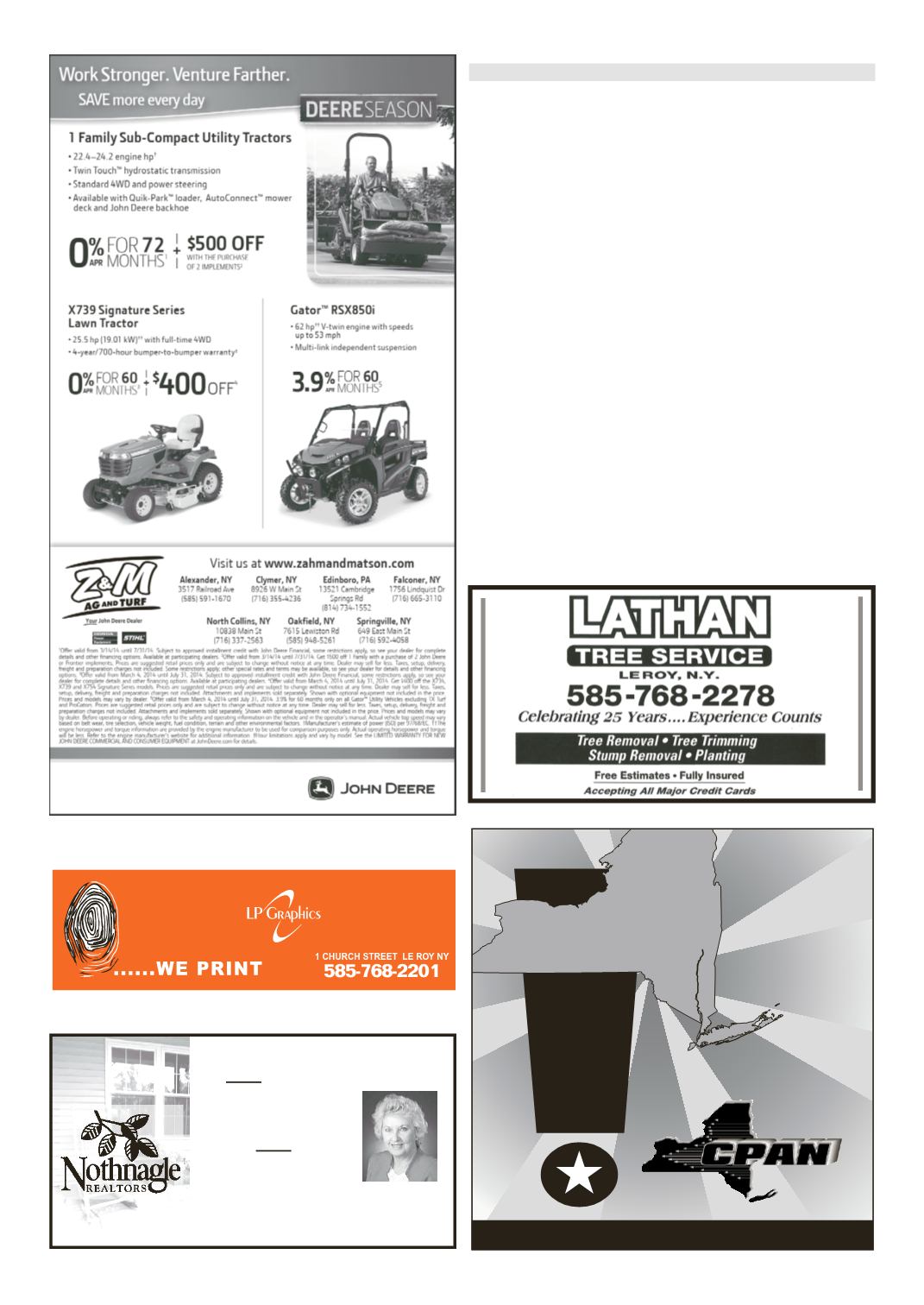 LEROYPENNYSAVER&NEWS - JUNE 1, 2014
Batavia
585-343-6750
NOW is theBEST time
toBUYwith the interest rates
at their lowest!
Don't wait
toBUY -
call
LindaBeaumont
for all your real
estateneeds.
LindaBeaumont
Home (585) 768-6315
LicensedReal Estate
Salesperson
Multi-MillionDollar Producer
yKimM. Cox
Superintendent of Schools
LeRoyCentralSchoolDistrict
Thank you for your endorse-
ment of the Le Roy Central
SchoolDistrict 2014-15Budget.
The Board of Education and the
administration, with input from
many others, worked diligently
to create abudget that allows for
important programs to continue,
alongwith adding somenewop-
portunities, allwhilebeingfiscal-
ly responsible to the community.
Wealsowelcomeback incumbent
board members, JackieWhiting
and Rich Lawrence, each to a
I want to thank our poll clerks
that spent their entire day with
us on the 20th. Please join me
in recognizing Marianne Gari-
gen, Barb Parton, Dave Parton,
Marie Tucci, and of course our
DistrictClerk,LoriWrobel. Also
special thanks to Duke Merica,
Bruno DeFazio and John Wolf
for keeping our machines in tip
On another note, congratula-
tions to the Le RoyBoys'Track
Team that captured the Section
V Class CC Championship this
weekend. This team has had a
wonderful season and worked
hard to achieve this win! In
addition to the team win, indi-
viduals, RubinOwens andRyan
McQuillen also won first and
second championship places,
respectively, in the high jump,
while Julianna Lauricella took
first in thePentathlon. Awesome
I can't believewe are approach-
ing the end of the 2014 school
year.Thereareaplethoraofevents
and activities happening at our
schools throughout the month of
June.Pleasecheck thewebsite for
all the upcoming important dates.
Thank you again for your
ongoing support!
ONE
ONE
*$490 for15words. $15 foreachadditionalword.
AGreat Deal toReach theWholeState!
lpgraphics.net