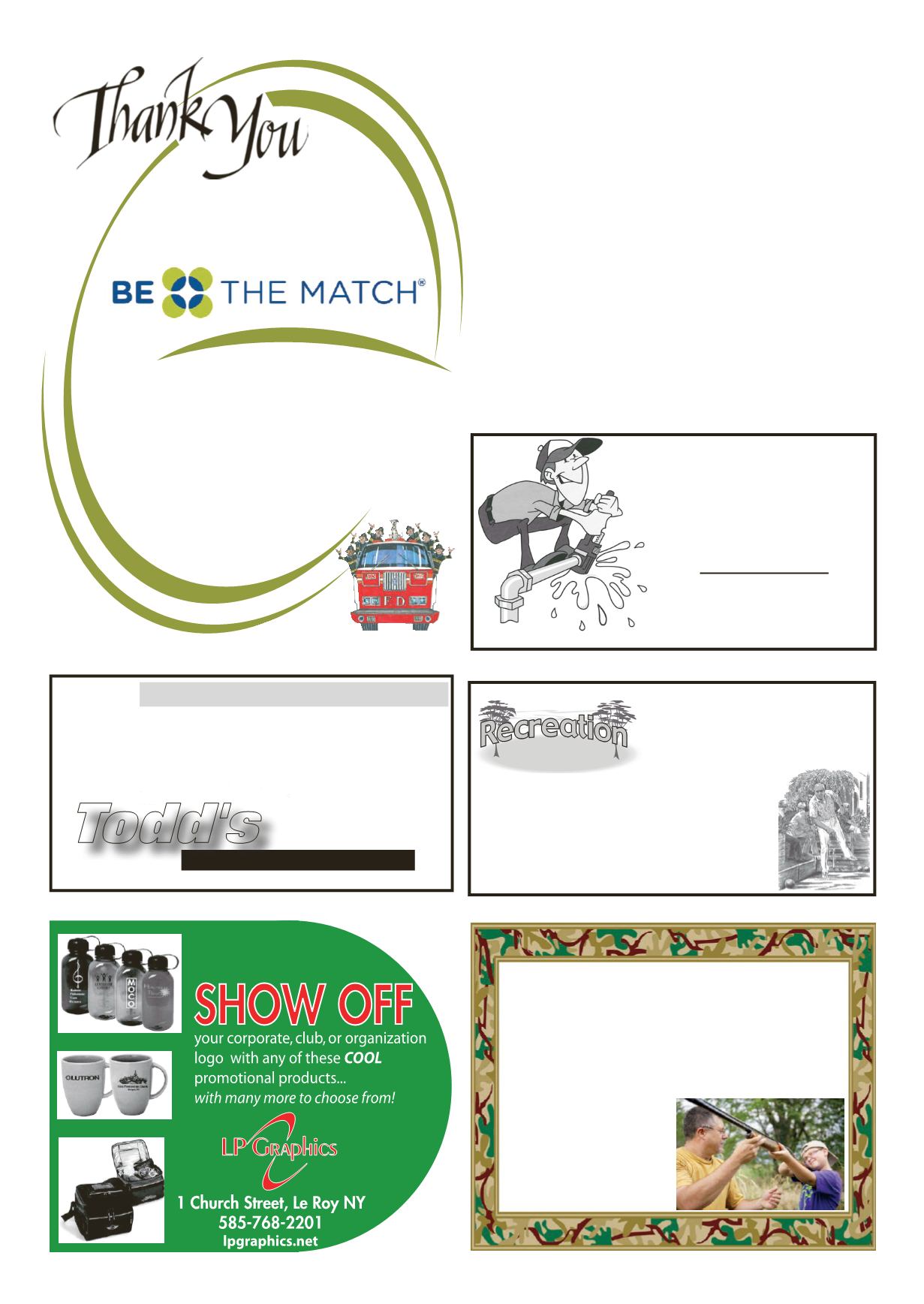 LEROYPENNYSAVER&NEWS -MAY 11, 2014
NewHomes •Additions •Garages •PoleBarns
ToddCarli • Phone 703-0964
Todd's
Decks •Windows •Doors
Kitchens •Baths
CeramicTile
Basement Finishing
CustomShelves/Built-Ins
Siding •Remodeling
Roofing • SnowPlowing
FULLY INSURED
Dave Salway
PlumbingLLC
7100QuinlanRoad
LeRoy,NY 14482
Cell Phone: 585-721-8446
HomePhone: 585-768-8446
When you callDave, yougetDave!
Town of
LEROY
2014
Therewill be ameeting to organize
the 2014 season
of theLeRoyMen'sBocceBall League
Thursday,May 15
at 10 am
LeRoyTownHall, 48MainSt.
All past, present and future players
are invited to attend.
The Genesee County Agricul-
tural Society is sponsoring the
GeneseeCountyFairQueen and
Princess Pageant to be held this
yearat the175thGeneseeCounty
Officials have outlined the
criteria and categories for the
pageant offeringwinners in four
age groups: Queen ages 17 –
19; Princess ages 14 – 16; Jr.
Princess ages 11 – 13; andLittle
Missages8–10. All contestants
mustbefemale, reside inGenesee
County, attendaGeneseeCounty
School or be a member of the
Genesee County 4H Program.
The contestants will be judged
onoralpresentation, talent show-
case, poise and personal interac-
tion. Allagegroupswillcompete
for a cash award and prizes.
For pageant applications, visit
theGeneseeCountyFairwebsite
PageantCoordinatorDebBarisat
applications must be submitted
FairPageant
AcceptingApplications
to all that showed up to
register for the
bonemarrow drive, held at the
PavilionCommunityFireCo. Hall,
April 22nd.
The drivewas as great successwith
75 individuals being registered.