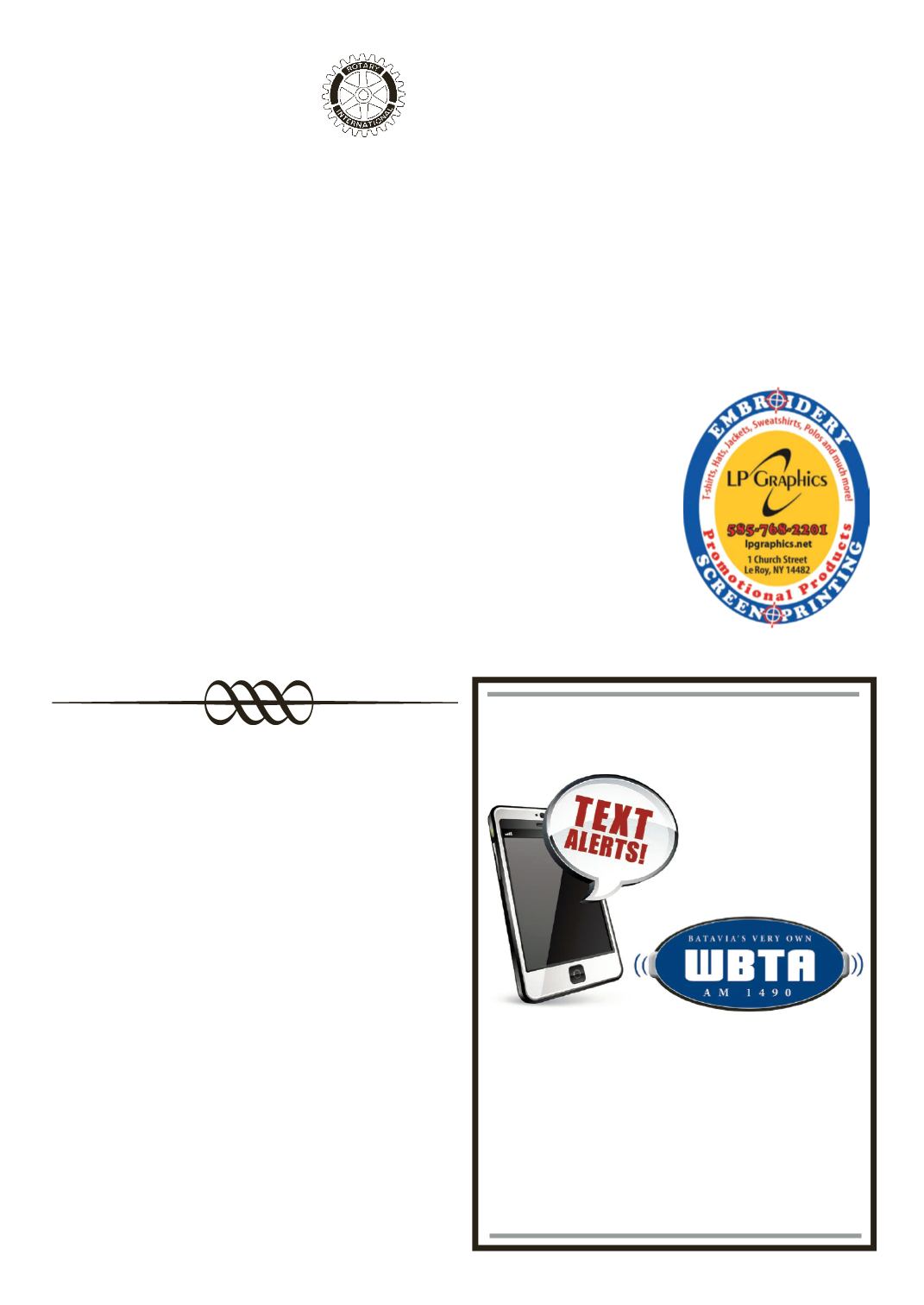 LEROYPENNYSAVER&NEWS -MAY 11, 2014
SIGNUP TODAY!
GET ONLY THE
NEWS YOU
CHOOSE
FROM
New! Signup for TEXTALERTS.
Get only thenews you choose!
Be the first to knowabout SevereWeather,
BreakingLocal News, TrafficAdvisories&dSchool Closings.
Signup today forWBTATextAlerts.
You need to only supply your cell phone number
and select the services youwant to receive.
Wewill never sell your information toanyone.
WBTAi.com
Greetings toour loyal follow-
ing of LeRotary Note readers.
We had a full houseApril 30th
asseveralofoursnow-birdshave
Our guests included Le Roy
High School seniors Hanna Til-
lotson, Shawna Horn and Tori
Budd. They have exciting plans
Lynn Freeman was served a
Home On
the Range
Therewereseveral announce-
Career Fair is Friday, May 9th.
Rotariansareencouraged tohost
a booth and share their trade.
The UnitedWay Day of Caring
is May 14th - please consider
donating a new bicycle helmet
for the bike refurbishment proj-
ect. The Graze to Raise is May
16th - come out and support the
REAMilne Scholarship Fund.
The May 28th meeting is being
relocated toLeRoyCountryClub.
Our annual Rotary Golf Outing
will be June 11th. The Installation
Banquetwill takeplace at Stafford
CountryClub on June 26th.
Movingon tomissedmeetings,
Lynn Freeman, TomMcGinnis,
TimMoag, Samantha Vagg and
Steve Zocco all had validmake-
ups.WewelcomedbackourRule
Ourfiningsessionstartedwith
Bruce Baker who has taken up
Yoga classes. Lynn Freeman,
who had many make-ups at a
club thatmeetsonTuesdays,was
fined for forgetting thatourmeet-
ings take place onWednesdays.
Bob Carlsen was fined for the
photo of his lovely granddaugh-
ter at the placingof theVeterans
Memorial inBatavia. SamVagg
andChrisBivianowerefinedand
commendedon their recentgrad-
uations fromRotary Leadership
With the fining session over,
LeRotary
Notes
Erik Fix introduced our pro-
gram presenter, Mark Schoell
of UMMC.Mark updated us on
the recent andongoing improve-
ments at our local hospital.
lionmaternitywing, an infusion
center, a joint replacement cen-
ter and a new Patient Service
Representative that sees every
patientdaily toensure theirneeds
UMMC is the largestnon-gov-
ernmental employer inGenesee
County and has recently been
designated a Stroke Center by
theNewYork StateDepartment
ofHealth. Theyprovide over $5
million in uncompensated care
Their training programs in-
clude Residencies, Patient Ser-
vice Volunteer Training, Brain
StrokeResponseTeamTraining,
Theyhavebeen recognizedas
a Vanguard Hospital, received
the Surgical Care Improvement
AwardbyUnivera, andNational
Spotlight by insurance carrier
updated their Strategic Plan to
ensuregrowthand improvement
which led to the recent partner-
ing with Rochester General.
Thank you for the incredible
Like us on Facebook at "Ro-
About 80 dancers attended the
PJ Dance for Genesee County's
AdultswithDevelopmental Dis-
abilitiesonThursday,April 17th,
at the Byron Fire Hall. Surpris-
ingly most folks came in their
PJs somewore their slippers and
brought theirTeddybears, too.As
a special treat, stuffedanimalsof
all sizes were raffle off through-
The usual music played on as
DJ Tom kept the hits and re-
questscoming.Refreshmentswere
servedup all evening andmost of
thedancershung in there to the last
song.The lastdanceof thisseason,
ourHawaiianDance is scheduled
After12yearsofdanceseasons,
and the fact that most of our
volunteers are senior citizens
and are either in retirement or
preparing toenjoyamore relaxed
lifestyle that includes travel,
regrettably we have decided to
cut back on the dances for next
year. Our next dance in the fall
willbeourHalloweendancewill
be on Thursday, October 16th,
the Christmas dance will be on
Thursday,December18thand the
last dance of next seasonwill be
our new themed, Patriotic dance
The Byron Ladies Auxiliary
hosts the dances and all are held
These dances are open to all
individuals with developmental
disabilities living in Genesee
County ages 13 and up. For
more information may call Pat
Iamon 245-2918 or Laura Platt
ThePJDance;
AReallyComfyNight