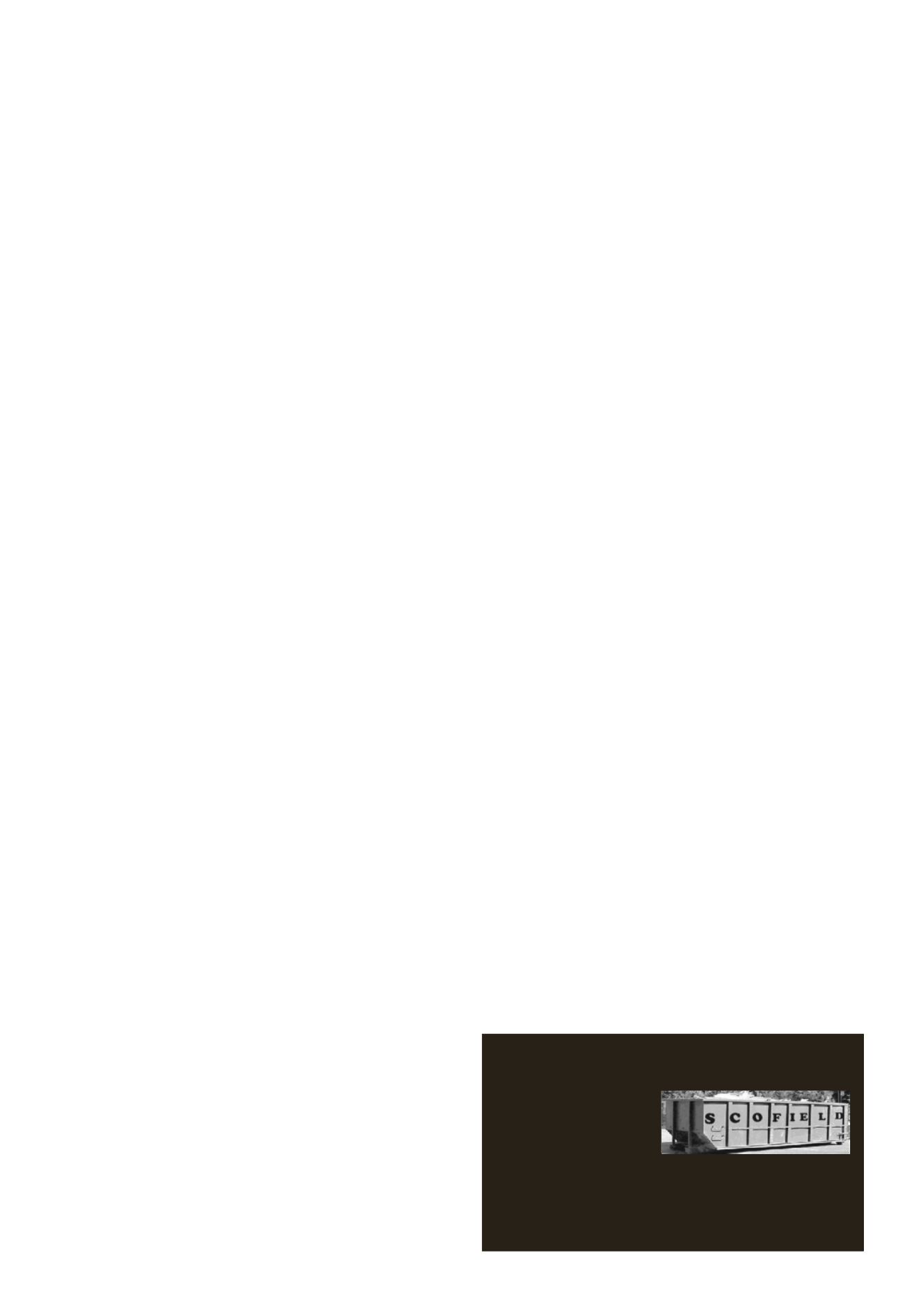 LEROYPENNYSAVER&NEWS -MAY 11, 2014
Need a Rolloff?
ScofieldRolloff • 343-8383
Fast FriendlyService
withAffordableRates!
10, 15, 17, 20, 25,
30, and40 cu. yd.
CONTAINERS
LeRoyLittleLeagueHighlights -Week 1
Tigers 11 RedSox 5
Well theRedSoxandTigerssquared
off for the second time in2days and this
game providedmuchmore offense than
the first game. The Tigers were able to
score3 runs in thefirst inningand2more
in the third to go up 5-0. The Red Sox
did not quit as they clawed back into the
game scoring 3 and cutting the deficit to
5-3. TheTigers scored3more in5thand
6th inning to extend their lead. The Sox
scored2more, but theTigers came away
GiavanniCaccamisepitched4 innings
toget thewin. Hestruckout8battersand
gaveup3hits. AustinSaeva came in for
the final 2 innings striking out 1. Zach
Vanderhoof was solid at the plate with
2 doubles, 3 RBI's and scored 2 runs.
Reece Trescowas 3 for 3with 2 singles
and a double, scoring 4 times. Austin
Saevahad2hitsandscored3 times,while
Giavanni Caccamise added a double and
1 run scored. JoeyBrennan scored once,
and Luke Caccamise and Riley Wood
NickEngel started for theRedSoxand
pitchedwell. Hewent4+ inningsstriking
out 7. JohhnyPanepentocame in topitch
in his first little league game and Jimmy
Burnsfinishedout thegame.Bothpitched
well. Alex Panepento had a nice day at
the platewith a double, walk and scored
2 runs. CamGreene and Jimmy Burns
eachaddedasingleanda runscored. Jake
Hill had a single and Johnny Panepento
Twins 12 Yankees 0
TheTwins playedwell in all facets of
the game to pick up the win against the
Yankees.TonyFilio,ColinMcCulley and
Zach Baker shared the pitching duties.
They did not surrender any hits.Filio
pitched two innings,striking out three
batters. McCulley came in and pitched
three strong innings. He struck out five
batters.ZachBakerclosed itout.Pitching
the sixth inning and collect one strike
out.The Twins fielders helped out their
pitchers bymaking the plays in the field
TheTwinswere equally impressive at
the plate.ColinMcCulley started out the
gamewithabasehit intocenterfield.After
acoupleoutsTonyFiliowould reachona
dropped third strikeand theTwinswould
take advantage.Ethan Beswick laced a
single then Andrew Loftus stepped up
to the plate.Withone swingof the bat he
cleared thebases.The leftyblasted a shot
over the right fielders head for the inside
theparkhome run.TheTwinsbatterswere
not done.Chase Bordonaro had a single
and scored two runs.Cole Rauscher and
Dray Grayson also recorded hits with
Rauscher scoringone run.MikeyCedano
TheYankees startedKylerLaCarteon
themound.Hewould go on to strike out
fourbatters.ShawnMorabitocame into to
providesome relief.Doug Irwinfinished it
out for theYanks striking out two. Kyler
LaCarteandRyanHigginsbothmanaged
to drawwalks for theYankees.
Whitesox 12Redsox 2
TheWhiteSox jumpedout toanearly
leadbyputtingup2 runs in thefirst inning
then added 5more in the third. TheRed
Sox battled back by putting up 2 runs in
thefifth inningbut fellshort12-2. Tommy
Saunderswason thehill for theWhiteSox
and pitched 5 strong innings striking out
10 and having nowalkswhile scattering
11hits. ColmRoster came in tocloseout
thegameandstruckout thefinal3batters.
Jimmy Burns started on the mound for
theRedSoxandpitched3 strong innings
strikingout4andwalking5. CamGreene
came inon relief andpitched3 strong in-
nings strikingout 6andwalking4. Colm
Roster led theWhit Soxhitting attackby
collecting4hits (3doubles, 1 single) and
7RBIs. KennySaunders added3hits (3
singles) and2RBIs. AaronLeone added
2 singles. RyanFriend (double),Tommy
Saunders (double) andColeHeany (sin-
gle)eachhadahitaswell. BrockFlint led
theRedSoxhittingattackbycollecting3
hits. JackHill had 2 hits (2 doubles and
an RBI). Alex Panepento added 2 hits
and anRBI. CamGreene had 2 singles.
Nick Engel and Jimmy burns added a
WhiteSox 6 Indians 5
The White Sox and Indians played a
terrificandexcitinggame that came right
down to thewire. TheWhiteSox jumped
out quickly in the first inning putting up
2 runs but the Indians came right back
plating 2 runs of their own which came
by thewayofCodyLytleblastinga2 run
home run. TheWhite Sox added 1 run
in the 3rd and2more runs in the 4th and
onemore run in the6thmaking the score
6-2going into thebottomof the6th. The
Indians were not done. With one out in
thebottomof the6th the Indians scored3
runsmaking the score 6-5with the tying
run on 3rd base. Starting pitcher Ryan
Friend ranout ofpitcheswith2out in the
6th. Reliever Kenny Saunders came in
andfinishedwith a strikeout to close out
the game. Both teams fought hard and it
Ryan Friend pitched 5 2/3 strong
innings striking out 10 and walking 2.
For the Indians, Cody Lytle pitched a
terrificgamegoing5 innings strikingout
4 and walking 3. Tyler Slaven pitched
1 inning with no strikeouts or walks.
KennySaundersgot thesavepitching1/3
innings. The Indians hitting was led by
MaxMcKenziewhohad2 singles, Cody
Lytle had 1 hit (Home Run) and Aidan
Robinson and Brady Fix each had a hit.
ColmRoster lead theWhite Sox hitting
attackwith3 singles and3RBIs, Kenny
Saunders added 2 singles, Ryan Friend
2 singles, Tommy Saunders 2 hits and 2
RBIs, Cole Heany had 2 hits and 1 RBI
andMikeBuccinna andAdamRisewick
RedSox 2 Indians 0
TheRedSoxwereable topickup their
firstwinof thisyoungseasonwitha tough
2-0victoryover the Indians.TheRedSox
were ledby a solidpitchingperformance
by Jake Hill. Hill went 4 2/3 innings,
allowing2hitsand3walkswhilestriking
out 11.NickEngelworked thefinal 11/3
innings for the save. Engel allowed 1 hit
and 2walkswhile striking out 4.
The Indians got a great pitching per-
formance themselves. MaxinMcKenzie
was solid all day allowing 2 hits and 1
walkwhilestrikingout11over6 innings.
The Red Sox scored the games only
runs in the top of the 4th inning. Engel
was able to score on a single by Alex
Panepento.WhileHill provided theother
run, scoringon a passedball. On the day
theRedSoxwere led byPanepentowho
was1-3withanRBI.The Indianswere led
offensively byMcKenzie, Tyler Slaven,
and Brady Fix who all had singles and
Tyler Strollowith 2walks.
Indians 7 Twins 3
The IndiansandTwins facedeachother
for the second time this season. It looked
like the Indians were going to jump out
toanearly leadafter thefirst threebatters
reached safely. However, Twins pitcher
Tony Filio settled in, retiring the next 3
battersandonlyallowed1 run. TheTwins
had some scoringof their own in thebot-
tom of the 1st inning. Colin McCulley
reachedsafely.Twobatter later,TonyFilio
wouldcomeup, smackingadoubleoff the
wall scoringMcCulley. Ethan Beswick
would follow with a single of his own
scoring Filio. The game remained 2-1
until the topof the3rd inningwhenTyler
Slaven blasted a triple to left field. Cody
Lytle followedwith a hit scoringSlaven.
AidanRobinsonalsosingled.FinnShelby
doubled to rightfieldcollecting twoRBIs.
The Indianswould tack on 2more in the
top of the 6th to take a 7-2 lead. True to
form, the Twins would fight to the end.
The Twins were able to work the bases
loaded, scoring1 in thebottomof the6th.
In this match up, the Indians were
poweredbyTylerSlaven. Slavenpitched
51/3 innings,he reachedbasesafely in
all 4 at bats, scoring 3 times and hitting
2 triples. While on the mound, Slaven
allowed 3 runs while striking out 4 and
only walking 2. Brady Fix made his
first Little League pitching appearance
in relief of Slaven. Bradywould settle in
after walking the first 2 batters, to strike
out the last 2 and get theSave.
JakeWilliams, for the Indians, collect-
edhis first LittleLeague hit.Alsohitting
for the Indians were Maxin McKenzie,
Tyler Slaven – 3 hits (2 triples), Cody
Lytle – 2 hits,AidanRobinson, andFinn
Shelby (double). Hitting for the Twins
were Zach Baker, Tony Filio (double),
EthanBeswick andDrayGrayson.
Tigers 4 Twins 2
Well theTigers andTwins played in a
pitcher's duel as bothof themdid agreat
job on themound. TheTigerswere able
toget on theboard in the1st asGiavanni
Caccamisesmackedadoubleoff thewall
andwasbrought inonadoublebyReece
Tresco. RileyWood used a great eye to
take a bases loadedwalk for her first LL
RBI. In the2nd JoeyBrennanbrought in
Caccamise to put theTigers up 3-0. The
Tigersfinished theirscoringasCaccamise
doubled in Tyler Williams. The Twins
stayed in it as Tony Filio scored on a hit
byEthanBeswick in the4th tomake4-1.
The twins scoredoncemore in the6thon
a double by Zach Baker, scoring Collin
McCulley. The Tigers were then able to
Andrew Loftus went the distance for
the Twins, striking out 6, walking 3 and
scattering10hits. TonyFiliohadadouble
and scored a run. Zach Baker added a
double and RBI, while Ethan Beswick
had a single and RBI. Collin McUlley
drew awalk and scored a run.
ReeceTrescopitchedacompletegame
for the Tigers going 6 innings, striking
out 13, walking 1 and surrendering 3
hits. GiavanniCaccamisehad2doubles,
anRBI and scored twice. JoeyBrennan
had 2 singles and anRBI. ReeceTresco
had2doubles, a single,RBI and scoreda
run.AustinSaeva,ZachVanderhoof, and
JamesBlakeeachhadsingles,whileTyler
Williams added a single and run scored.
Whitesox 14 Yankees 1
TheWhitesox jumped out to an early
lead putting up 3 runs in the top of the
first. TheYankees came right backwith
a run of the own in the bottom of the
first whenKyler LaCarte led off with an
inside theparkHomeRun. TheWhitesox
added11more runs throughout thegame
to capture thewinwith a score of 14-1.
ColmRosterwent 52/3 strong innings
striking out 10 and walking 2. Kenny
Saunders came in and finished getting
a ground ball to close out the game.
AndrewTygart opened the game for the
Yankees on the hill andwas relieved by
Doug Irwin who pitched 4 1/3 strong
innings striking out 3 andwalking 1.
Grant Gilligan came in to close out
the game pitching 1 2/3 innings striking
out 2with 0walks. ColmRoster led the
Whitesox hitting attack by collecting 4
hitsand4RBIs. RyanFriendadded4hits
and 1RBI,AdamRisewick added 4 hits
and1RBI,KennySaundershad2hitsand
1RBI,ColeHeanyhad2hitsand2RBIs,
AaronLeonehad2hitsand2RBIs,Mike
Buccinna had 2 hits and 1 RBI, Tommy
Saundersadded1hitandJackDuyssenhit
inhis first RBI of his little league career.
The Yankees hitting was led by Kyler
La Carte who had 2 hits (1Home Run),
Doug Irwin had 2 hits, Andrew Tygart,
GrantGilliganandShawnMorabitoeach