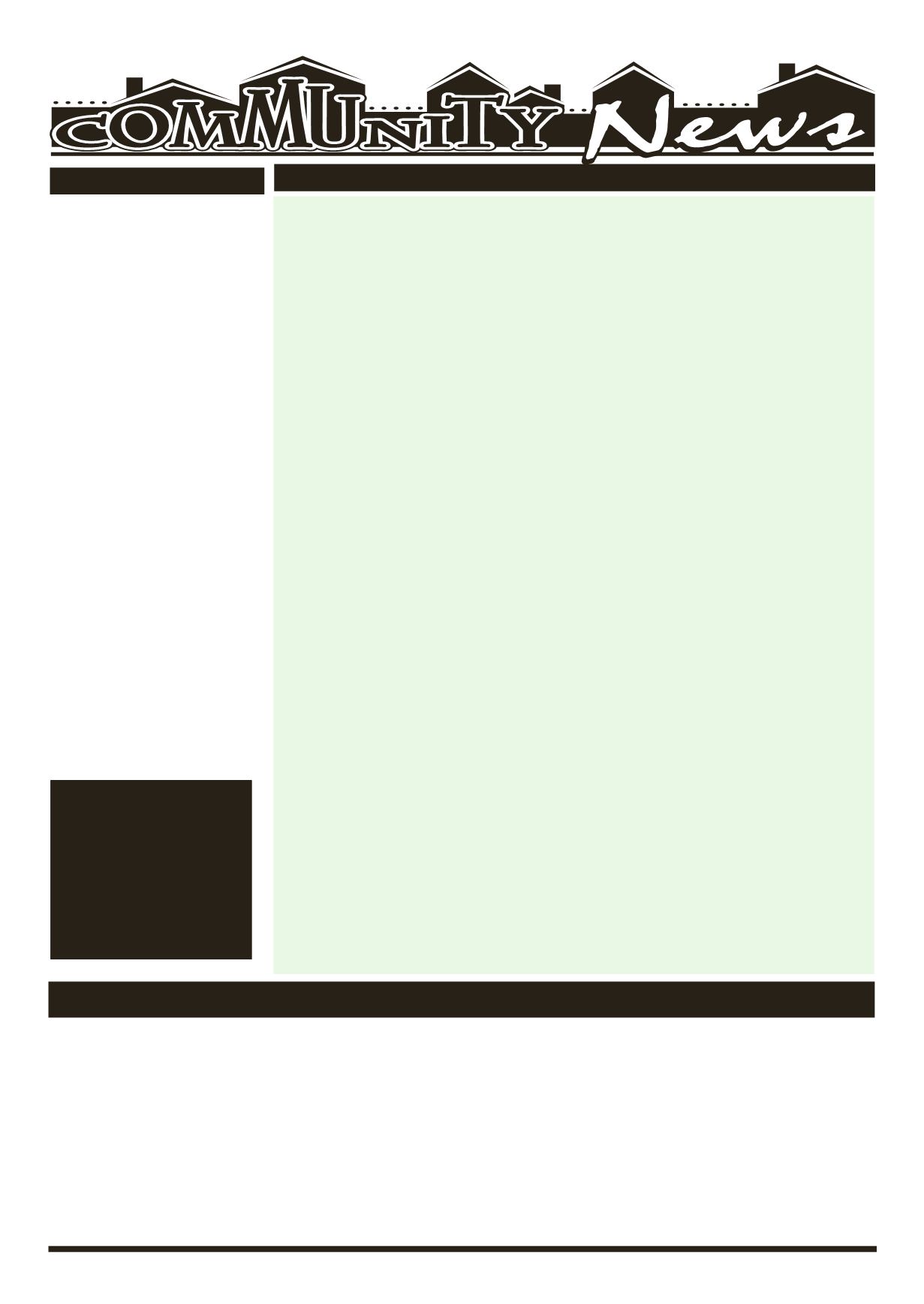 LEROYPENNYSAVER&NEWS -MAY 11, 2014
Le Roy
Pennysaver
All GeneseeCounty residents, 60andolder, can takepart in thisweek'sactivitiesat theBataviaSenior Center, 2BankSt., Batavia. Formore information, call 343-1611.
WEEKLYEVENTS
OBITUARIES
ArthritisExercise
is scheduled tobeginat 9:30a.m.;
Bridge
is scheduled tobeginat 11:30a.m.
Alzheimer'sAssociationMeeting
TheRSVP/Americorps/AlzheimersMeeting
Cribbage
is scheduled for 1:00p.m.
Quilters
are scheduled tomeet at 9:00a.m.;
Euchre
is scheduled tobeginat 1:00p.m.;
AnArtReception
place from4:30p.m. to7:00p.m.
ARepresentative from IndependentHealth
is scheduled tobeavailable from9:30a.m. to11:30a.m.; Lifespanhas theirmeeting
from12:30p.m. to5:00p.m. ;
CribbageandBridge
MusicalKeyboardLessons
arescheduled tobeginat2:30p.m.
ArtClassandLineDancing
TaiChi
SUNDAY,MAY11
AWANAProgramatPenuel ChristianFellowship.
Sundays 12:15 to1:45pm. Ages 5-17broken intogroups. Developing
friendships.Having fun. LearningaboutGod. Safeenvironment.
Konnect Youth Group at Living Waters Church,
LeRoy. Sundays from 6:30 to 8:30 pm for ages 12-18. "Bring Down
all theWalls! ConnectwithGod and Connectwith others." Formore
information, check us out online at: livingwatersleroy.org/kon-
MONDAY,MAY12
TOPS (Take Off Pounds Sensibly)
meets Monday evenings from
6:30-7:15pmat the LeRoyPresbyterianChurch, corner of Clay&Main
Streets.Visitorsalwayswelcome. Call 768-2933 formore info.
TUESDAY,MAY13
LCCP'sGRACE'SKITCHEN:
AFREEdinnereveryTuesdayevening,5-7pm
attheLeRoyUnitedMethodistChurch,10TrigonPark.Parkingavailable
onTrigonPark&the lotstothe leftandbackoftheChurch.Handicapped
Entrance in the back of the Church. Takeout & delivery are available.
For more info. contact Selby Davis at 585-738-8882 or selbydavis1@
Grace'sKitchenwillbeclosed -Tuesday,May20th.
FruitTrees–EasytoGrow!attheWoodwardMemorialLibrary
from 7 to 8 p.m. MaryMargaret Ripleywill present a program based
on her experience growing fruit trees in her backyard. Registration is
WEDNESDAY,MAY14
Village of LeRoy BoardMeeting
, 7 pm at theVillage Hall, 3West
THURSDAY,MAY15
GeneseeVeteransSupportNetwork
(GVSN) supports thedevelop-
ment ofVeterans focusedAAmeetings everyThursday, 6-7pm at the
First Baptist Church, 306E.MainSt., Batavia.Meetings ledbyMikeW.
&areopen tonon-veteransaswell.Handicapaccessible. Foradditional
information call 585-302-0825.
GRACE'S CLOSET: A ClothingGiveaway Program
RoyUnitedMethodistChurch, 10TrigonPark, LeRoy. 9:30am to11:30
am everyThursday. We have clothing for all ages. Spring& Summer
clothingnowbeingput inplace. Weare inneedof lighter coats, cloth-
ing, shoes, pajamas, bedding, sheets in all bed sizes. We accept do-
nations bedroppedoff at thehousenext to the church. Pleaseput all
bags INSIDE on thebackporch. Noelectronics,TV's, computers,dishes,
etc. Anyquestions call theoffice768-8980
FRIDAY,MAY16
Penuel ChristianFellowship,
OneStep toFreedomaddictionsmin-
istry, a Christ Centered Addictions program, a weekly meeting every
Friday at 7 pm. Call the Church for more information at 768-6901 or
UPCOMINGEVENTS
Veterans Only Social Club -
Genesee Veterans Support Network
announces a newmeeting location at Scooter's Family Restaurant,
3711WestMain Street Road, Batavia, NY - for the once amonthVet-
eransOnlySocial Club.Meetingsareheld the secondSaturdayof each
month from7:00 to8:30PM.Veteransof all erasare invited toattend.
GVSN is locatedat 3837WestMainStreet Road, Batavia, NY. Formore
LCCP'sMommy&MePlaygroup: Every2nd&4thFriday,
1:30, LeRoyPhysical Therapy (in thebackgym). Anymoms and their
birth-kindergarten childrenarewelcome to comeenjoy socialization,
lunch, coffee, structuredgames& freeplay.
TheMaymeetingof theLeRoy-StaffordSeniorCitizens
heldonWednesday,May 21, 2014 at 6:00p.m. At theKof CMeeting
HallonWestMainSt.BehindSave-a-Lot. Thiswillbeapot lucksupper
and you should bring your own place setting and a generous dish to
pass. Dessertwill be furnished. AccordionistGeorge Frielwill present
The StaffordGarden Clubwill have their annual Auction and
Garden Store
at the Stafford FireHall onMay 21, 2014 at 6:00 pm.
Mr. David Russell will be the auctioneer. Home and Garden related
itemswillbesold in thestore.Plantsandmanycontainerswillbeauc-
tioned. Come join the funandget ahead startonabeautiful home.
The Genesee Valley Civil War Roundtable
JamesMcGrath on the topic"IdentificationDiscs of Union Soldiers in
the CivilWar"onWednesdayMay 21, 2014 at 7:30 PM. Themeeting
will take place at the LeRoy United Methodist Church in LeRoy on
Trigon Park. Please use the front door on the far right at the end of
the long sidewalk. Discussion period will follow. Newmembers are
welcome!! Jimwill bediscussing theprecursor of thedog tags. Itwill
be a very interestingprogramonprovidingnecessary informationon
Genesee Co. Health Dept. 2014 Anti-Rabies Immunization
Clinic,
SalvationArmy, Gym area, 529 E. Main St., Batavia, Sat., May
31st, 10 am to 2 pm. For more info on online at
ny.us/departments/health/index.html
LeRoy Servicemen's Club BREAKFAST
to noon. American Legion Post, 576, 53W. Main St., LeRoy. All You
LeRoyAlumni,willhold it'sAnnualReunion
at Bohn's,Clinton St.,Batavia, beginning at 5:00 p.m. For more infor-
mationplease contactRoseScott at585-768-7534.
CommunityCalendar Submissions shouldbe sent to:
STAFFORD – David S. ''Chief'' Hall,
67, of Stafford, diedpeacefullySatur-
daymorning (May 3, 2014) at Strong
MemorialHospital.The family requests
memorial contributionsbemade to the
Le Roy Pantry &Help Fund, Inc., 48
PA/LEROY – Douglas Sturm, 85, of
Lewisburg, PA., passed away April
27, 2014, at Riverwoods, Lewisburg.
Sturmgraduatedasvaledictorian from
Le Roy High School in 1947. If so
desiredmemorial contributionscanbe
sent toCARE,onlinebyvisiting:
payable toCAREandsend toPOBox
PA/LEROY – Maureen Callahan of
Erie,PA., and formerlyof LeRoy, died
Jan. 13, 2014, at age 65. Memorials
maybemade toErieCountyDiabetes
Association, 1128 State Street, Erie,
LE ROY — Robert G. Waterman,
86, formerly of Le Roy, passed away
Tuesday afternoon (May 6, 2014) at
theGeneseeCountyNursingHome.
Mr.Waterman'sarrangementsarebe-
ing completed by the Falcone Family
Funeral &CremationService Inc.