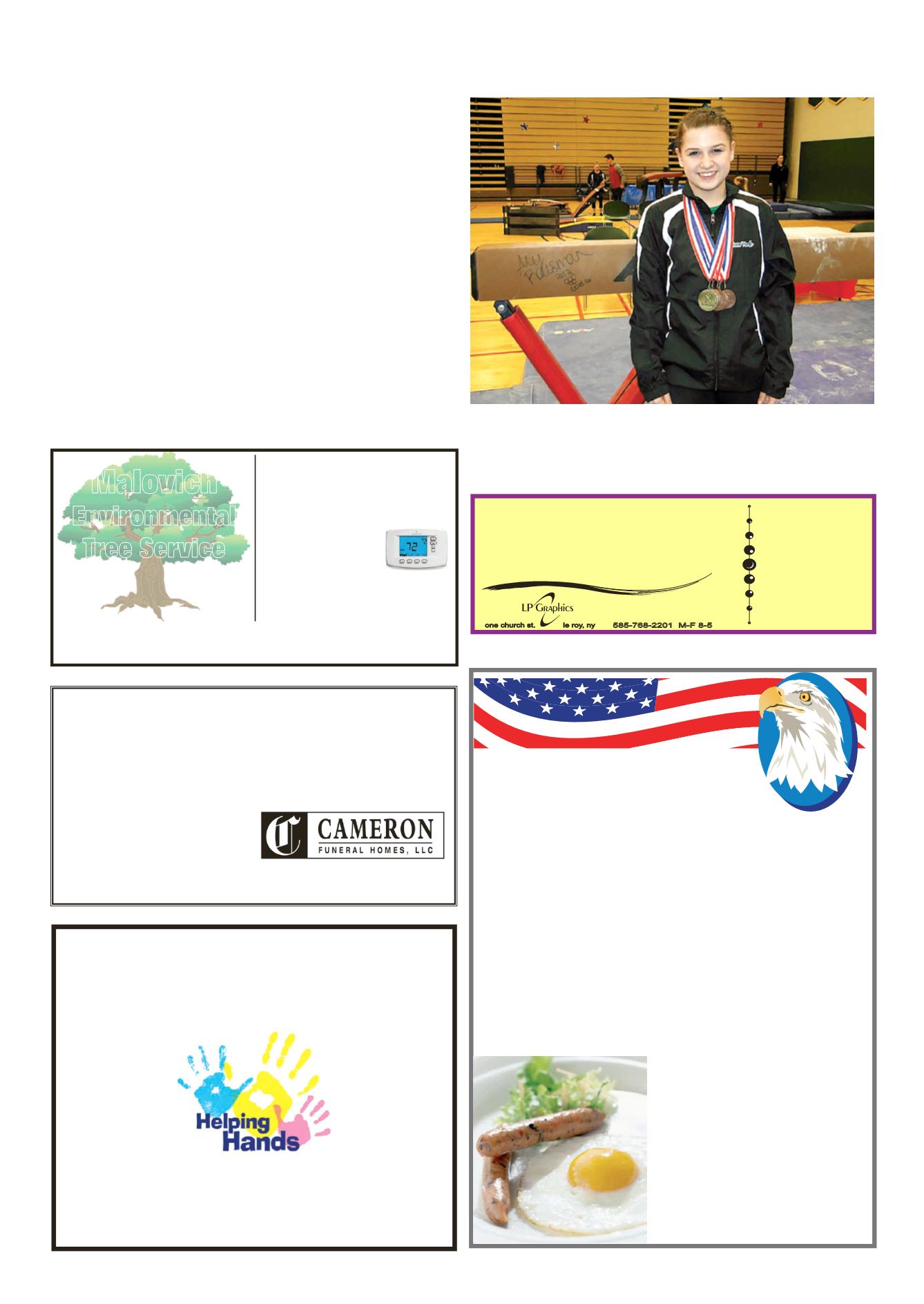 LEROYPENNYSAVER&NEWS -MAY 11, 2014
HelpingFamiliesCelebrateaLifeLived
"Our FamilyServingYours Since 1907"
Trusted•Honest •Proven
(585) 768-6800•LeRoyFuneralHome.com
Cameron, Brady&Steuber
FuneralHome
111Wolcott Street
LeRoy,NY14482
HelpingHands In-HomeCare
CaringPeopleAssistingSeniors!
"AnAlternativeToAssistedLiving orNursingHome"
**SPRING ISHERE!LETUSTAKECAREOFYOURLAWN!**
MOWING&YARDCLEANUP
"Local PeopleYouKnow andTrust"
BarbaraRider-Hotze - 737-7264 •HowardHotze, Jr. - 690-7811
RewardingCompanionship
OtherServices
Malovich
Environmental
Tree Service
•TreeTrimming
•TreeRemoval
•StumpGrinding
FreeEstimates • Fully Insured
24Hour Service
•Residential
•MobileHomes
•ServiceRepairs
•New Installations
•ChimneyCleaning/Repairs
•Chimney Liners
585-409-6509
old and a Freshman at Pavilion
Central.She isaLevel9gymnast
and competes for the Brockport
Junior EagleTeamwhere she is
coached by Chelsea Graff and
She competed throughout the
season at many local and out of
statemeets qualifying her to the
NYState Championships which
wereheldatBrockportStateCol-
lege the end ofMarch 22, 2014.
Morgan was the top floor score
(9.125) and ended upNewYork
StateFloorChampion receivinga
goldmedal. She alsoplaced3rd
on vault, 7th on beam, 14th on
bars and8th all around (34.150).
StateFloorChampion andRegional SilverMedalist
MorganAdams at the NY State Championships standing next
to the beam she competed on that was signedbyOlympianAly
Raismanwhich is also fromRegion 6.
Her scores at States qualified
her to the Regional Champion-
ships inSpringfield,MAonApril
12,2014.She representedNYSat
Regionals where she competed
against 6 other states in the Re-
gion 6 (Maine, Massachusetts,
Connecticut, New Hampshire,
Rhode Island andVermont).
Morganhadagreat showingat
Regionals where she placed 2nd
in the floor exercise (9.350) her
highest floor score of the season
earning her the silver medal.
She alsoplaced7thonvault, 8th
on beam, 13th on bars and 11th
all-around receiving her highest
all-around score of the season
LeRoy
Servicemen'sClub
Sunday,May 18th, 2014
8:00 am –Noon
53WestMainSt., LeRoy, NY
home fries, toast, biscuits&
gravy, French toast, pancakes,
waffles& syrup, juice& coffee.
Also serving a good time
with your localVeterans
.
one church st. le roy, ny
one church st. le roy, ny