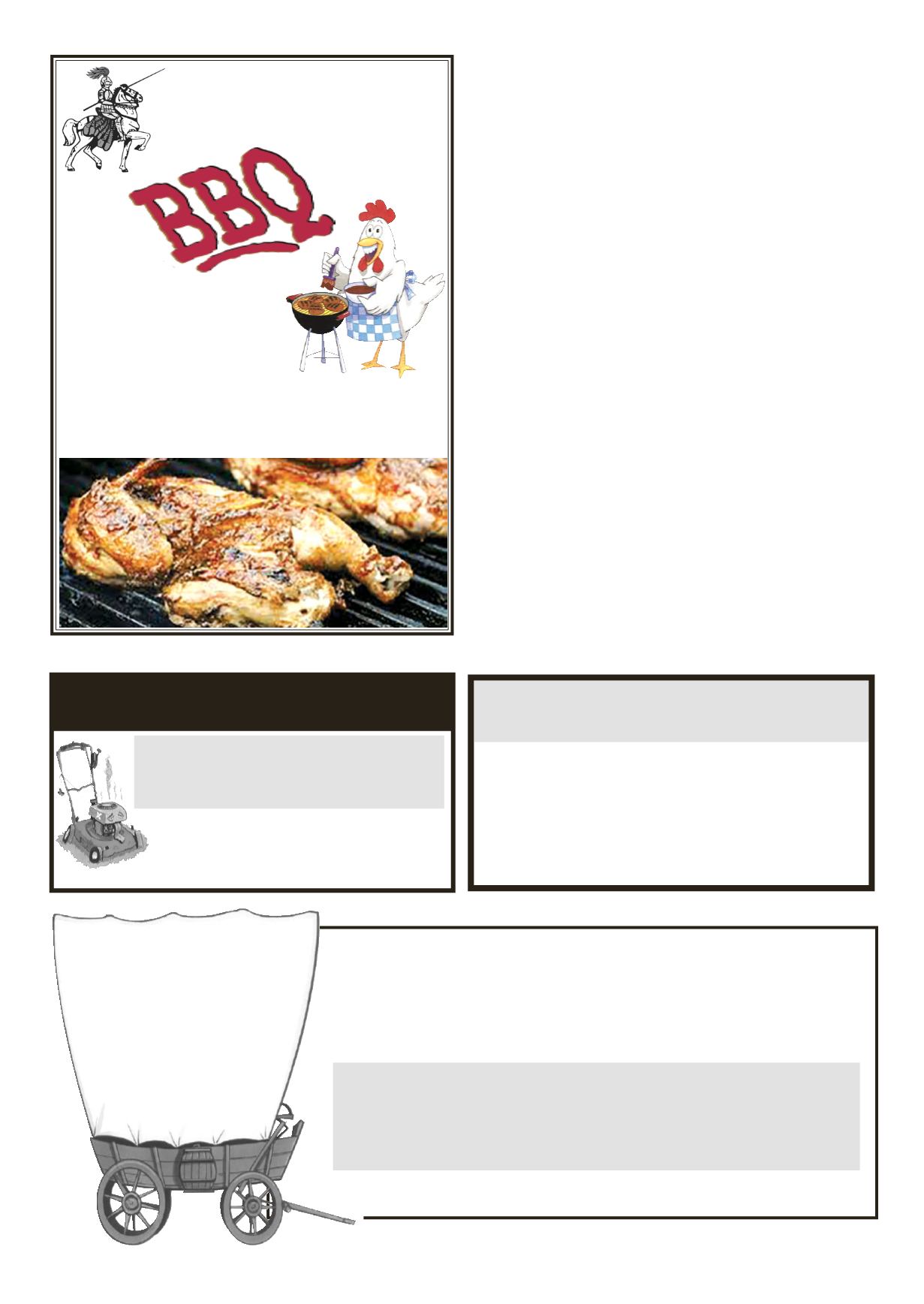 LEROYPENNYSAVER&NEWS -MAY 11, 2014
ALLWORKMANSHIP GUARANTEED • INSURED
297-9097 • 768-7737
• InteriorPainting
• Plaster/LathRestoration
•Drywall&Drywall Repair
•TextureRemoval
• Floors Stripped
&Refinished
•OldCeilings&Walls
MadeLikeNew!
MikeDarby'sPatch&Paint
WeCan't DoBusiness FromAn EmptyWagon
SERIOUSLY,WENEED LISTINGS!
Why?Becausewehaveavarietyof buyers looking for properties.
Now is the time to list your propertywithus.
WE SPECIALIZE INYOURAREA!
We feel that amajor part of our success is due to the fact
thatwe specialize inacertainarea.
(LeRoy•Caledonia• Pavilion• StaffordandBergen)
Giveus a try, youwon't bedisappointed!
NOT THE BIGGEST - JUST THE BEST!
•Engine andTransmissionRebuilds
•Lawn andGardenEquipment •ATV's, Dirt Bikes
•PickUp andDeliveryAvailable
Hours: Tues.,Wed. 6 pm to 8 pm
Thurs., Fri., Sat. 9 am to 6 pm, Closed Sun.,Mon.
8525Rt. 237, Stafford,NY14143
The April 7, 2014 meeting of the
LeRoy Business Council was called
to order by President Bob Bennett at
5:30 pm. FrankDavis andRandyVink
made a motion to accept theMarch 3,
2014minutes. Thismotion carried. No
treasurer's report was given.
Our meeting was held at the LeRoy
Moose Family Center. The Moose
annual SpringRafflewas heldSunday,
April 13, 2014. This was amajor fund
raiser that allows theMoose to donate
to numerous organizations. WBTA's
radio auctionwas heldApril 12, 2014.
OnMay10, 2014, "Rent aRotarian" is
beingheld inourcommunity.This isan
event to help others in our community
and to create comradery among the
members. Rotary'sBookDrivewill be
held on June 21, 2014 at opening day
of the LeRoy Farmer's Market. Book
donations can be dropped off at TAM
Associates or Bank of Castile, LeRoy.
The "Graze to Raise" event to benefit
theMilneScholarshipFundwillbeheld
May16thatTheGreensofLeRoy.The
annualEasterEggHuntwill beheldon
April19that1:00pmatHartwoodPark.
Therewill be free hot dogs and drinks
alongwithavisit from theEasterBunny.
Tom Spadaro, LBC member, in-
formed us that the Village Board is
looking into LED lighting for Main
Street with a potential savings of fifty
percent for electrical costs. There will
beaprototype in frontof thePostOffice
that will be left up for one year so the
Village can get some feedback from
the community. Steve Barbeau, Town
Supervisor, is looking topursue"LeRoy
Night" at Dwyer Stadium. Thiswas an
event that LBC sponsored along with
help from local merchants. This was
a nice community event that we are
hoping tobringback.OfficerTimHayes
reported that they are continuing to
work on the new radio system through
theCounty andhavehired threePTof-
ficers. DavePaddockwas introducedas
the new liason toLBC from theTown.
Adraft of theComprehensivePlanRe-
view is being sent to LBC and LeRoy
FireDepartment andonceadoptedwill
be available on the Town of LeRoy
website.TheTown isalso in theprocess
of adopting the 2015Budget Calendar.
BillKettle is the liason toLBC and the
Main Street Revitalization Committee
Legislator Shelley Stein reported
that the EDC has 33 million in the
State Budget for STAMP project. The
pressure on communities to downsize,
partner servicesand remainundera2%
tax cap is alsopart of theStateBudget.
Preparation for the start of the kayak
launch will begin in the immediate
future.TheCountywill apply toupdate
the 2001Ag and Farmland Protection
Plan in2014.Criminalactivity raises in-
carcerationcosts; therefore, theCounty
isseekingcreativesharedopportunities
with neighboring county facilities in
every effort to avoid having to build
another facility. The County Nursing
Homecontinues toworkonsustainable
solutions tohelpovercome thefinancial
burden that they continue todealwith.
Our next meetingwill be held at the
LeRoy Moose Family Center at 5:30
pm onMay 5, 2014. Frank Davis and
BillKettlemadeamotion toadjournat
LBCMinutes
Tues.,May 20th
4-7pm
Elem. BusGarage
Chicken cooked byT.McGinnis
Tickets being sold by any honor societymember
or at the high school.