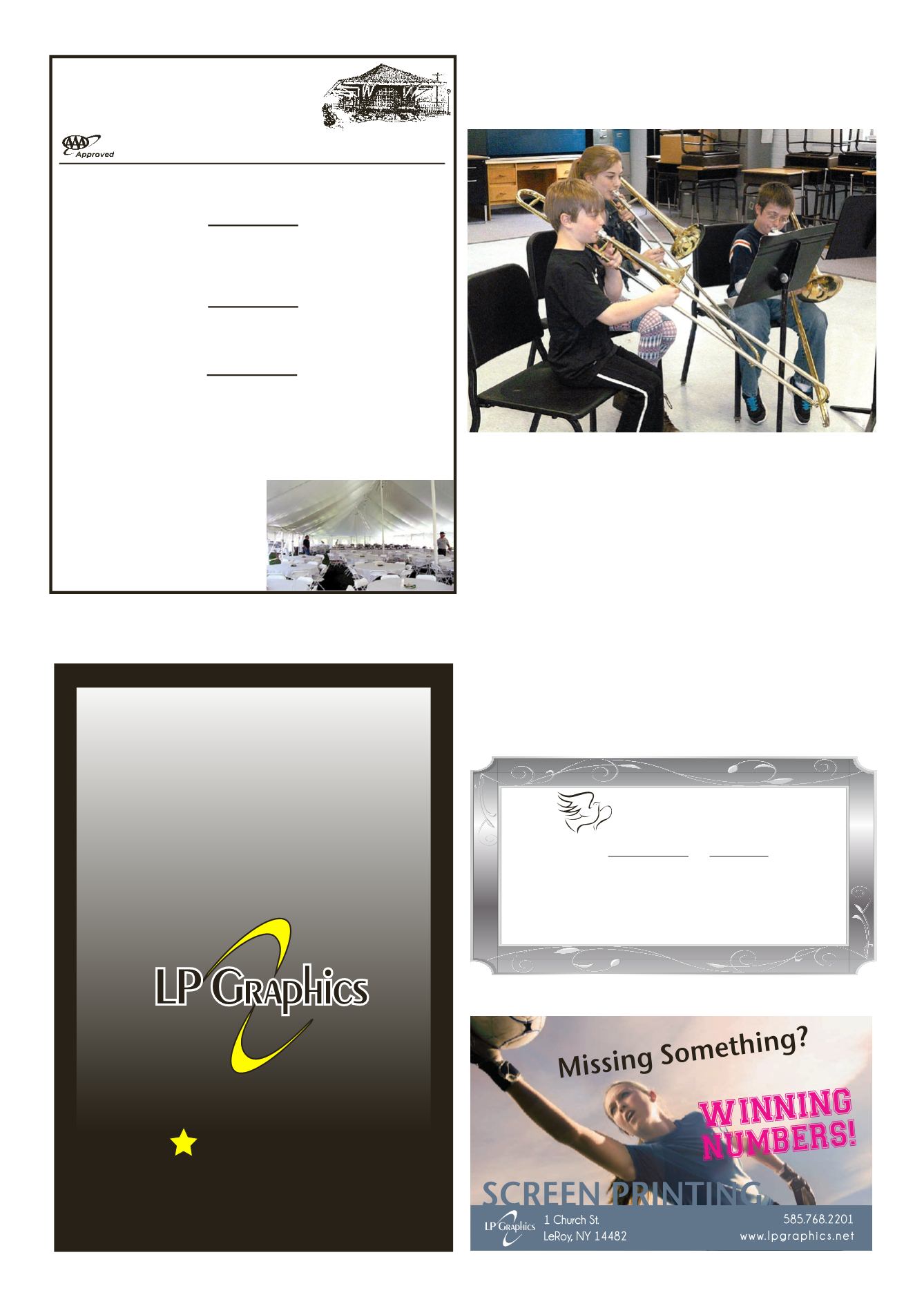 LEROYPENNYSAVER&NEWS -MAY 11, 2014
D&RDepot
63LakeSt. (Rt. 19), LeRoy• 768-6270
Let'sMeetAt The ...
OpenForBreakfast, Lunch&Dinner - 7DaysAWeek 7am-9pm
F
ALCONE
F
AMILY
Funeral&Cremation Service, Inc.
Director/Owner
Director /Owner
FuneralDirector
SUNDAY,MAY18thDINNERSPECIAL
STUFFEDPORKCHOPdinner - $15.99
(includes soup or salad, potato pancakes, beverage, dessert)
SUNDAY,MAY25/MONDAY,MAY26thDINNERSPECIAL
BeerBatterFRIEDCHICKENDinner - $15.99
(includes soup or salad, realmashed potatoes, beverage
and an apple dumpling)
SUNDAY, JUNE 1stDINNERSPECIAL
OldFashionedPOTROASTDinner - $15.99
(includes soupor salad, beverage& homemade coconut cream pie)
TheDepot's new sister company, DoubleLRentals - offering tables, chairs,
heaters, bars, linens, dishes& catering supplies for your special occasions!
10%discountwhen youuseboth theD&RCateringServices
andDoubleLRental foryour event.
Visit doublelrental.com, or call us at (585) 344-0023
DoubleLRental | Tent Rental
InfoDoubleLRental attempts to ensure
affordability for your eventwithout
sacrificing quality or service.
"Every customer is our only customer!"
The Practice Buddy program
ran at theWolcott Street School
fromApril17th throughMay3rd.
Created by band directors Jessa
Dechant andBradleyMeholick,
this activityhas helped todevel-
op the Beginner Band program,
increase retention and make
Volunteer Junior and Senior
HighBand studentswere paired
with small groups of interested
PracticeBuddyProgram
AtWSS
Pictured (from left to right) areDrayGrayson,MeganCollins
andSeithShephardwhopracticedtrombonetogetherafterschool
as part of thePracticeBuddyprogram.
BeginnerBandstudentswhoplay
thesame instrument. Thesesmall
groupsmet once aweek after to
school to practice the Beginner
This program has proven to
be a great experience in that the
older students model tone and
technical ability for the younger
students, while also providing a
mini student teachingexperience.
1CHURCHST, • LEROY, NY • lpgraphics.net
WEHANDLEALLASPECTSOFPRINTING...
PROGRAMS
LETTERHEADS
BILLHEADS
FLYERS
BROCHURES
POSTERS
CARBONLESSFORMS
ENVELOPES
RAFFLETICKETS
NEWSLETTERS
RESUMES
TYPESETTING
RUBBERSTAMPS
ENGRAVEDSIGNS
NAMETAGS
COPIES
LAMINATION
COMMUNITYFAX
NEWSANDPICTURES
ADVERTISING
BUSINESSCARDS
HOURS: Monday thruFriday8:00 to 5:00