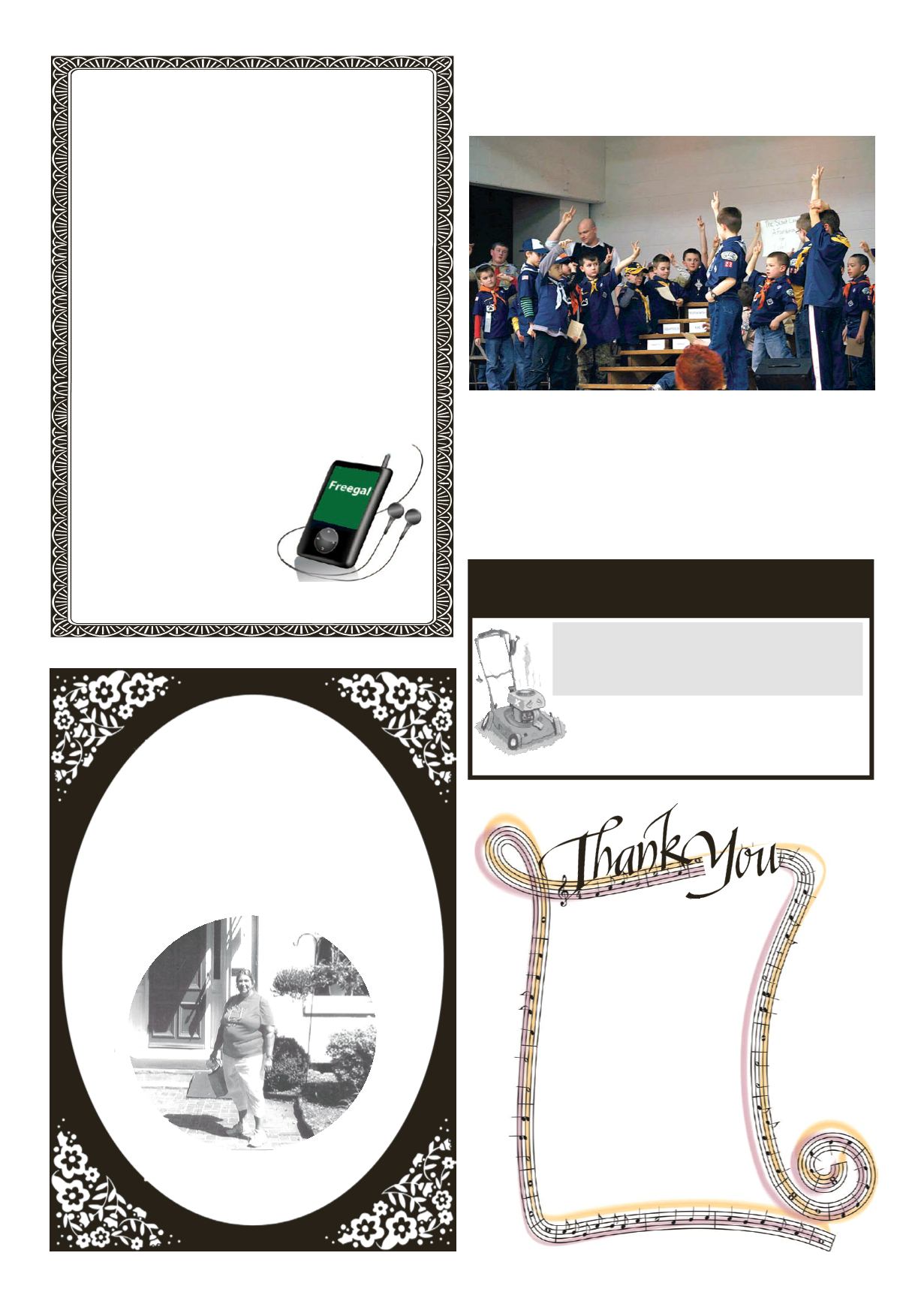 LE ROY PENNYSAVER & NEWS - MARCH 30, 2014
•Engine and Transmission Rebuilds
•Lawn and Garden Equipment •ATV's, Dirt Bikes
•Pick Up and Delivery Available
Hours: Tues., Wed. 6 pm to 8 pm
Thurs., Fri., Sat. 9 am to 6 pm, Closed Sun., Mon.
8525 Rt. 237, Stafford, NY 14143
On March 18th, Cub Scout Pack 23 in Le Roy held their annual
Blue and Gold Banquet at the Parish Center of Our Lady of
Mercy parish. Rank awards, activity badges, and outdoor activity
patches were awarded to 22 Cub Scouts. "Sir Little Joe" came in
Medieval costume to encourage the boys to attend summer camp.
All the Cub Scouts participated in a ceremony about the Scout
Law; A Scout is trustworthy, loyal, helpful, friendly, courteous,
kind, obedient, cheerful, thrifty, brave, clean and reverent.
Scouts Hold
Blue & Gold Banquet
Woodward Memorial Library
Use Your
Woodward Library Card
to Stream Whole Albums
with
Freegal
A Downloadable Music Service
• Get three free songs a week to download
• Stream three hours of music every day
• Thousands of popular artists
on Friday, the 4th of April
The LeRoy Music Boosters
would like to thank all the businesses
and individuals that supported our
raffle during this year's
high school musical "Legally Blond".
Your donations helped make our
raffle a great success.
Christine Gephart
Crocker's Ace Hardware, Curves
Graham Manufacturing
Jen and Paul Smith
LP Graphics, Lorie Longhany
Mary Hall-Avon, Mickel's Nickels
Tops Market, Woody's Deli
Also Thank You to all the Students
and Music Boosters who donated
baskets and worked the raffle.