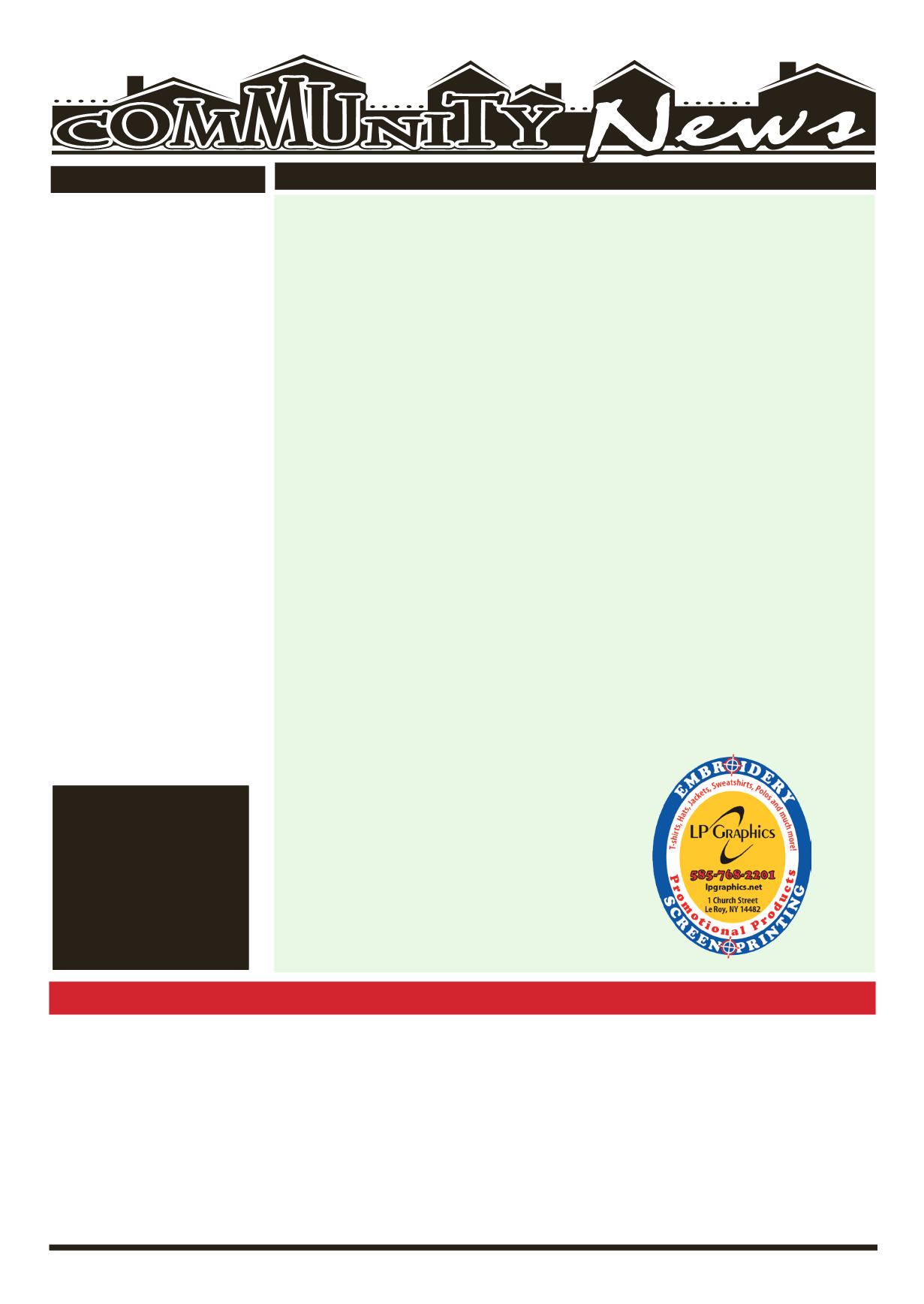 LE ROY PENNYSAVER & NEWS - MARCH 30, 2014
Le Roy
Pennysaver
All Genesee County residents, 60 and older, can take part in this week's activities at the Batavia Senior Center, 2 Bank St., Batavia. For more information, call 343-1611.
SENIOR CITIZENS ACTIVITIES
WEEKLY EVENTS
OBITUARIES
Tax Preparation
is available by appointment beginning at 9:00 a.m.;
Arthritis Exercise
is scheduled to begin at 9:30 a.m.;
Bridge
is scheduled to begin at 11:30 a.m.
Cribbage
is scheduled for 1:00 p.m.
Tax Preparation
is available by appointment beginning at 9:00 a.m.
Quilters
are scheduled to meet at 9:00 a.m. and
Euchre
is scheduled to begin at 1:00 p.m.
Cribbage and Bridge
is scheduled for 1:00 p.m.
Musical Keyboard Lessons
are scheduled to begin at 2:30 p.m.
Art Class and Line Dancing
Tai Chi
SUNDAY, MARCH 30
AWANA Program at Penuel Christian Fellowship.
Sundays 12:15 to 1:45 pm. Ages 5-17 broken into groups. Developing
friendships. Having fun. Learning about God. Safe environment.
Konnect Youth Group at Living Waters Church,
LeRoy. Sundays from 6:30 to 8:30 pm for ages 12-18. "Bring Down
all the Walls! Connect with God and Connect with others." For more
information, check us out online at: livingwatersleroy.org/kon-
MONDAY, MARCH 31
TOPS (Take Off Pounds Sensibly)
meets Monday evenings from
6:30-7:15 pm at the LeRoy Presbyterian Church, corner of Clay & Main
Streets. Visitors always welcome. Call 768-2933 for more info.
Free Prom Dresses: Girls Helping Girls.
on display. Monday, March 31st and Tuesday, April 1st from 6:30 p.m.
to 8:30 p.m. at LivingWaters Church, 30 Main St., LeRoy. Call 768-7570
TUESDAY, APRIL 1
LCCP's GRACE'S KITCHEN:
A FREE dinner every Tuesday evening, 5-7
pm at the LeRoy United Methodist Church, 10 Trigon Park. Parking
available on Trigon Park & the lots to the left and back of the Church.
Handicapped Entrance in the back of the Church. Takeout & delivery
are available. For more info. contact Selby Davis at 585-738-8882 or
LeRoy Zoning Board of Appeals Meeting
at the Town Hall, 48 Main St. For further info. call 768-6910, Ext. 223.
THURSDAY, APRIL 3
Genesee Veterans Support Network
(GVSN) supports the develop-
ment of Veterans focused AA meetings every Thursday, 6-7 pm at the
First Baptist Church, 306 E. Main St., Batavia. Meetings led by Mike W.
& are open to non-veterans as well. Handicap accessible. For additional
information call 585-302-0825.
GRACE'S CLOSET: A Clothing Giveaway Program
Roy United Methodist Church, 10 Trigon Park, Le Roy. 9:30 am to 11:30
am every Thursday. We have warm clothing for all ages. Bedding, cur-
tains, comforters, pajamas, shoes, boots. We are in need of winter coats
for all ages. We accept donations to be dropped off at the house next to
the church. Please put all bags INSIDE on the back porch. No electron-
ics,TV's, computers, dishes, etc. Any questions, call the office 768-8980.
FRIDAY,APRIL 4
Penuel Christian Fellowship,
One Step to Freedom addictions min-
istry, a Christ Centered Addictions program, a weekly meeting every
Friday at 7 pm. Call the Church for more information at 768-6901 or
UPCOMING EVENTS
LCCP's Mommy & Me Playgroup: Every 2nd & 4th Friday,
1:30, Le Roy Physical Therapy (in the back gym). Any moms and their
birth-kindergarten children are welcome to come enjoy socialization,
lunch, coffee, structured games & free play. $5 per mom
A Fish Fry will take place at the North Bergen Presbyterian
Church
7068 North Bergen Rd. Bergen from 4:30 - 6:30 pm on Fri-
day, April 4th. Menu includes fried fish, roasted potatoes, coleslaw,
applesauce, rolls, beverage, and homemade desserts. Takeouts will
be available. Call 494-1815 for more information.
Breakfast with the Easter Bunny
at Le Roy McDonald's on April 6
from 9-11 am. Cost is $6 and includes small beverage and hash brown
with choice of hotcakes or a biscuit sandwich. For tickets please call
768-7700 or purchase at McDonald's that morning. Don't forget your
camera! All proceeds to benefit the children of Le Roy Nursery School.
The Genesee Valley Civil War Roundtable
Wednesday, April 16
Methodist Church on Trigon Park at 7:30PM. Please use right front
door at end of long sidewalk. This month's speaker will be Tom Taber
and the topic is Orleans Battery 17 New York Light Artillery. He will
have copies of his book available following his program and will be
happy to sign them. New members welcome.
The Stafford United Methodist Church will be holding a public
Chicken & Biscuit Dinner
on Thursday, April 10, 2014, from 5 pm
until ?? with take outs starting at 4:30 pm. Menu is chicken and biscuit
w/ gravy, real mashed potatoes, baby carrots, cranberry sauce, cab-
bage salad, homemade desserts and beverage. Adults, $9, 5-12, $4,
Community Calendar Submissions should be sent to:
LE ROY — Lena L. O'Geen, 85,
formerly of Le Roy, passed away
Wednesday evening (March 19,
2014) at the Genesee County Nurs-
ing Home. In lieu of any flowers, me-
morials in her memory may be made
to a charity of the donor's choice.
LE ROY — Arlene H. Murray, 88, of
Le Roy, formerly of Corning, passed
away on Friday (March 21, 2014)
at home surrounded by her loving
family. In lieu of flowers, donations
in Arlene's name may be made to
the Chemung County SPCA, 2435
State Route 352 Elmira, NY 14903;
or to Alzheimer's Association, 2805
Wehrle Dr, Buffalo, NY 14221.
LE ROY— Jeanette R. Paladino, 87,
formerly of West Main Street, passed
away Sunday evening (March 23,
2014) at the Hilton East Assisted
Living Community in Hilton. In lieu
of flowers, memorials are suggested
to Crossroads House, 11 Liberty St.,
James W. Caccamise passed away
on March 19, 2014, at age 82. In lieu
of flowers, memorials may be made
to the Our Lady of Mercy Parish,
44 Lake St., Le Roy, NY 14482 or
Alzheimer's Association Rochester
and Finger Lakes Region, 435 East
Henrietta Rd., Rochester, NY 14620.