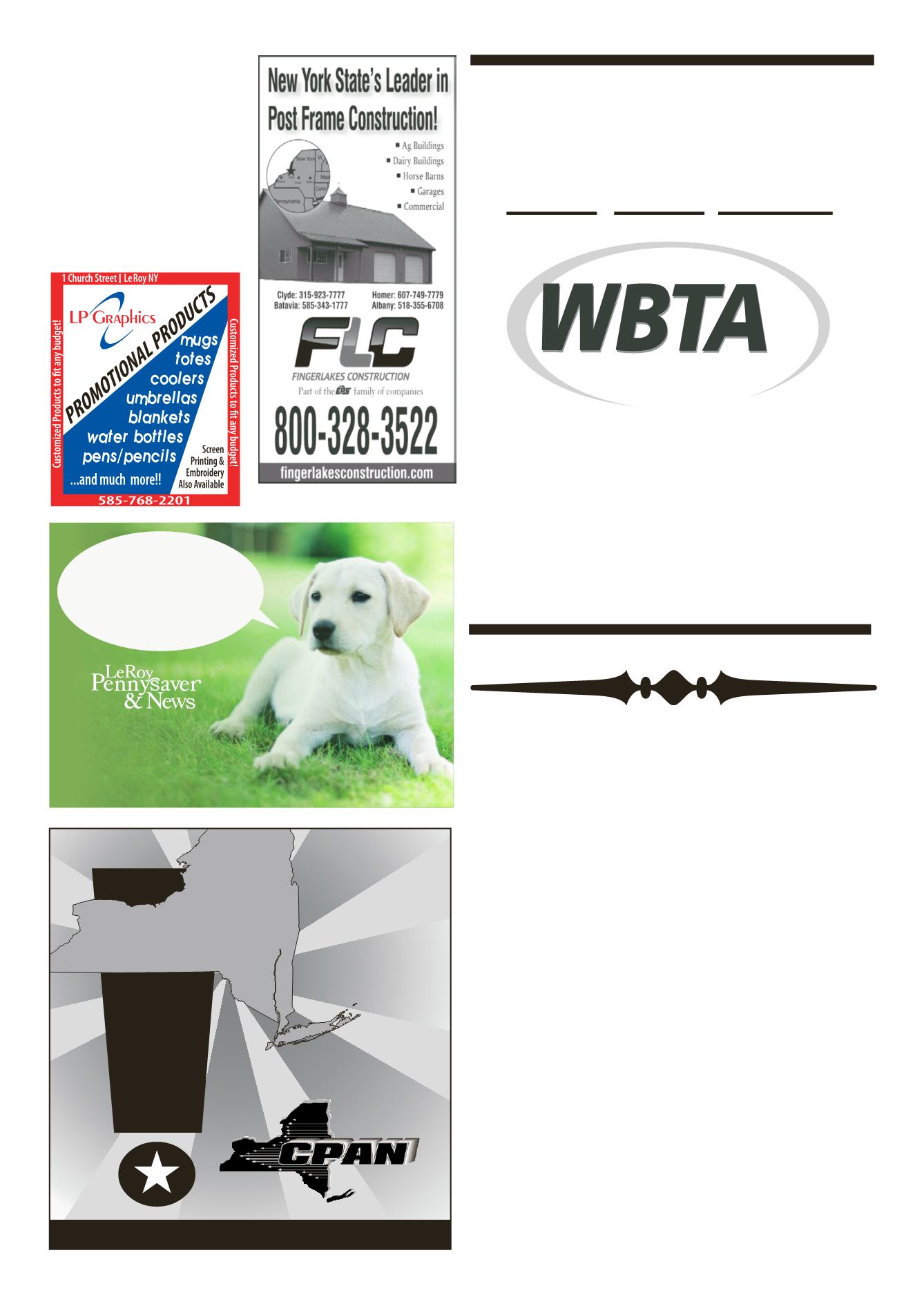 LE ROY PENNYSAVER & NEWS - MARCH 30, 2014
i
WBTA Radio - 113 Main St., Batavia, NY - (585) 344-1490
SUBMIT
YOUR AD
HERE
ONE
ONE
*$490 for 15 words. $15 for each additional word.
A Great Deal to Reach the Whole State!
1) 22 year old Rose H. Chiauzzi of 154 West Court Street Warsaw,
was arrested on 3/22/14 by the LeRoy Police Department and charged
with one count of Felony Assault a class D-Felony and one count
of Criminal Mischief 4th, a class A-Misdemeanor. It is alleged that
during an argument with the Victim, Chiauzzi grabbed a brick and
struck the victim about the back of the head causing injury to the vic-
tim who was subsequently transported to the hospital by ambulance.
Chiauzzi also allegedly used an object to damage the victim's wind-
shield and sunroof of the victim's vehicle. Chiauzzi was arraigned
before the Hon. M. Welch of the LeRoy Town Court and committed
to the Genesee County Jail in lieu of $5,000 bail.
2) 31 year old Jeffrey W. Scott of 14 Lake Street, Apt. 2, LeRoy was
arrested on 3/24/14 by the LeRoy Police Department and charged
with one count of Issuing a Bad Check. It is alleged that on or about
11/13/13, Scott issued a check with insufficient funds to a business
in the Village of LeRoy then failed to make payment for the check.
Scott was issued an Appearance Ticket to reappear at a later date.
3) 43 year old Heather K. Wilcox-Villa of 9624 Clipnock Rd., Staf-
ford was arrested by the LeRoy Police Department on 3/20/2014 and
charged with one count of Petit Larceny for an alleged shoplifting
incident at a business in the Village of LeRoy. It is alleged that Wil-
cox-Villa entered the store and intentionally left without paying for
perfume, which she concealed in her purse.
Kathryn E. Hughes,
majoring in classics and physics
and astronomy at the University
of Rochester, has been named
to the Dean's List for academic
achievement for the fall 2013
Hughes, a resident of LeRoy, is
the daughter of Deborah Hughes.
Advertise • Classifieds • News
HelpWanted • Community Calendar
1 Church St., LeRoy, NY 14482
585.768.2201