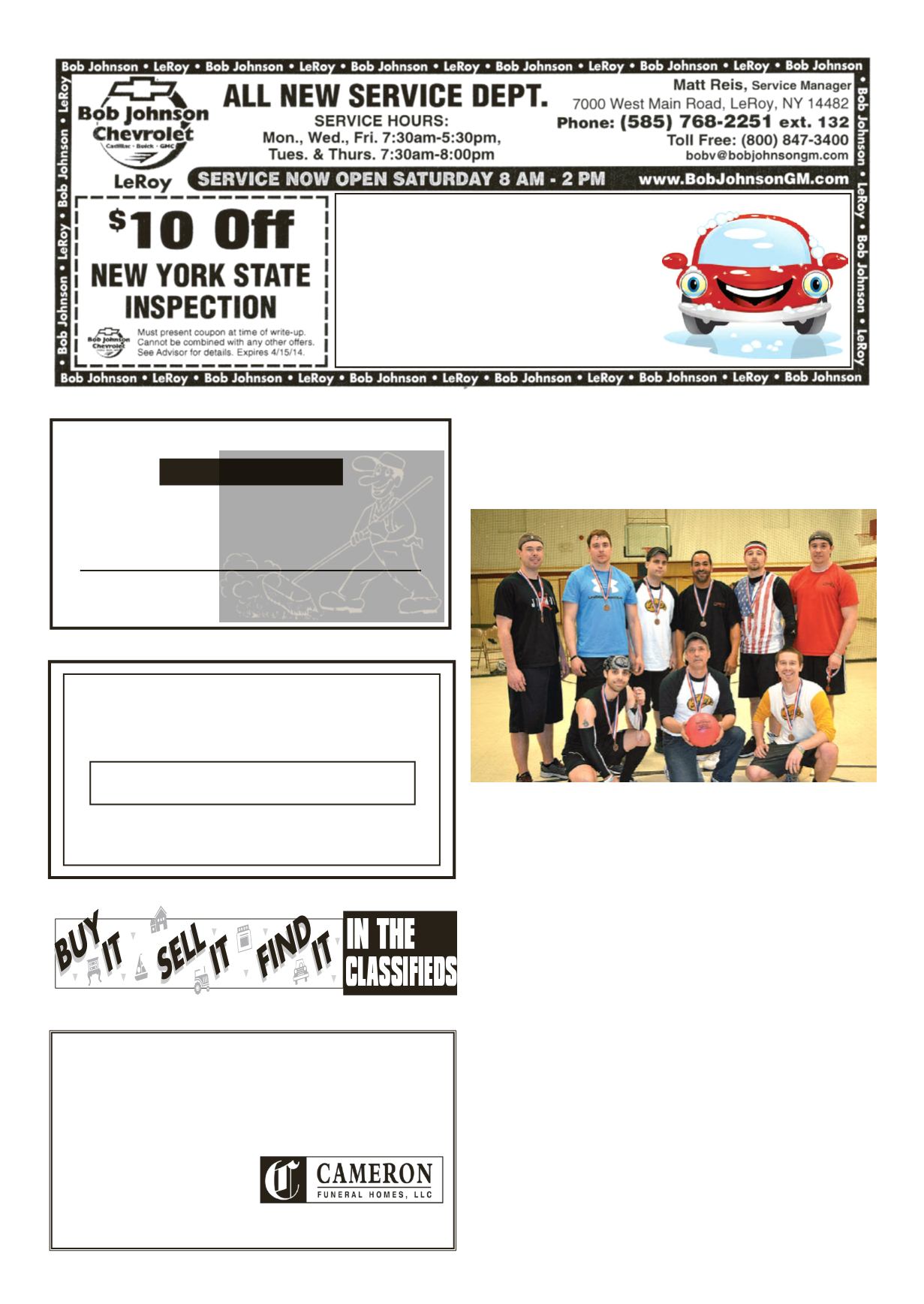 LE ROY PENNYSAVER & NEWS - MARCH 30, 2014
Helping Families Celebrate a Life Lived
"Our Family Serving Yours Since 1907"
Trusted • Honest • Proven
(585) 768-6800 • LeRoyFuneralHome.com
Cameron, Brady & Steuber
Funeral Home
111 Wolcott Street
LeRoy, NY 14482
Plumbing • Heating
Installation & Repair Service
For All Residential & Commercial Work
Cleaning Service
•Carpet & Upholstery Cleaning
•Spot Cleaning & Odor Removal
•Tile & Wood Floor Cleaning & Waxing
•Braided & Area Rug Cleaning
•Complete Janitorial Services
9300 Warsaw Road, Le Roy, NY
The Le Roy Christian Commu-
nity Project hosted its 2nd annual
tournament this past Saturday,
March 22. Ten teams, consisting
of 6-10 players competed in the
all day tournament. The teams
were: Gone Postal, Don't Hassle
the Hoff, The Rotarians, The
Dodgefathers, Baseball Furies,
Squad Grey, One DodgeWonders,
Perpetual Hedonism, Dirty Dodg-
ers & Boom Goes the Dynamite.
The teams and spectators came
out to Our Lady of Mercy Parish
Center in Le Roy to raise funds
for the organization and enjoy a
fun filled day of competition.
The tournament ended with a
match between "Baseball Furies"
and "Don't Hassle the Hoff".
Don't Hassle the Hoff came from
the losers bracket and took set 1
with a game count of 3-2, forcing
a second and final set. It looked
like team "Don't Hassle the Hoff"
was going to take the gold, leap-
ing to a 2-0 start the second set,
but "baseball furies" answered
back with 3 straight wins to close
out the tournament. Medals from
Joe's Awards and Trophies of
Batavia were awarded to each
1st Place - Baseball Furies
2nd Place - Don't Hassle the Hoff
3rd Place - Perpetual Hedonism
5th Place - One Dodge Wonders
7th Place - Dirty Dodgers &
9th Place - The Dodgefathers &
Pictured are the Tournament Champions: TeamBaseball Furies:
JarrodMiner, Thomas Sigler, Brandon Dries, Tyler Streeter, Brad
Streeter, Joe Chimino, Jamie Chimino, Joe Chimino, Sr. Jordan
Charcola & Tim Ruffin.
LCCP's 2nd Annual
Dodgeball Tournament
Wash The Winter Grime Away!
Wash, Wax, Vacuum
Lube, Oil & Filter, Tire Rotation
27 Point Check Including Free Brake Check