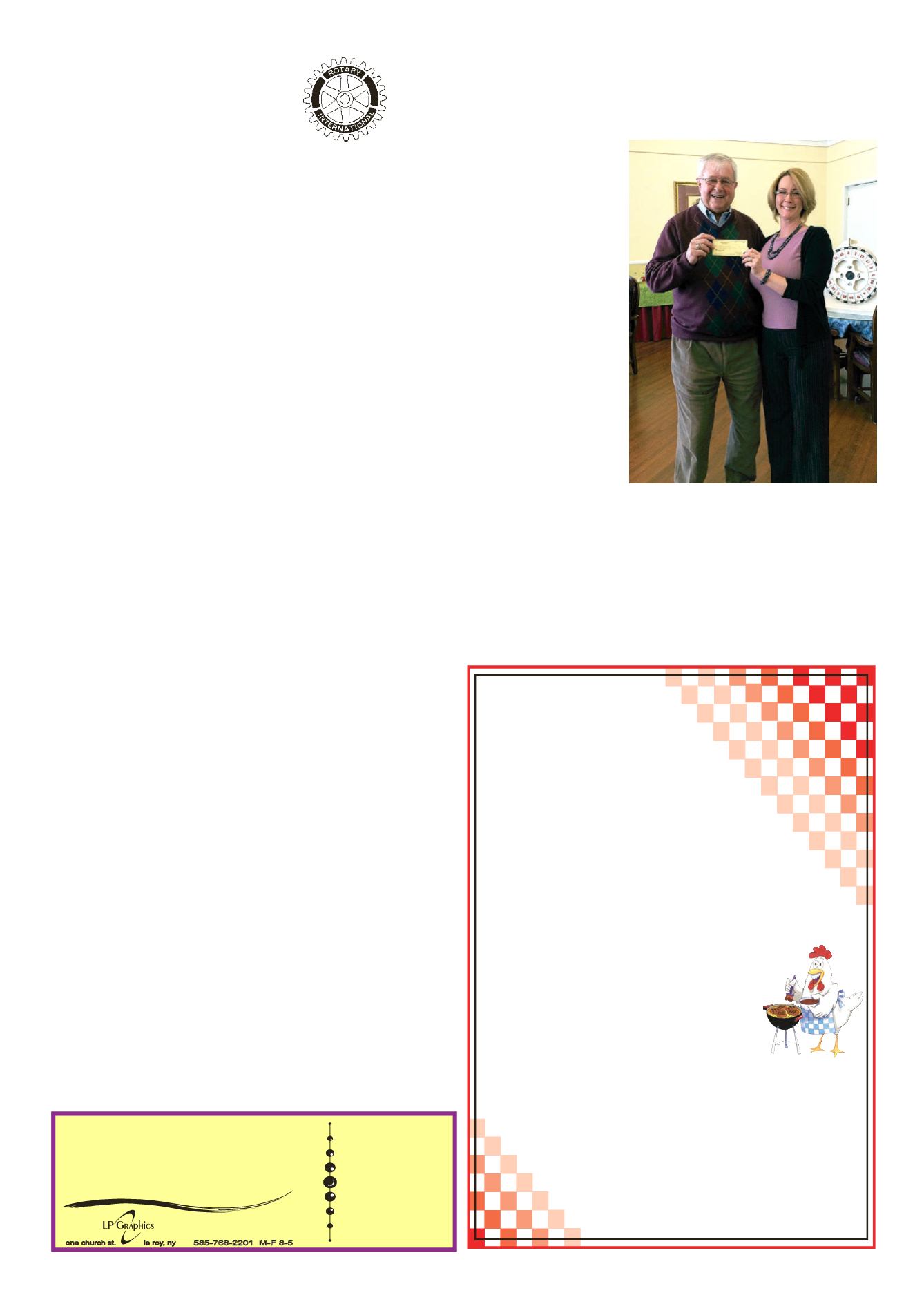 LE ROY PENNYSAVER & NEWS - MARCH 30, 2014
LeRotary
Notes
CHICKEN BBQ + FLEA MARKET
Come one, come all to a lovely day in the
countryside and help support youth service clubs
and community service scholarships. Our Club
BBQ and a classy Flea Market
Saturday, APRIL 5th
at Burgh and Schoenenberger Associates' facility,
7070 Telephone Road, Pavilion. The location is at the junction
Route #19 and #20 halfway between LeRoy
and Pavilion
and is handicap accessible.
The BBQ begins at 11:30 am until sold out
proceeds will benefit the Global Youth Service Team.
The flea market runs from 9 am to 5 pm, with a
bag
sale
50% off
marked prices from 3 pm-5 pm.
Everything must go! This will be our
BIGGEST and BADDEST
yet, with tons of useful stuff.
Are you interested in a large, lovely industrial building
to start your own business or expand current operations?
The facility itself is also for sale, with occupancy
If you are interested in office furnishings, tours and a
tag sale will be available from 2 pm to 5 pm.
SEE YOU APRIL 5th!
Notes for March 19, 2014
It was a sunny but chilly day
and still a great day to be alive
and serving in Rotary as Pres-
ident Tracy Ford opened the
meeting at about 12:15 pm last
Pledge of Allegiance
the grace and the Four-Way Test,
President Tracy welcomed Mr.
Gary Churchill from the Batavia
Club as our guest. She also pre-
sented two checks: First a check
from Rotary to the Genesee
Community College which will
fund a student from LHS for two
years and secondly a check for
$250 to the Le Roy Ambulance.
Bob Bennett and Bob Boyce
were very appreciative. Both
checks are for worthy causes
and qualify for consideration for
donations by all readers.
for their support of the Spring
Pancake Breakfast. 99 adults and
nine children feasted on much
more than just pancakes and the
The Rotary Board will meet
this Thursday at 6 pm at the
Greens. All members are wel-
come to join the Healthy Com-
munity Committee which will
sponsor the First Ever Cardboard
City to be erected in Trigon Park
as a way to highlight homeless-
ness. The LHS EarlyAct Club and
possibly InterAct will participate.
Contact Christine Gephart if in-
terested. The MILNE Committee
will meet at 6 pm on March 31st
at the home of Bob Bennett.
On April 12th, Easter eggs
will be stuffed at the Moose from
9 am-noon. All volunteers are
welcome. The Easter Egg Hunt
will take place at Hartwood Park
onApril 19th. Club members will
attend the Rotary Leadership
Institute on March 29th. On May
3rd, the Rotary DistrictAssembly
will be held – see Randy Vink
for details. Rent-A-Rotarian will
happen on May 10th – it's not
too late to get some work done!
Please contact Martha Bailey if
you want to hire Rotarians for
yard work at 344-1490 or email
can also contact Martha if you
want to donate books to the
Rotary Excited About Literature
(REAL) programwhich will pro-
vide free books to the community
during the first Farmer's Market
The UnitedWay Day of Caring
will be held May 14th. Various
members will participate. Presi-
dent Tracy noted that the website
has been updated thanks to David
Grayson. You can find it at this
org/ . She also mentioned that
the Saturday morning bike rides
would be held again this summer
– please let her know if you're
interested in being added to the
distribution for text notifications.
President Tracy ensured that
there was "considerable rakin' in
o' the green" today as members
were fined for missed meetings
and other shenanigans. Many
excuses were offered, duly con-
sidered and thrown to the wind
by our most vibrant President. As
a result of these "lessons in life",
members learned that this month
is Rotary Literacy Month, that
there have been nine women pres-
idents of our Club, and that Randy
Vink knows his Emily Post.
Speaking of Randy Vink, he
presented the program discussing
the Procedure to Propose New
Members for the Club. Key points
mentioned included: (1) Interna-
tional membership for Rotary has
been stagnant for many years, so
we need to work harder to bring
in newmembers. (2)All members
arships to local students
vides engaging Appliance Raffle
and Graze to Raise events as
well as many other fun events.
3) Members can invite interest-
ed folks to lunch and introduce
them to the Membership Chair.
(4) Sponsors should notify the
Board of candidates and get their
application to the Club Secretary
for presentation to the Board.
Why don't you consider join-
ing us in Le Roy Rotary and
making our community a better
place? Remember to "Like" us
on Facebook at "Rotary Club of
one church st. le roy, ny