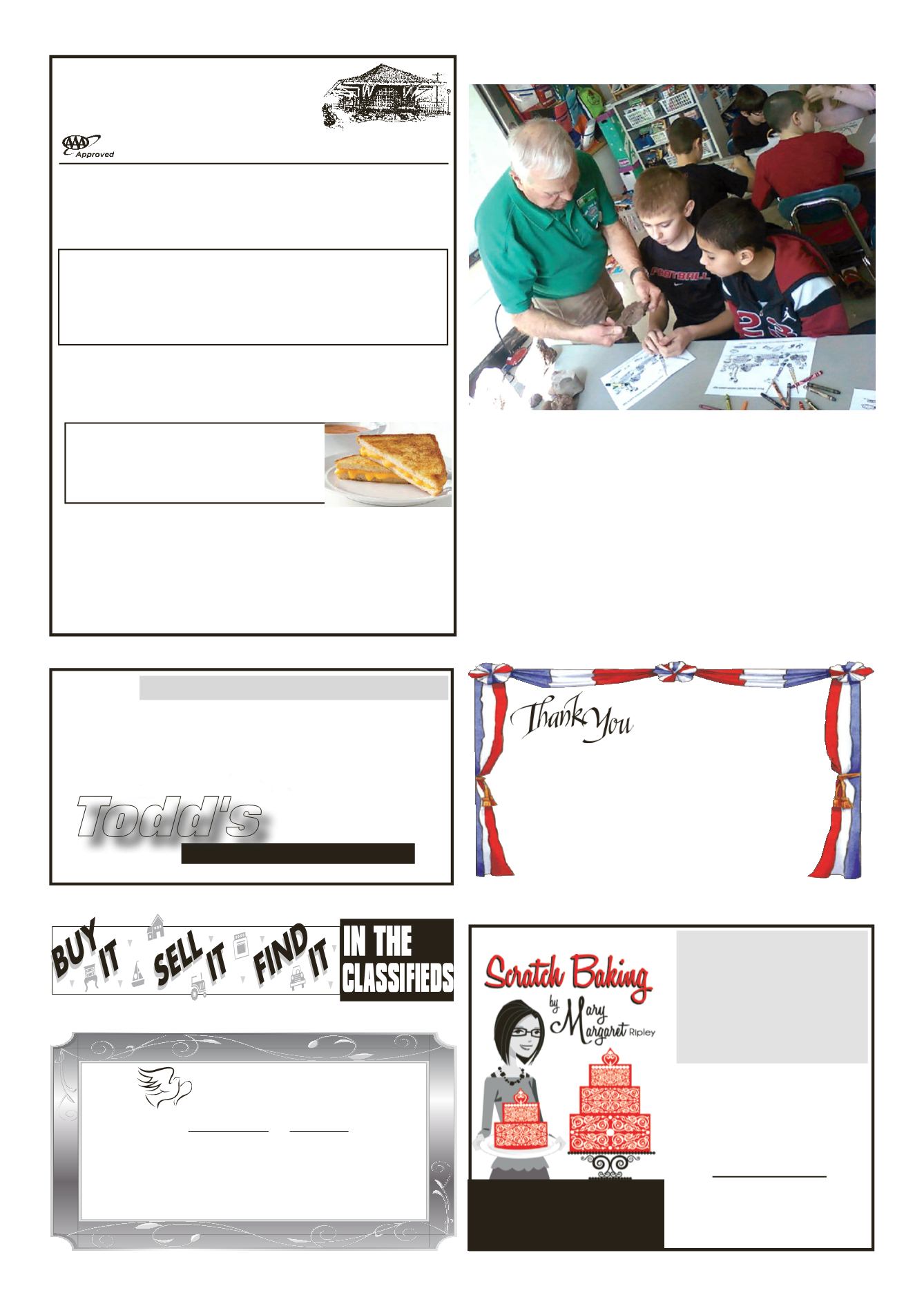 LE ROY PENNYSAVER & NEWS - MARCH 30, 2014
D & R Depot
63 Lake St. (Rt. 19), LeRoy • 768-6270
Let's Meet At The ...
Open For Breakfast, Lunch & Dinner - 7 Days A Week 7 am-9 pm
The Depot's new sister company,
Double L Rental
heaters, bars, linens, dishes & catering supplies for your special occasions!
10% DISCOUNT when you use both the
D & R Catering Services and Double L Rental for your event.
Visit doublelrental.com, or call us at (585) 344-0023
F
ALCONE
F
AMILY
Funeral & Cremation Service, Inc.
Director/Owner
Director / Owner
Funeral Director
SUNDAY, MARCH 30th DINNER SPECIAL
OLD FASHIONED POT ROAST DINNER
with carrots and onions - $14.99
(includes soup or salad, potatoes, beverage, and dessert)
5 pm Dinner Show - By Reservation Only
Special Appearance – STRING OF PEARLS
With Jerry Curry, Nancy Drum
Guest Appearance By Al Mastrolio
(there is a $5.00 cover charge for the benefit of the musicians),
Recently at Wolcott Street
School, 1st and 5th grade classes
were introduced to 380 million
year old fossils that can be found
Jerold Bastedo, the Executive
Director of the Penn Dixie Pa-
leontological and Outdoor Edu-
cation Center in Hamburg, NY,
spoke to five classes in each grade
level on the geologic history of
380 Million Year Old Fossil
the area. The students learned
what a fossil is, how they are
formed, what parts of an animal
or plant get preserved, and how to
determine what type of environ-
ment was here by looking at the
Students were also able to dig
for, identify, and keep a 380 mil-
lion year old fossil from the Penn
New Homes • Additions • Garages • Pole Barns
Todd Carli • Phone 703-0964
Todd's
Decks • Windows • Doors
Kitchens • Baths
Ceramic Tile
Basement Finishing
Custom Shelves/Built-Ins
Siding • Remodeling
Roofing • Snow Plowing
FULLY INSURED
SUNDAYAPRIL 6th DINNER SPECIAL
ROAST PORK dinner - $14.99
(includes soup or salad, potato, choice of beverage,
homemade Apple pie)
APRIL IS GRILLED CHEESE
SANDWICH MONTH
Check our website – dandrdepot.com
for the sandwich of the day.
Newsletters will be coming out soon –
are you on the Depot mailing list???
The LeRoy Republican Party
would like to thank all of those who
voted in the Village Election.
We offer you quality candidates who
make excellent officeholders.
We congratulate Bob Taylor on his re-election
and Bill Kettle, our newest trustee.
We also thank John Mangefrida for his commitment to run for
Village office and Jennifer Keys for her service over the
last four years.
Please know that your Republican Party will continue to offer the
finest candidates for County, Town, and Village office.
LeRoy Republican Committee
Please call 297-2441
or Email at
For Class Schedule, Pricing
Classes being offered by