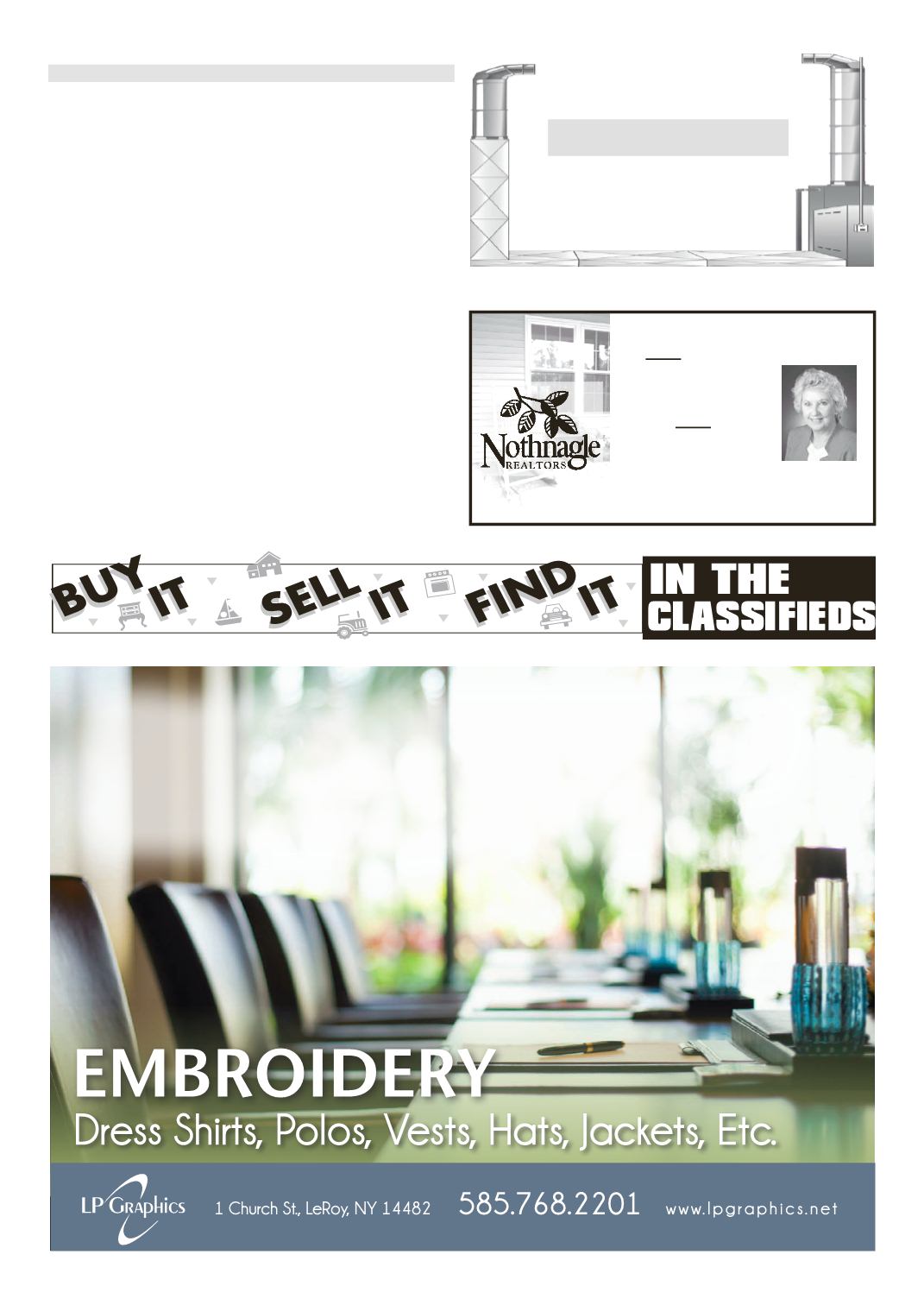 LE ROY PENNYSAVER & NEWS - FEBRUARY 2, 2014
Batavia
585-343-6750
NOW is the BEST time
to BUY with the interest rates
at their lowest!
Don't wait
to BUY -
call
Linda Beaumont
for all your real
estate needs.
Linda Beaumont
(585) 768-6315
Licensed Real Estate
Salesperson
J.M. HEATING
Heating & Air Conditioning
585
.409.6509
Forced Air & Hot Water Systems
Gas & Fuel Oil
Furnace Cleaning • Service • Repairs • New Installations
Residential & Mobile Homes
Free Estimates • 24 Hour Service
by Greg "Porp" Rogers
Mayor
Saturday evening was a great
night to be the Mayor. My wife
and I were the guests of the LeRoy
Volunteer Fire Department at
their Annual Banquet. Along with
others throughout the County
who assist in emergency efforts,
County Legislator Shelley Stein,
and Senator Ranzenhoffer's
Representative Jay Grasso. We
watched the Awards Ceremony.
Michael Green took away the top
honor of Fireman of the Year and
was awarded the golden ax. Years
of Service Award were handed
out as well, and then the Fire
Departments top ten responders,
who were given the Engine 63
hat, symbolic for the first truck
These men and women are our
hero's, they react when we all
here the fire alarm to help people
in dire need. But what many may
not realize is the over 2,000 hours
of training a year that took place
before the event, just so they are
prepared for whatever comes up.
So I urge each and every one
of you, to thank a fireman, for
their professionalism, dedication
and taking time away from their
family to keep LeRoy a safer
place to live. Congratulations,
Mike and all the Fire Department
members, thanks for a great time
Anyone wishing to volunteer
please contact any Fireman, it's
a good way to meet a lot great
"Management is doing things
right, leadership is doing the right
Notes From The Mayor's Office
Missing Something?
Over Achieving Office Wear!