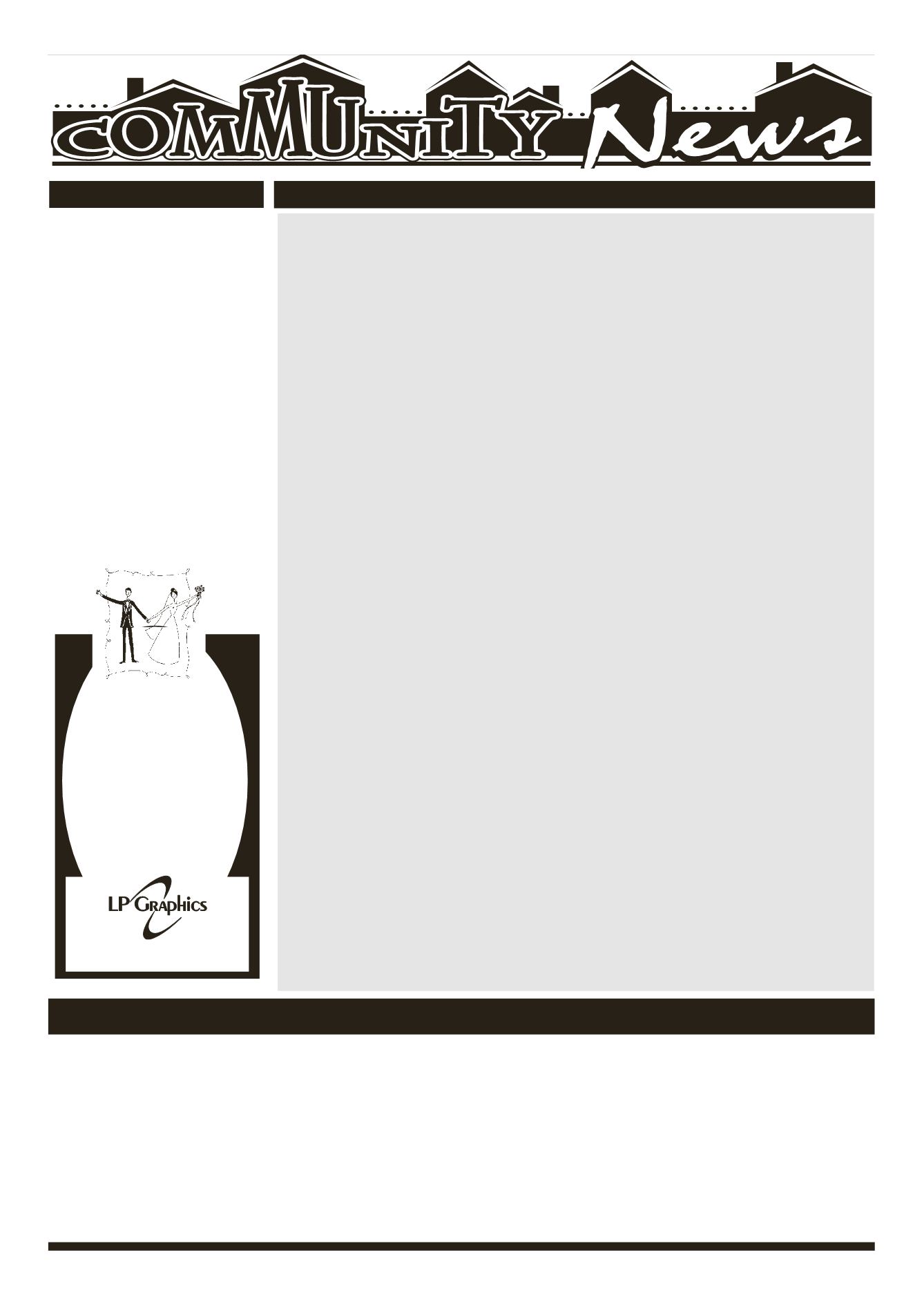 LE ROY PENNYSAVER & NEWS - FEBRUARY 2, 2014
All Genesee County residents, 60 and older, can take part in this week's activities at the Batavia Senior Center, 2 Bank St., Batavia. For more information, call 343-1611.
SENIOR CITIZENS ACTIVITIES
(February 3rd - February 7th)
WEEKLY EVENTS
OBITUARIES
Tax Preparation
is available by appointment beginning at 9:00 a.m. ;
Arthritis Exercise Class
Bridge
Cribbage
Tax Preparation
is available by appointment beginning at 9:00 a.m.;
Quilters
are scheduled to meet at 9:00 am. and
Euchre
scheduled to begin at 1:00 pm;
OFA Advisory Committee meeting
is scheduled for 1:00 p.m.
Strong Bones Class
Cribbage & Bridge
is scheduled for 1:00 pm,
Musical Keyboard Lessons
Art Class & Line Dancing
Tai Chi
Card Group
Advertising Templates
Entire contents copyrighted by Carlson Craft ® .
All rights reserved. 12-07
Invitations, Save the Date Cards,
Wedding Accessories, Ceremony,
Reception Essentials, Bridal Party
Visit us today!
with wedding invitations and accessories
Stop in today to view our extensive collection
for every style and budget!
lpgraphics.net, Hours: Mon.-Fri. 8-5 p.m.
1 Church St., Le Roy • 768-2201
SUnDAY, FEBRUARY 2nd
AWAnA Program at Penuel Christian Fellowship.
Street. Sundays 4:30. Ages 5-17 broken into groups. Developing
friendships. Having fun. Learning about God. Safe environment.
MOnDAY, FEBRUARY 3
TOPS (Take Off Pounds Sensibly)
from 6:30-7:15 pm at the LeRoy Presbyterian Church, corner of
Clay & Main Sts. Visitors always welcome. Call 768-2933 for more
TUESDAY, FEBRUARY 4th
LCCP'sGRACE'SKITCHEn:
AFREEdinnereveryTuesdayevening,5-7
pm at the LeRoy United Methodist Church, 10 Trigon Park. Parking
availableonTrigonPark&the lotstothe leftandbackoftheChurch.
HandicappedEntrance inthebackoftheChurch.Takeout&delivery
are available. For more info. contact Selby Davis at 585-738-8882
WEDnESDAY, FEBRUARY 5th
THURSDAY, FEBRUARY 6th
Genesee Veterans Support network
velopment of Veterans focused AA meetings every Thursday, 6-7
pm at the First Baptist Church, 306 E. Main St., Batavia. Meetings
led by MikeW. & are open to non-veterans as well. Handicap acces-
sible. For additional information call 585-302-0825.
GRACE'S CLOSET:
a Clothing Giveaway Program by Le Roy United
Methodist Church, 10 Trigon Park, Le Roy. 9:30 am to 11:30 am
every Thursday. We have warm clothing for all ages. Bedding,
curtains, comforters, pajamas, shoes. We are in need of winter
coats for all ages. We accept donations to be dropped off at the
house next to the Church. Please put all bags INSIDE on the porch.
No electronics, TV's, computers, dishes etc. Any questions, call the
A public Sauerkraut Dinner
will be held at Stafford United
Methodist Church.Take-outs will be ready by 4:30 pm and serving
starts at 5 pm. Tickets are adults $8 and 5-12 are $4 with under 5
free. Menu is sauerkraut with pork pieces, hot dogs, real mashed
potatoes, baby carrots, apple sauce and home made desserts.
Rainbow Loom Meet Up at the Woodward Memorial Li-
brary
for children in grades 1-6, from 3 to 4:30 p.m. Bring your
Rainbow Loom and rubber bands to the Library after school to
meet up with friends and make bracelets. Snacks will be pro-
vided. No registration required. Children must bring their own
Rainbow Loom and supplies.
Board Game night for Adults at the Woodward Memorial
Librar
y, 6:30 – 8 p.m. Enjoy an evening of board games at the
Library. Adults are welcome to attend this fun evening. Registra-
FRIDAY, FEBRUARY 7th
Penuel Christian Fellowship,
One Step to Freedom addictions
ministry, a Christ Centered Addictions program, a weekly meet-
ing every Friday at 7 pm. Call the Church for more information at
Dessert in the Stacks at the Woodward Memorial Librar
7-8:30 p.m. Sample desserts from area restaurants, bakeries, and
caterers! Tickets are $5.00 (pre-sale only). Purchase at theWood-
ward Memorial Library. Adults Only!
SATURDAY, FEBRUARY 8th
Veterans Only Social Club -
Genesee Veterans Support Net-
work announces a new meeting location at Scooter's Family Res-
taurant, 3711West Main Street Road, Batavia, NY - for the once a
month Veterans Only Social Club. Meetings are held the second
Saturday of eachmonth from 7:00 to 8:30 PM. Veterans of all eras
are invited to attend. GVSN is located at 3837 West Main Street
Road, Batavia, NY. For more information, contact GVSN, PO Box
541, Batavia, NY 14021-0541
UPCOMInG EVEnTS
LeRoy Fire Department's Oatka Hose Chicken Barbecue
noon til sold out, February 16th at Oatka Hose Company Rooms,
11 North Ave., LeRoy. Cost $9.00, to get tickets, call 768-8050 or
The Byron Ladies Auxiliary
Pancake Break-
fast & Chinese Auction
on Sunday, February 16th from 9:00
am – noon at the Byron Fire Hall on Rt. 262. Drawings will be at
noon. For more information call Laura Platt 548-2245.
BREAKFAST - American Legion Post 576
LeRoy. Sunday, Feb. 16th, 8 am to noon. Eggs, bacon, sausage,
home fries, toast, biscuits & gravy, French toast, pancakes, waf-
fles & syrup, juice & coffee. All you can eat!
Community Calendar Submissions
LE ROY - Anne B. Liberti died Jan. 17,
2014, at age 96. Memorials may be
made to the Genesee County Nursing
Home, Memory Unit, 278 Bank St.,
LE ROY - Maureen Callahan of Erie,
PA., and formerly of Le Roy died Jan.
13, 2014, at age 65. Memorials may
be made to the Erie County Diabetes
Association, 1128 State St., Erie, PA
LE ROY - Margot H. Perkins, 81,
passed away peacefully at Unity Park
Ridge Hospital in Rochester on Tues-
day (Jan. 28, 2014). In lieu of flowers,
memorial donations may be made to
St. Jude's Children's Hospital, Mem-
phis, TN 38105; or Al Sigl Center,