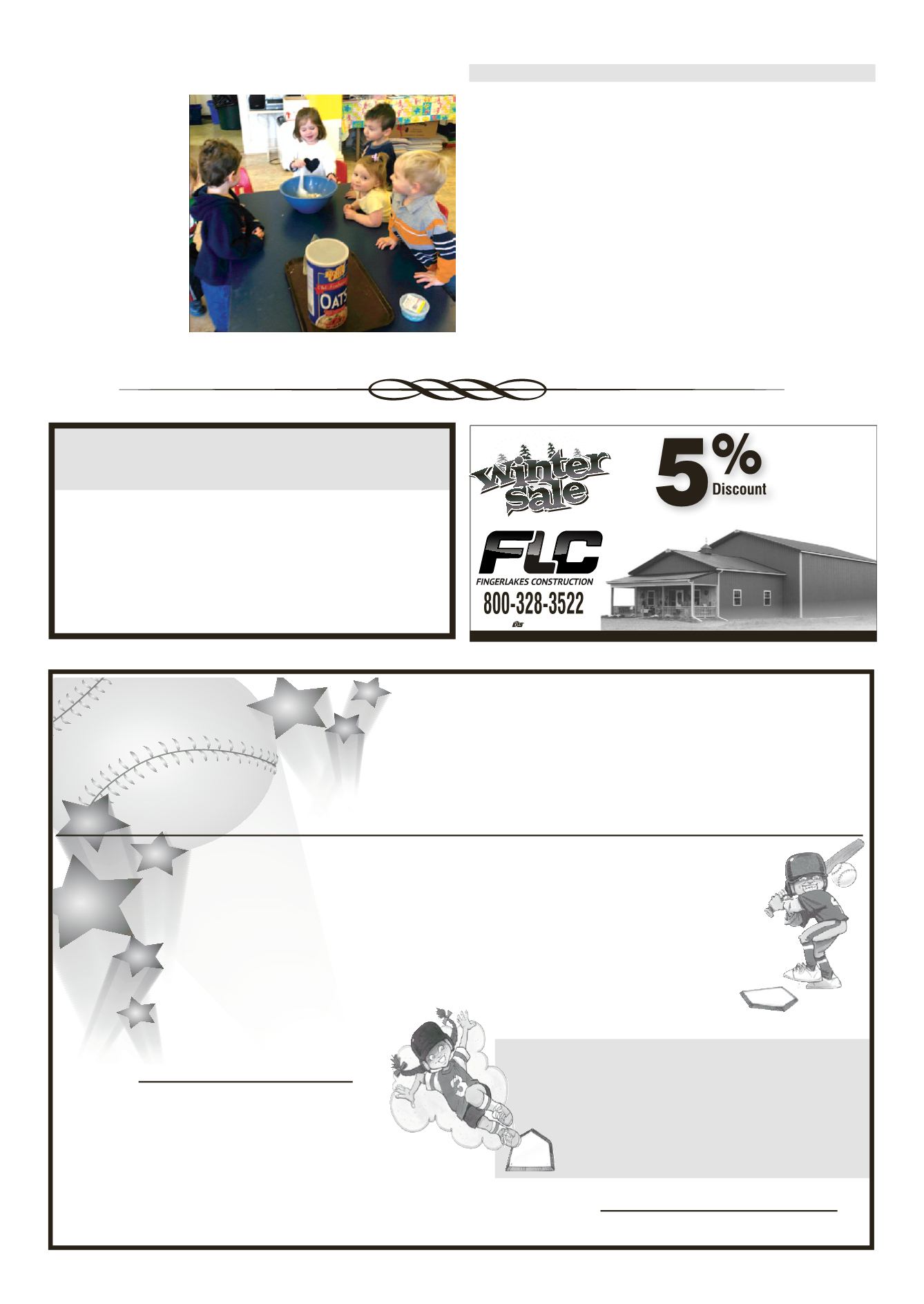 LEROYPENNYSAVER&NEWS - JANUARY 5, 2014
Part of the family of companies
fingerlakesconstruction.com
Pre-Engineered
PostFrameBuildings
Visitourwebsite for completedetails!
Le Roy Little League Baseball Registration
Saturday, January 18th
10 am-1pm in thehallway outside the
Trigonbuilding gym atLeRoyCentral School
Wednesday, January 22nd
6pm-8pm in thehallway outside the
Trigonbuilding gym atLeRoyCentral School
Instructional-ages 4-6 - $40.00per player
T-Shirt – ages 7-10 - $55.00perplayer
LittleLeague – ages 9-12 - $55.00perplayer
JuniorLeague – ages 13&14 - $60.00per player
SeniorLeague – ages 15& 16 - $60.00per player
MonroeCountyBabeRuth - ages 16-19
$125.00per player
First timeplayersmust bring aCOPY
of theplayers'birth certificate.
We are looking for coaches and volunteers.
Please sign up at registration. If you have
any questions, please contact Jeff Strollo
at 750-4049 or Helene Beswick at 746-9480.
Forms are available on our
website
Want to save some time?Fill out the forms
online then print them off and just bring
them to registration. Formswill also be available at registration.
Tryouts for Little League TBD
More informationwill be available
at registration.
ALLPLAYERSages 9-12
MUSTATTEND theLL tryouts.
All playersmust participate in the candybar
Allmoney is due at registration.
All LittleLeague, Jr. andSr. League familiesmust pay a $50.00
refundable concession deposit at time of registration. T-shirt families
must pay $25 refundable concession deposit.
There is a family cap at $125.00but it EXCLUDESBabeRuthplayers, the concession deposit and the candy sale.
NOREFUNDSAFTERMARCH 1st
ALLWORKMANSHIP GUARANTEED • INSURED
297-9097 • 768-7737
• InteriorPainting
• Plaster/LathRestoration
•Drywall&DrywallRepair
•TextureRemoval
• Floors Stripped
&Refinished
•OldCeilings&Walls
MadeLikeNew!
MikeDarby'sPatch&Paint
byGreg "Porp"Rogers
Mayor
HappyNewYear!!!TheVillage
Board Meeting will be back on
schedule in January, the first on
the 8th and the second on the
At the 8thmeeting we will be
reviewingaproposal toeliminate
truck traffic on Gilbert St. This
proposal was put forth by a
private citizen andhas had some
consideration from the board. I
urgeanyonewhowishes toweigh
in to please come to themeeting
andbe informed.Other than that
it back to business as usual.
In March, we will have an
election tofill the trusteepositions
currentlyheldbyBobTaylor and
JenniferKeys. Iwould just like to
saynowbeforeanycampaigning
that bothdo an excellent job and
add to the diversification of our
board, and have represented you
"Most folks are as about as
happy as theymake their minds
Notes From TheMayor's Office
Sunshine Nursery
School's playgroup
had fun making a
treat for Santa's
reindeer. They
combinedamixture
of oats, seeds and
sugar cubes with
a touch of magic.
The children were
excited about being
able to leave it for
the reindeer on
ChristmasEve.
Making Reindeer Food