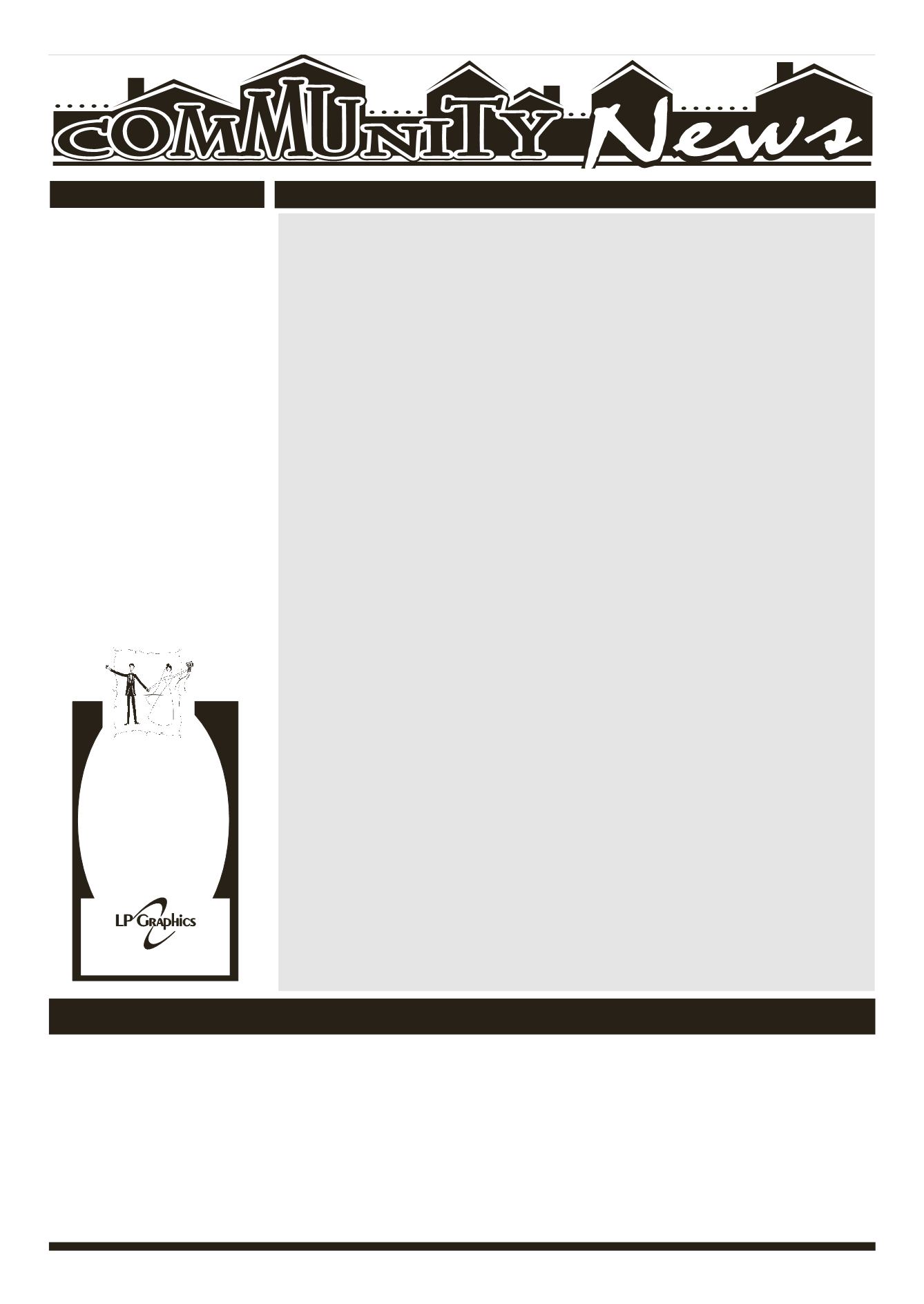 LEROYPENNYSAVER&NEWS - JANUARY 5, 2014 ,
All GeneseeCounty residents, 60andolder, can takepart in thisweek'sactivitiesat theBataviaSenior Center, 2BankSt., Batavia. Formore information, call 343-1611.
(January 6th-January 10th)
WEEKLYEVENTS
OBITUARIES
TaxTraining
ArthritisExerciseClass
Bridge
TaxTraining
Cribbage
TaxTraining
Quilters
OmbudsmanGroup
isscheduledtomeetat9:00am;
Euchre
OFA
AdvisoryCouncil
TaxTraining
StrongBonesClass
Cribbage&Bridge
MusicalKey-
boardLessons
arescheduled tobeginat2:30pm.
TaxTraining
ArtClass&LineDancing
TaiChi
CardGroup
AdvertisingTemplates
Entire contents copyrightedbyCarlsonCraft ® .
All rights reserved. 12-07
Invitations, Save theDateCards,
Wedding Accessories, Ceremony,
ReceptionEssentials, Bridal Party
Visit us today!
withwedding invitations and accessories
Stop in today to view our extensive collection
for every style and budget!
lpgraphics.net,Hours:Mon.-Fri.8-5 p.m.
1Church St., Le Roy • 768-2201
Sun., Jan.5th
AWANA Program at Penuel Christian Fellow-
ship.
10 Main Street. Sundays 4:30. Ages 5-17
broken intogroups. Developing friendships. Having
fun. LearningaboutGod. Safeenvironment.
Mon., Jan.6th
TOPS
(Take Off Pounds Sensibly) meets Monday
evenings from 6:30-7:15 pm at the LeRoy Presby-
terian Church, corner of Clay & Main Sts. Visitors
alwayswelcome. Call 768-2933 formore info.
Tues., Jan. 7th
LCCP's GRACE'S KITCHEN:
FREE dinner
Tuesday evening, 5-7 pm at the LeRoy United
Methodist Church, 10TrigonPark. Parkingavailable
onTrigonPark& the lots to the left andbackof the
Church. Handicapped Entrance in the back of the
Church. Takeout & delivery are available. For more
Wed., Jan.8th
VillageofLeRoyBoardMeeting,
Thurs., Jan.9th
Genesee Veterans Support Network
supports the development of
Veterans focused
AAmeetings
every Thursday, 6-7 pm at the First
Baptist Church, 306 E. Main St., Batavia. Meetings
led byMikeW. & are open to non-veterans as well.
Handicap accessible. For additional information call
GRACE'S CLOSET will reopen on Thurs. morn-
ings
starting Jan. 9th, 9:30 am to 11:30 am. We
are a clothing giveaway located at the Le Roy
UnitedMethodist Church, 10TrigonPark LeRoy, NY.
We have clothing of all kinds for infants to adults.
Shoes,boots,belts,hats,mittens. Wehavebedding,
blankets, comforters etc. Enter on theWest side or
come to handicap entrance at the back. Donations
canbe left insideonthebackporchof thehousenext
TownofLeRoyBoardMeeting,
Fri., Jan.10th
Penuel Christian Fellowship, One Step to
Freedom
addictions ministry, a Christ Centered
Addictionsprogram,aweeklymeetingeveryFriday
at 7 pm. Call the Church for more information at
UpcomingEvents
2014 Anti-Rabies Immunization Clinic,
tion Army, Gym area, 529 E. Main St., Batavia, NY,
January 23rd, 4:00 to 7:00 pm. $5.00 voluntary
CommunityCalendar Submissions
Stafford - david M. russo, 43,
of Stafford, died thursday afternoon
(dec. 26, 2013) at Medina Memorial
Hospital from injuries sustained in a
motor vehicle accident. the courtesy
of no flowers is requested with me-
morials suggested to david's family
to establish an education fund for his
LEroY -Mrs.MarjorieM. Zoeller, 89,
of Leroy, formerlyof Benningtonand
Batavia, a self-employedhomehealth
care worker died Tuesday, (Dec. 31,
2013) at Le roy Village Green Nurs-
ing facility in Leroy. Memorialsmay
bemade to East Bethany Presbyteri-
anChurch, 5735 Ellicott St. rd., East
LEroY - donald B. Sten horn, 80,
passed aw y Tuesday evening (Dec.
31, 3013) at Unity Hospital in roch-
LEroY - Earl GarySteinmetz passed
away peacefullyWednesdaymorning
(Jan. 1, 2014) at theLattaroadNurs-